15 Common Reasons For A Sexless Marriage
At the start of the relationship, couples often go through the honeymoon phase. It almost feels like being "high" on love. Everything is new and exciting, there is a lot of passion, and the desire is through the roof.
However, as this phase ends, the sex drive lowers, the excitement seems gone, and certain couples start experiencing problems in their bedrooms.
Many couples tend to attach less weight to their sex lives over time. It is common for partners to experience sexless marriage within the first few years of their marriage. No sex in marriage may be a sign that the relationship is in trouble.
There can be multiple reasons for sexless marriage, but first, you need to know what a sexless marriage is.
Is a sexless marriage grounds for divorce? This article will attempt to answer all the questions that bother most couples experiencing issues in their sexual relations.
What is a sexless marriage?
There are many ways a sexless partnership can be defined, most of which focus on the regularity of physical intimacy in one's life. In reality, it is more about the significance of the mismatch in the desire of both partners.
If one spouse wants to be physically intimate every night, and their better half does not feel like doing it more than two or three times a week, such marriage cannot be called sexless.
However, if one partner wants to have sex daily and the other one only a few times a year or once a month, at least one of the spouses will likely view the marriage as lacking physical intimacy.
Is sexless marriage a problem?
Sexless marriages can be problematic; however, it depends on what kind of emotional relationship you have. If we look into the sexless marriage statistics. According to Robert Epstein, Ph. D., a San Diego-based research psychologist and founder and director emeritus of the Cambridge Center for Behavioral Studies in Beverly, Mass, 10 to 20 percent of romantic relationships in the United States are "sexless."
A sexless marriage can ruin your relationship if you start feeling isolated. Falling apart can make you crave affection and emotional intimacy, which might be demanding as you don't feel connected to your partner.
Sexless marriages mostly end up in conflicts. So be sure to keep it steamy in the bedroom.
Also Try: 

Are You in a Sexless Marriage Quiz
Effects of a sexless marriage
If you have found yourself coping with a sexless marriage, it does not mean that you or your spouse should necessarily separate or that any of you want it at all. Although, the sexless marriages did leave a dent in your relationship.
Here are some effects of a sexless marriage that you shouldn't ignore:
Feeling negative and lonely all the time.

Experiencing emotions

such as resentment

, frustration, and guilt.

Avoiding sex as the pressure becomes uneasy to handle

Being less involved in your partner's life and decisions.

Sexless marriage can be a massive problem for people who lack patience.
Overall, if you have found yourself coping with a sexless marriage, it does not mean that you or your spouse should necessarily separate or that any of you want it at all.
If you believe that there are problems with physical intimacy in your relationships, having an honest conversation about it is the first step. It is crucial to voice your wants and needs without criticizing your significant other.
After all, talking about sex, most people feel very vulnerable, and it may take a few poorly chosen words to offend your partner.
A divorce might become a part of such a conversation, and you need to listen to yourself and your partner to understand whether this is something either of you considers the best option.
If at least one of the spouses wants out of the relationship and has already made up their mind, the other person needs to think if trying to "make it work" is worth their time and energy.
15 Reasons behind a sexless marriage
Lack of sexuality in marriage or low sex drive is an issue that couples worldwide face.
However, the reasons for sexless marriage can vary. It is common for people to believe that their significant other is not interested in sex because they fell out of love, cheated, or do not find their partner attractive.
While this is the case, you should read these common reasons for a sexless marriage.
1. Different or low sex drives
It is rare for partners' sex drives to be a perfect match. If both spouses experience a loss of libido or don't value sex as much as their friendship, feeling of emotional security, and other aspects of their marriage, it can still work out no matter how sexually active they are.
Yet, for couples whose sexual drives are mismatched, finding a fine line between satisfying each other's needs and not pushing them to be physically intimate when they do not want to may be problematic.
Nevertheless, it does not necessarily mean that couples facing sex issues have reached the point of no return.
Truth be told, if they are willing to save their relationship, it is crucial to be open to having tough conversations and consulting a sexologist or a therapist.
Also Try: 

Is My Sex Drive Low Quiz
2. Childbirth
Some physicians recommend abstaining from having intercourse for about a month or two after having a baby. Caring for a child is always stressful, and this stress, along with body changes, fatigue, and decreased hormonal levels, affects women's sex drive a lot.
3. Menopause
Menopause is also one of the prime causes of sexless marriages as it influences hormonal levels, so there is a strong correlation between them.
During such periods, it is crucial to remember that while sex may be barely on the table, it does not mean that partners should give up on showing each other affection in other ways to make sure they both feel wanted and valued.
Watch this video to know about how menopause affects the brain.
4. Communication problems
These are not necessarily fights or conflicts. Everything might be as simple (and at the same time as hard) as a failure to voice one's sexual desires. When one or both spouses are no longer satisfied with the process, and there is a need for a change, making sure the other half knows about it is of utmost importance.
Moreover, suppose you had negative experiences, such as sexual abuse. In that case, the partner must understand how difficult this was to go through and how to approach physical intimacy, not traumatize the affected person.
The communication gap is one of the biggest reasons for sexless marriages.
Also Try: 

What Is Your Communication Style

?
5. Health Issues
Many spouses end up in a sexless marriage due to medical conditions, and impotence is one of them. When men struggle with erection, they are very likely to become anxious and confused, which affects their self-esteem and a desire to be physically intimate.
The reasons why impotence occurs vary, ranging from having heart disease to suffering from mental health problems and stress.
6. Depression
Another cause of a sexless marriage is depression. When a person loses interest in life and feels hopeless or restless, it takes a toll on their relationships. When you or your partner experience a mental health issue, it is necessary to seek medical attention.
In this case, no sex in a marriage should be the least of your concerns as, without professional help, these conditions might lead to devastating consequences.
Also Try: 

Quiz: Is My Relationship Making Me Depressed

?
7. Side effects of drugs
Many are surprised that many prescribed medications come with side effects that may harm their sexual activity. Suppose there is a reason to believe that your medication seriously affects your sex drive, and you find that uncomfortable or unbearable.
In that case, it is best to consult your physician to see if you are right about your suspicions and alternatives that can be prescribed instead.
8. Lack of foreplay
Many partners pounce upon their partners without much or any foreplay. This is one of the leading reasons why the other partner loses interest.
Women need more time to get revved up and aroused for sex, and here is when foreplay finds its importance.
So, take things slowly, be creative and invest enough time in foreplay to enjoy each bit of your 'lone time.'
Also Try: 

What's Your Ideal Sex Position

?
9. Irrational sexual behaviors
This is not a matter of man or woman. Anyone who has an unreasonable approach to enjoying sex can be the ultimate buzzkill. Even if it's the most personal choice, irrational sexual behaviors are unacceptable.
If you or your partner are perplexed about correcting this behavior, you may head to talk to a sexologist about this.

10. Bad hygiene
When neglected, hygiene, an essential aspect, can put a barrier in your intimacy rituals.
Maintaining good hygiene prevents you from getting infections in private parts and embarrassments and helps you attain good sexual health.
A few points to remember are – Keep your private parts clean, remove your pubic hair, wear clean undergarments, and do not indulge in oral sex if either of you has sores in your genitals. If your partner is suffering from an infection, you must consider speaking to a specialist and help your partner keep up with confidence.
Also Try: 

Does He Like Me or Just Wants Sex Quiz
11. Body changes
One of the most common reasons for sexless marriage is body change when one partner or both put on weight or start to feel insecure about their body.
They willingly reject the feeling of getting intimate, which turns into an everyday thing. With time it becomes impossible to handle, and you end up thinking what went wrong?
12. A shift in mental state
A high level of stress can make you lazy regarding sex. If you have recently been through many life changes and your mind is occupied focusing on different things, you will likely avoid sex as you won't enjoy it much.
Also Try: 

Am I Emotionally Damaged Quiz
13. Unresolved conflicts
Conflicts are a part of the relationship, but they will rot your connection if you have left them unresolved. Unresolved conflicts make you feel alone in the relationship.
Sometimes a partner loses their focus, and rather than building their relationship up, they let conflicts come in between their sex life and leave it dry.
14. Wrong reasons to live together
While divorce does affect kids, having unhappy parents may do even more damage. If you have nothing in common but the children and "date nights" or "together alone," time does not change that. It is not a good sign.
You might be compromising on many things that you still don't know if you have been with your partner for some ulterior emotions.
Also Try: 

Should We Move in Together Quiz
15. Not caring enough
Sometimes, people grow apart, and having no physical intimacy might be multiple signs. If it is not hard for you to see yourself waking up alone or with another person, you might already be over your partner.
When facing sexual problems, there is nothing worse than putting a blind eye to the issues or feeling ashamed of discussing them. Both partners should be open to dialogue to address the problems before leading to mutual hostility and divorce to save a marriage.
One of the most underrated reasons for sexless marriage is losing a sense of responsibility and care towards your partner.
How to deal with a sexless marriage
If you cannot say for sure if your partnership is sexless, it does not necessarily mean it is.
Still, as this aspect concerns you a lot, it is important to understand that there are likely issues in your sex life that you need to deal with, and it is important to talk to your spouse about them.
Read this article to know more about dealing with a sexless marriage and what to do in a sexless marriage.
Also Try: 

Quiz To Find Out The Importance Of Sex And Intimacy
Conclusion
Be honest with your partner and give your partner the liberty to discuss any issue they are facing. If you know the reason and ways to fix it, then you can make your intimate moments enjoyable and happier than ever. That is the only way out of a sexless marriage.
Share this article on
Want to have a happier, healthier marriage?
If you feel disconnected or frustrated about the state of your marriage but want to avoid separation and/or divorce, the marriage.com course meant for married couples is an excellent resource to help you overcome the most challenging aspects of being married.
More On This Topic
You May Also Like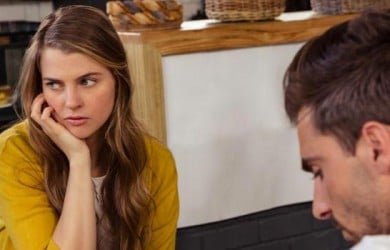 Popular Topics On Married Life