How a Lack of Physical Intimacy Can Hurt Your Marriage
Do you know approximately 20% of married couples fall under the category of a sexless marriage?
Yes! Lack of physical intimacy is real, and some couples struggle to bring back the lost passion into their lives.
Physical intimacy is just as important for relationships, married or otherwise, as verbal intimacy and affection.
Experts say that physical affection or physical intimacy through hugging, kissing, and touching is just as crucial in the development of relationship bonds as communication. This is the reason why many couples struggle if they feel that there is a lack of physical intimacy in their marriage.
A relationship needs intimacy to survive, but a lack of affection and intimacy in a relationship can eventually break the bond between the partners and push the connection to the point of no return.
If you fail to establish that connection with your partner, be it emotionally or physically, you cannot expect to enjoy a lasting relationship with your partner. This is only because of the lack of physical intimacy.
What constitutes a lack of intimacy in marriage?
Few may argue on the point that sex is not the heart and soul of a marriage or a romantic relationship. But, a loss of intimacy or lack of physical intimacy can be the root cause of many future problems if left unaddressed.
But before delving further into understanding what causes a lack of intimacy, it is important to understand what is physical affection in a relationship and what constitutes physical intimacy.
What do you understand by the term 'physical affection'?
Physical affection differs a bit from physical intimacy. According to the researchers at Brigham Young University, Utah, physical affection is best defined as "any touch intended to arouse feelings of love in the giver and/or recipient". It includes the following gestures:
Backrubs or massages
Caressing or stroking
Cuddling
Holding hands
Hugging
Kissing on the face
Kissing on the lips
Physical intimacy, on the other hand, is sensual proximity or touching and it also includes the three-letter word called 'Sex.'
There are different types of physical intimacy, which can include more overt romantic physical gestures to smaller physical gestures.
For example, cuddling, kissing, holding hands, massaging, a gentle squeeze on the shoulder, or stroking an arm are few such gestures that invoke physical intimacy in marriage.
These gestures can be categorized into experiential, emotional, intellectual, and sexual types.
One of the reasons that even experts struggle with addressing physical intimacy issues in a relationship is that everyone has their own comfort level, as well as personal likes and dislikes when it comes to physical intimacy.
For example, some people may feel comfortable kissing in public, while others would consider it awkward and embarrassing.
In this case, the partner who wants to kiss in public may feel that the lack of kissing in public areas would constitute a lack of physical intimacy, while the partner who considers it undesirable would not.
Most relationship experts agree that a lack of physical intimacy occurs when at least one partner feels that their attempts at physical affection and intimate behaviors are not being reciprocated. With time, this lack of physical intimacy or constant negligence from the unwilling partner causes a rift in the relationship.
Referring to the above example, if the second partner does not want to engage in any acts of physical intimacy, even those in private, it will likely be considered as a genuine lack of physical intimacy.
But, the question here is whether a lack of physical affection damages the relationship or not?
How can a lack of physical intimacy hurt a marriage?
As has been previously mentioned, physical intimacy is essential in forming and strengthening personal relationships between two people.
People need physical affection.
Intimacy in a marriage is typically expected to be closer and even more frequent than intimacy before marriage since the commitment of marriage has brought the two partners together in a ceremonial and legal bond.
Therefore, most married people have the expectation of activities like hugging, cuddling, kissing, and so on.
When there is a lack of physical intimacy in a marriage, it is easy to feel like the love may be going out of your relationship, or that you are not physically attracted to your partner, or that your partner no longer cares about you in the way they did before.
With physical intimacy being one of the ways for a partner to communicate feelings, its absence can cause a void that can create a barrier over time.
Over time, it can make the partners experience abandonment issues. This can begin a cycle where the abandoned partner can start distancing themselves in turn. Sexual desires and a need for affection and closeness can start to diminish, which does not bode well for the relationship.
There are many health benefits of sex and intimacy and a lack of such activities can affect libido, heart health as well as mental health. In fact, studies show that lower ejaculation frequencies are related to a heightened risk of prostate cancer. Women also experience several benefits of sex, such as better bladder function and lower levels of distress.
At the same time, sex is not the only factor in intimacy. As long as a marital relationship has partners who are intimate, affectionate, and close to each other at various other levels, the relationship is not doomed.
Five signs of no intimacy in a relationship
A lack of physical intimacy in a relationship is not something you get to read or see in films; they are real. But some couples tend to ignore the red flags.
They live and continue with their lives without realizing that their marriage is falling apart until it's too late.
Let's explore the following signs to understand if you are one of those who suffer from the lack of affection in marriage.
1. You don't touch too much
Relationship expert Rori Sassoon says, "Emotional intimacy is the foundation for physical intimacy," "When you're emotionally connected, you're physically connected, and it makes your physical connection better!"
If that basic touch is absent, then your relationship is not only suffering from a lack of physical intimacy, but you are not connected on an emotional level as well.
That's quite a red flag! You need to open up more as a couple.
2. You feel distant
The lack of physical intimacy is pretty common nowadays. But if partners fail to connect emotionally, then there is a major problem that needs your attention, ASAP!
The common feelings of being isolated or disconnected from your partner are signs of a lack of emotional intimacy. And, when emotion is absent, couples will hardly experience that physical connectedness with one another.
When there is no affection in marriage, there is hardly any future for that relationship at all.
3. Bickering increases
What is bickering? Well! This is nothing but a sign that shows two immature people reacting to one another. Usually, these bickerings end up in major conflicts if both the partners are unwilling to understand the other's point of view.
If the partners fail to connect with each other, both physically and emotionally, this bickering will become a regular thing in your life. Lack of physical intimacy in marriage is responsible for keeping the partners emotionally separated.
Bickering happens when you both are emotionally not connected and show less interest in understanding your partner.
4. Absence of playfulness and humor
Is your relationship lacking all the spark, passion, playfulness, and humor as it used to be once? If the answer is 'Yes,' then you are standing on the brink of disaster.
One of you will soon lose your patience, and the unsatiated hunger for passion and aliveness will drive your relationship to the point of a significant crisis.
5. None of you encourage physical proximity
There are times when sex takes a back seat, especially during pregnancy or when there are infants to take care of. Such a dry spell in marriage can have two entirely different outcomes.
Either couple can get habituated to this momentary dry spell or feel completely disconnected, which eventually leads to infidelity and marriage separation in the long run.
What can be done to improve physical intimacy?
It is not always easy to fix the issue of a lack of physical intimacy — but it can be done in most cases.
The key to resolving intimacy issues is to take things slow and not rushing into pressurizing your partner into understanding everything at the pace you want to.
Another great thing to do is empathizing with the partner and being open to their idea of intimacy and affection. Find out what your partner likes and doesn't like in terms of physical intimacy, and encouraging physical closeness in non-romantic ways, such as simply holding hands, sitting next to each other while watching films, taking walks together, and so on.
If nothing seems to work and you can feel that the relationship is suffering because of this, don't hesitate to seek professional help by talking to a marriage counselor or sex therapist who can elevate your understanding of the situation and guide you on how to work on your love languages to improve intimacy.
What matters at the end of the day is that your marriage should be healthy and happy. Whether both of you make it work by yourselves or get some help to enhance intimacy in your marriage does not matter as long as you realize that your relationship needs extra care to make things work.
Also Watch:

Share this article on
Want to have a happier, healthier marriage?
If you feel disconnected or frustrated about the state of your marriage but want to avoid separation and/or divorce, the marriage.com course meant for married couples is an excellent resource to help you overcome the most challenging aspects of being married.
More On This Topic
You May Also Like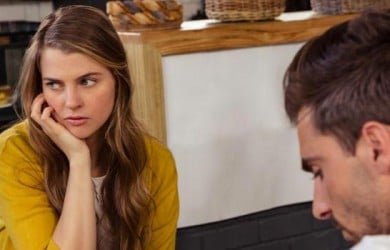 Popular Topics On Married Life