Is Your Relationship in Trouble? Eliminate These Four Items
Is your relationship in trouble? You are not alone. Many relationships are in serious trouble today, and too many people have no idea of where to begin in order to save the love that they were hoping would last a lifetime. Taking up a, " Is my relationship in trouble" quiz can be a handy tool to spot any red flags of trouble in your relationship paradise.
For the past 29 years, number one best-selling author, counselor and Life Coach David Essel has been helping people to understand the powerful rules that are necessary to follow in order to save a relationship that's on the rocks.
Relationship in trouble? Look no further.
The four most important items to remove in your relationship
If you find yourself asking the question, is my relationship in trouble, here's the right help to know what to do if your relationship is in danger. Below David shares the four most important items to remove in your relationship, if you want it to have a fighting chance to succeed.
"30 years ago, the first year I worked officially as a counselor and Life Coach, I was hit with a situation that I really didn't know what to do with .
A man and his wife had been married for 30 years, and when they came in my office they told that they've been fighting like cats and dogs for 28 of those years.
And they both looked like they had been fighting for 28 years. Relationship in trouble? No doubt.
They were exhausted. Tired. Irritable. They could not hear a thing each other was saying in our session, at least in our first session, because they were so filled with resentments and other characteristics that come with many terrible relationships. Being filled with resentment is one of the four signs that your relationship is in trouble.
What I did with them, the same thing I've done for the past 30 years with couples to overcome failure in relationships, from all over the world, is that I got them to seriously remove the following four items in the relationship in order to give it a chance, to turn it around from relationship in trouble to a happy relationship.
1. A dramatic decrease in the negative energy
There absolutely has to be a dramatic decrease in the negative energy established between two people in a relationship.
And one of the ways we do this, is that we teach them the art of disengagement.
What this means is, that at least one of them, when they notice the relationship going back into another argument, another blame game, that at least one of the couples if not both must take a big breath, and pause, and then repeat something similar to the following:
"Honey, I love you, and I really want to stay together. But we're going down a path that's going to end in another terrible argument. So I'm going to disengage. I'm going for a walk, I'll be back in an hour, let's see if we can talk about it then with a little less anger and animosity."
In all reality, it's best for both couples to be able to do this, but as I tell individuals I work with today, there's usually one person in a relationship who needs to take on the responsibility to be the one who disengages more often.
To disengage doesn't mean that you give up your belief systems, but it means that you stop the negative energy, the anger, the rage, the ongoing text wars or verbal wars and you do it because you're trying to turn a once a fantastic relationship around.
2. Eliminate passive aggressive behavior
This is the second, and a crucial component of reclaiming the love.
Passive aggressive behavior, occurs when you're in an argumentative mood with your partner, and they text you and instead of replying to the text, and let's even imagine that it's a nice text, that you decide you're going to make them wait two or four or six or eight hours before you respond.
That's called passive aggressive behavior.
And don't think for a moment that your partner doesn't know what you're doing with your lack of reply to their text messages. They know exactly that you're pulling another passive aggressive move.
Eliminate all passive aggressive behavior, face the challenges head-on, in order to give yourself a chance to save the relationship.
3. Name calling must end
One of the signs that your relationship is not working is when both of you, or at least one of you resorts to name calling. Name calling must end! Over 30 years, I have had couples come in and tell me that they have been calling their partner every name in the book that you can imagine for the past 10, 15 or 20 years.
This must stop if there's any chance to save the relationship.
Name-calling creates defensiveness, name-calling creates an incredible negative atmosphere, and once you start using name-calling as a technique to put your partner down, they will never trust you again. Trust me on this one.
4. Eliminate all addictions
I know this seems so obvious right?
So many couples that I've worked with in these chaos and drama-based relationships , who are losing the concept of love with each other, also struggle with addictions.
It might be alcohol, or some other type of drug, overspending, overeating, workaholism, Whatever the addiction or dependency is we must stop it now in order to give the relationship a chance to heal.
You'll notice in this article I haven't said one thing about trying to do positive things in the relationship in order to save it.
And why is that? Because if we don't eliminate the above, if we don't decrease the negative energy, if we don't decrease and eliminate the passive aggressive behavior as well as the name-calling and as well as the addictions that might be present, there's no way in hell any positive moves in the world of relationships and love will have any lasting affect.
Does that make sense?
If your relationship is in trouble, reach out to a counselor, Life Coach or minister to get some help.
And while you're doing that, eliminate the above four items that occur in almost all dysfunctional love relationships, and you might just be on your way to learn how to become more humble, vulnerable and open in love versus closed in love with the techniques that so many of us use.
Love will never be enough to save a relationship. It takes a lot more than love. It takes logic. It takes common sense.
It takes following the advice written in the article above. It would also be a good idea to seek inspiration from relationship in trouble quotes. When relationship troubles sap you of your mental and physical energy, relationship problem quotes can be a ray of hope that infuse a positive energy in you to set things right.
And if after everything, you still spot signs your relationship is over, it's best to sever ties, leave the toxic relationship behavior and make a new beginning.
David Essel's work is highly endorsed by individuals like the late Wayne Dyer, and celebrity Jenny Mccarthy says "David Essel is the new leader of the positive thinking movement.
"He is the author of 10 books, four of them have become number one best sellers. Marriage.com has verified David as one of the top relationship counselors and experts in the world.
Share this article on
Want to have a happier, healthier marriage?
If you feel disconnected or frustrated about the state of your marriage but want to avoid separation and/or divorce, the marriage.com course meant for married couples is an excellent resource to help you overcome the most challenging aspects of being married.
Learn More On This Topic
You May Also Like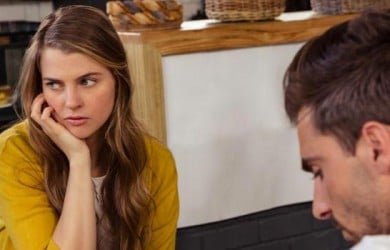 Popular Topics On Married Life