Twin Flame Telepathy: The Symptoms, Techniques and More
Have you ever met someone and felt that you'd met before, perhaps even in some previous lifetime? The concept of twin flames has been around since ancient times including the Greeks, Hindus, Christians and many more. Today, perhaps even science can also talk about twin flame telepathy.
What is twin flame telepathy?
Telepathy, as described in Britannica, is passing thoughts to someone else without using our commonly used senses. Whilst previously, telepathy would have been only discussed in psychic or spiritual spheres, today, scientists are conducting studies to scan telepathic brains to research the process.
Now you need to ask yourself, "What is twin flame telepathy"? It's actually all connected to how we develop as adults. Jane Loevinger, a 20th-century American psychologist, created a theory of ego development, although others have added to the framework, including Ken Wilber, Susanne Cook-Greuter, and many more.
The idea is that we mature through stages, and some of us will get to transcendental levels of inner wisdom. At that stage, you have deep empathy for those around you and an appreciation that we are all connected through our essence. Some call this their soul or spirit or flame.
So, twin flame communication is when you've gone beyond being driven by thought processes and can connect to something far deeper. At this point, you relate to other souls in a way that's beyond words and highly empathic. That's when you feel a telepathic love connection.
Related Reading: 

How Twin Flame Relationships Work
5 signs of twin flame telepathy
Some believe that twin flames are preordained, while others prefer to believe that we are all connected as one. A useful metaphor often cited in Buddhist circles is that we are like individual waves in the sea and yet part of the ocean.
Everything in life is a paradox or yin yang. Being able to hold the concept of being both an individual and part of a whole is hard for our logic-driven minds. Instead, you might want to think of it as beings connected by and through nature.
Alternatively, think of it as something you feel in your gut. This will make it easier for you to spot the following twin flame telepathy signs:
1. Intuition
It starts with that feeling you can't really describe and yet you know it's there. This is most surprising when you feel it when you meet someone you might not normally choose as a partner. Something calls out to you though, deep inside.
Intuition can be further enhanced with twin flame song telepathy. In fact, as this article on neuroscience and music highlights, music boosts our empathy and overall mood so we're more likely to connect intuitively.
2. Coincidences
Twin telepathy meaning often hides in those peculiar signs that you sometimes see in life. You'll notice patterns, images or numbers, in your day to day, that remind you of your soulmate. Even outside direct telepathy, the universe is sending you signals.
3. Insecurities
It's important to note that some twin flame telepathy signs aren't always positive. A twin flame is essentially a part of your soul including all the blindspots you wish you never had. This mirror that now appears to you in physical form can be intimidating.
Although, those who truly embrace the desire to be at one with the universal consciousness learn to support each other and grow together. Again, their aim is to leverage this telepathy to be better so that we can all be better together.
4. Intense and magical connection
You'll know when you get that telepathic love connection. It's both intense and unique while also being indescribable. You can read as many descriptions as you want. They'll make sense to you but only when you experience this telepathy, you will suddenly and simply just know.
5. Desire to grow
One of the strongest signs that you've discovered telepathy between twin flames is that you both want to learn, discover and grow. This is the beginning of a journey that most will never understand but that you want to explore together what this means for you and your emotions.
5 ways you can experience twin flame telepathy
Once you've spotted the signs, you can now also experience these potential twin flame telepathy symptoms:
1. Emotions
For many people, this comes from mirror neurons, which are described in this paper. These are fired in our brains so that we feel empathy towards others. They also seem to enable us to copy and learn from each other's body movements.
Although, scientists don't believe mirror neurons can drive telepathy. In fact, telepathic communication between soulmates is something more again. The idea is that you feel each other's emotions regardless of distance.
Of course, this hasn't been scientifically proven and it could just be the mind cleverly jumping to conclusions about your twin flame's day. Either way, emotions connect us and the universe as a whole. We might not understand it but you'll know in your gut that there's something there.
Have a look at this video if you want to learn more about mirror neurons:
2. Images
Mirror neurons are how we influence each other. Some even say it's how we've survived this long because thanks to them, we learned to collaborate and support each other. That's potentially why we dream about each other or is it telepathy between soulmates?
It's hard to differentiate between something magical and when you're just dreaming of someone you have a crush on. Although, don't forget that it involves a much deeper emotion and connection. Sometimes, dreams are there to remind us that we should be with that person.
3. Interconnected thoughts
Clear signs your twin flame is communicating with you is that you'll get random thoughts, popping into your head, that belong to your twin. With time, most partners do this as they influence each other such that they pick up each other's habits of the mind.
We all have habits even in how we think. For instance, do you tend to be focused on the future or stuck in the past? Whatever it is, your this telepathy will help you notice it and you might even be able to shift it with practice.
4. Physical shift
Has the earth stopped? Did you feel like all your cells and molecules have suddenly rearranged themselves in an instant? Telepathy between twin flames is powerful. Your body feels it just as much as your mind.
Some of the twin flame telepathy symptoms you might experience are that warm and fuzzy feeling in your gut because your twin flame is close by. They might not physically be there but you feel them all the same.
5. Separation sickness
The painful side of twin flame telepathy physical symptoms is when you're apart. You'll feel low and depressed and completely demotivated. It makes sense if you think that you've cut off a piece of your soul from yourself.
That's why it's important to keep twin flame communication going when you're physically apart. Those worldly devices such as phones are still useful even when you've transcended into something magical.
Also Try: Quiz: 

Have You Found Your Twin Flame?
What is the true purpose of twin flames?
When you get to the stage where you care about your global family rather than just your own sphere of life, you're focused on personal growth and transformation. A twin flame or kindred spirit will want to help you grow and will grow with you not just for both your sakes but for the universe.
Essentially, telepathic communication between soulmates also assumes that the soul or flame is eternal. After all, science reminds us daily that energy cannot be created or destroyed as per your soul.
Once you feel this in every fiber of your body, you want to do everything to grow and give as much compassion and love back to the universal whole. You can now also more easily recognize twin flames who have the same purpose and desire to contribute to the universe.
So, you might experience signs your twin flame is communicating with you. These could be any or all of the ones listed above. Either way, you're listening to your inner senses and letting yourself be fully integrated with the world through unconditional love, including opening up to twin flame telepathy.
The art of twin flame telepathy
What is twin flame telepathy if not going beyond what most like to call 'reality'? Of course, many will dismiss this, but this is usually because they're still working out who they are. As you can imagine, the work starts with self-awareness and self-compassion.
Nevertheless, tapping into inner senses takes more than just learning a few techniques online. It means connecting to your true self so that you can experience twin flame telepathy symptoms deeply. It also means shutting out the distractions of the non-stop, instant gratification world we've created.
Meditation, mindfulness, and an energy flow practice such as yoga or breathing are key for learning how to communicate telepathically with a twin flame. These practices help take you out of your endless internal chatter so that you can notice your inner flame. This opens you up to telepathy and all its possibilities.
How to practice twin flame telepathy
Knowing techniques for twin flame telepathy isn't the same as practicing them. Moreover, learning to manage our thoughts so that they don't stop us from 'hearing' our twin flame takes patience. And it doesn't just involve meditation.
In this approach of developing that inner sense and unconditional love, it is suggested that we start with baby steps.

For example, abstaining from unhealthy practices such as lying and observing healthy ones such as self-reflection.

Then, you can move to yoga postures, breath control and then eventually comes meditation.

Another common technique used alongside these is visualization.

Once you've discovered your calm center, you can imagine being with your twin. This is a great trigger for how to communicate telepathically with a twin flame.

Let's also not forget the twin flame song telepathy.

Music is a natural platform for allowing us to transcend our daily foibles and connect to something deeper and divine.

It also forces us into the present moment such that we forget ourselves and integrate with unconditional love instead.
Conclusion
Twin telepathy meaning is when two people send each other images, emotions, and feelings without using our normal mode of communication. They have got to the stage where they are so self-aware that they can transcend their own feelings and be at one with another soul.
Typical signs of twin flame telepathy include an intense and magical feeling deep down inside. It will also seem as if the universe is sending you signals from that person in everything you see around you.
Some people achieve the twin flame telepathy physical symptoms by instinct, but everyone can work on it with practice. This usually involves at least some form of meditation, mindfulness, energy flow exercises, and visualization. These practices allow you to quieten your mind and body to 'hear' the telepathy between soulmates.
Share this article on
Want to have a happier, healthier marriage?
If you feel disconnected or frustrated about the state of your marriage but want to avoid separation and/or divorce, the marriage.com course meant for married couples is an excellent resource to help you overcome the most challenging aspects of being married.
Learn More On This Topic
You May Also Like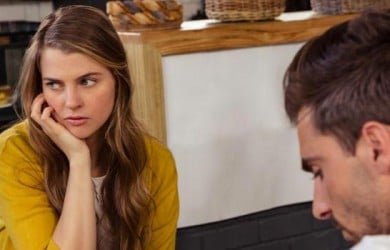 Popular Topics On Married Life