6 Key Tips to Stop Being Insecure in a Relationship
Insecurity in relationships – A feeling we have all felt in our lives one way or another at a point or more.
From the self-doubts to the jealousy and hatred that keeps you up at nights, we hope you agree with us when we say that feeling insecure has got to be the worst of all feelings, right?
But for some people, being insecure in a relationship is more than a matter of a few days or moments. Such people feel anxious all the time in their relationships, and even though it is something natural, to feel insecurities can be toxic to your relationship.
Thus, it is essential to look out for the times when you feel insecure and work on it since the start. To help you do that, below are the six ways on how to stop being insecure in a relationship.
1. Don't impose insecurity on yourself
If you are being insecure in a relationship, the foremost step for dealing with insecurity is to stop imposing things on yourself.
Sometimes, you become so self-conscious that you start holding yourself responsible for everything that goes wrong about you. And, its a chain reaction that pushes you deep down into the quagmire of insecurity and anxiety.
Self-introspection is good. But, make sure that it doesn't become an obsession for you that further escalates your relationship insecurities.
Try to develop proper reasoning. Not all bad happens because of you. Seek professional help or read self-help books to help you align your thoughts and get rid of insecurity.
2. Communicate to your partner about your insecurities
One of the best ways for overcoming insecurity in relationships is to talk about them to your partner.
Talk to them, and tell them what it is that makes you feel insecure.
For instance, is it them being too friendly to some girl or a boy other than you? Tell them and communicate with them about it. This is important as sometimes we need self-assurance to boost up our confidence in ourselves.
However, an important aspect here is that you tell your partner about it calmly instead of lashing out on them because it is not really their fault either.
Thus, make sure to talk it out with your partner, and instead of making them suffer, seek to follow a solution together.
3. Form a habit of looking at your positives daily or often at least
What causes insecurity in a relationship?
If you are feeling insecure in a relationship, ask yourself – do you often feel that you are unloved?
This might not be the case in reality, but you could be imposing these negative thoughts on yourself. You could be weighing your flaws way beyond, causing you to feel low about yourself.
It is no hidden fact that insecurities spring out from the things we lack and revolve around our negatives or flaws. These insecurities then start to make us feel less valuable as a whole as our prime focus is only on our flaws at that moment.
Thus, it is important to have a look at your positives every time you feel insecure about escaping this feeling.
In fact, make it a habit. Remind yourself of your worth and the value you carry and be happy about who you are.
However, make sure that this does not lure you into being arrogant and away from humbleness, which is another toxic trait that can harm you as an individual and your other relationships.
4. Practice self-compassion and build a self-esteem
People who are insecure in relationships tend to have poor self-esteem. And it pretty much explains that when we feel no satisfaction on the inside, even seeking validation on the outside does not help you much.
Thus, it is important to practice self-compassion and build strong self-esteem. This invokes a satisfaction about who you are as a whole and allows you to love yourself.
This on a bigger picture cuts the root cause of your insecurities in the relationship, helping you achieve the peace you deserve!
The following provides you essential piece of advice to stop being insecure in a relationship.
5. Work on your weaknesses and accept them
To stop being insecure in a relationship, it is important to acknowledge the fact that no human being has ever been perfect.
We all have our own set of positives and flaws, and it is completely perfect to be flawed. They are a part of your identity.
Thus, own them and remember that your flaws are not the only part of you. Adopt a positive behavior towards yourself and others as well.
And additionally, work on your flaws if they can be fixed.
6. Don't be a people pleaser
For getting over insecurity in your marriage, you might inadvertently resort to the habit of pleasing your spouse for no reason. You might compromise on the wrong foot, inviting yourself more troubles.
Remember that by being fake and trying to please your spouse or other family members or friends, you cannot get rid of insecurities. In fact, some selfish people around can take good advantage of this habit.
So, how to get over insecurities in this case?
You need to practice self-love if you want to stop being insecure in a relationship. You cannot expect others to love you if you don't love yourself the way you are.
And, in this process, if you happen to annoy somebody around you, let go! You are not liable to keep everyone happy. If people misinterpret your actions, you can try to explain yourself in a polite manner, but by holding your head high.
If you still find yourself ruminating over how to deal with trust issues and insecurities in a relationship, you must seek professional help.
Being insecure in a relationship is not just damaging to your relationship, but also your own mental health and emotional well-being.
A professional counselor or therapist can help you decipher the underlying problems that are leading to insecurity and other behavioral issues. Bu using a systematic approach, they can equip you to identify your concerns and tackle them effectively.
Share this article on
Want to have a happier, healthier marriage?
If you feel disconnected or frustrated about the state of your marriage but want to avoid separation and/or divorce, the marriage.com course meant for married couples is an excellent resource to help you overcome the most challenging aspects of being married.
More On This Topic
You May Also Like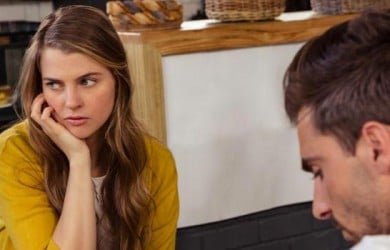 Popular Topics On Married Life