Finding the Right Therapist Isn't so Hard Anymore
Marriage.com helps you connect with the best
Find, connect, and seek advice online with your perfect 1-on-1 therapist
Your Path Towards Healthy and Thriving Relationships Begins at Marriage.com
Finding and connecting with local therapists has never been easier. Our ever increasing community of expert therapists is proactive with relationship advice and mental health support. Get customized sessions to meet your relationship goals.
Find a therapist
Everyone has unique needs when it comes to relationship help or mental health condition. Search by name, city or zip and we will display the best therapists in your locale from our list.

Connect
Found therapists that seem right for you? Great! You can connect with them directly on their profile page. Get to know them better by reading their advisory articles. Contact them and take back control of your life.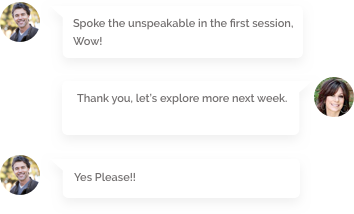 Seek advice
Now that you've found your perfect therapist, don't wait to seek advice and therapy. Talk 1-on-1 as your therapist helps you uncover strengths to cope with life challenges.