15 Common Causes of Low Sex Drive in Marriage
Physical intimacy is an essential part of any marriage. It raises your emotional connection to your spouse, builds trust, and contributes to overall relationship satisfaction. Plus, it's fun, and it feels great.
It's no surprise, then, how loss of sexual desire for a partner can contribute to an unhappy union.
It's normal for your sex drive to have peaks and valleys throughout your marriage, but how do you know when an intimate lull has become a real problem?
There are various physiological and psychlogical reasons for a low sex drive. From sexual desire disorders to chronic illnesses and loss of attractiveness in a marriage can be the reason why you are witnessing a lack of sex in a relationship.
15 causes of low sex drive
If you are wondering what is causing the lack of desire in marriage or why you are losing sex drive after marriage, here are some common reasons for low sex drive in men and women and what you can do about it:
1. Low testosterone
Having low levels of testosterone is what causes low libido in males and can contribute to sexual issues. A lack of sex drive, erectile dysfunction, inability to orgasm, and more.
You may think that low testosterone levels only affect male sex drives, but this isn't so.
Women's bodies also produce testosterone, which is the hormone responsible for their sexual desire as well. A lack of testosterone in both men and women can cause a lack of desire in marriage.
2. Unsatisfying sexual experiences
Witnessing a loss of sex drive in marriage? Sometimes it isn't your body but your past sexual experience that might be causing a lack of sex in marriage.
Have you had a bout of unsatisfying sexual experiences?
Negative sexual experiences can be one of the causes of low sex drive after marriage.
Sex can lose its appeal when you only remember the underwhelming experiences. If you haven't been having fun and attaining true sexual satisfaction, sex may become a disappointing experience for you. And you may experience a low sex drive because of this.
3. Medication
Certain medications might be the reason behind low sexual desire in marriage.
Oestrogen in the birth control pill may hinder testosterone's effect and lower their libidos. Other medications, such as those for clinical depression, can hurt your sex drive.
If you are not connecting sexually with your partner, look into the side effects of the medications you and your partner have been consuming.
4. Chronic illness
Having a chronic illness may leave you feeling constantly fatigued.
Exhaustions can explain why a husband or wife has no sex drive and no desire for intimacy.
Furthermore, you may have sexual desires but feel too mentally and physically spent to follow through on them.
5. Changes in hormones
Menopause can play with your hormones, lowering testosterone and dropping estrogen levels. This can make the vagina dry and make sex uncomfortable or painful.
Have you wondered, "my wife has a low sex drive?"
Remember, women tend to produce less estrogen after menopause, which is why postmenopausal women experience such a noticeable drop in their sexual appetite.
Pregnancy and breastfeeding can also be one of the causes of low sex drive that hamper sexual desires for a time.
6. Poor body image

Being self-conscious and lacking confidence in your body may contribute to a sexless marriage.
People with low self-esteem or who have experienced a severe change in body weight or image may not be inclined to have sex or be intimate with their partners. These body image issues can dampen sexual desires.
7. Mental health
Those suffering from depression or other mental health problems may experience a low sex drive in married life.
Causes of low sex drive in marriage could be an immense amount of anxiety or stress.
8. Excessive drinking
Some studies theorize that being dependent on alcohol can cause erectile dysfunction and be the reason why a husband has no sex drive.
As alcohol makes its way to the bloodstream, the brain's ability to register sexual stimulation becomes weakened.
If you imbibe too often or are dependent on alcohol, this could be a reason for no sexual desire.
What to do when your wife or husband is not interested in sex anymore?
Now that you know the leading causes of low libido and poor sex in marriage, it's time to do something about it. If you are suffering from the effects of lack of sex in marriage, don't leave your partner or doctor in the dark!
9. Resentments
What? Not dealing with long-held resentments is one of the biggest causes of a lack of sexual desire in couples that have been together for more than a few months.
If your wife or husband is not interested in sex anymore, it could be because of some unresolved issues and resentments that they retain from previous
Related Reading:

 Recognize the Red Flags of Resentment in Your Relationship
10. Sexual miscommunication
This is a tough one. Are there conversations regarding sexuality that you're avoiding? Procrastinating on?
Due to a lack of sexual communication, you may never get to know what your partner likes or dislikes sexually.
Knowledge is power indeed. Once you know what your partner wants and know the same about you, you can work together to maximize your satisfaction levels.
Related Reading: 

15 Causes of Low Sex Drive In Women And How to Deal With It

11. Busy schedule
Is work taking up all your time? Do you have no time left to even think about sex?
Your busy schedule could be one important reason you cannot think about any pleasurable activity, including sex.
The demands of your daily life or poor time management can keep you occupied in a way where your sex life and sexual urges take a backseat. It could be why your wife or husband has a low sex drive.
12. Lifestyle choices
Sometimes factors such as poor eating and sleeping habits can play a role in lower the libido of a person.
Research shows that lifestyle impacts the sexual drive of men and women. Certain types of food, sleeping pattern or mobility are a few things that can impact the sexual libido overall.
13. Trauma
Sexual trauma can leave deep mental wounds that stay with people for a long time.
Research shows that childhood trauma has a role to play when it comes to the sexual desire of people. It can lead to sex getting associated with something traumatic and thus undesirable and harmful.
14. Lack of attraction
Have you been married for a few years? Has your sex life deteriorated over the years?
People can lose sexual interest in their partners. This could be the reason why someone has no sex drive.
Attraction can be a crucial component of sexual desire, and in the absence of it, a person may experience low sexual desire in a marriage.
Watch this video to learn more about the role of attraction in a marriage:
15. Trust issues
If you have had a difficult time trusting partners, this is likely to harm your sex drive as well.
Studies have seen an evident link between trust and sexual satisfaction. They are both linked to each other and work at simultaneously enhancing each other in a healthy relationship.
In the absence of trust, sex can become an unsettling and confusing act that brings out a person's insecurities and doubts.
What to do if your partner has lost interest in sex?
Low sex drive is something that can affect a relationship profoundly. It can lead to marital problems, exacerbate issues within the marriage or be an indicator of existing problems.
Low sex drive is a cause for worry; however, in most cases, it can be addressed using the methods mentioned here:
1. Communicate
You can't fix something if you aren't open and honest about the problem. One of the first things you need to do with your spouse if you have no sex drive is to talk to them about it.
It may be uncomfortable, but if you do not address the issue, you are leaving your partner to wonder if you are no longer attracted to them or are having an affair.
Resentment can build when your partner is left in the dark about your diminishing sex life.
2. Sex counseling
Talking to a sex therapist or a marriage counselor about your low libido may sound like an absolute nightmare, especially if you are a private person by nature.
But, many couples have benefited from seeking counseling regarding their sex life. A counselor may be able to identify the problem behind sexual dysfunctions or low libidos, especially if the problem is emotional.
3. Bridge the emotional distance
One problem contributing to having no sex drive with your spouse is feeling emotionally distant.
Help remedy this problem and strengthen your marriage at the same time by making an effort to bridge any emotional distance that has occurred in your relationship.
Seek counseling and start having a regular date night each week. This will help you reconnect as friends and romantic partners and build sexual tension.
Related Reading:

 How to Reduce the Emotional Distance in a Relationship
4. Spice things up
Some people get bored with their sexual routines. Endeavor to spice things up and try new things together.
Couples who create new experiences inside and outside the bedroom deepen their connection and feel more adventurous in other aspects of their lives.
Explore the things that seem acceptable to both of you, like dirty talk, toys, or roleplay as a new and exciting part of your sexual routine.
5. See your doctor
For many, having a low libido may not be the norm. If you have sat around wondering, "my wife has lost interest in me sexually, "then maybe it's time to consult a doctor.
Consult your doctor to determine what factors might be affecting your sex life.
Your doctor will be able to do tests to see whether any medications, emotional issues, or lack of testosterone may be contributing to your lack of sexual desire.
Final thoughts
Having a low sex drive can be dangerous for the happiness of your marriage.
Low libido can stem from boredom in your sex life, work stress, anxiety, certain medications, and a poor emotional connection to your spouse.
If you want to get your sex drive back, you and your spouse may want to visit a sex counselor, consult your family doctor, and make an effort to connect both emotionally and physically every day.
Share this article on
Want to have a happier, healthier marriage?
If you feel disconnected or frustrated about the state of your marriage but want to avoid separation and/or divorce, the marriage.com course meant for married couples is an excellent resource to help you overcome the most challenging aspects of being married.
Learn More On This Topic
You May Also Like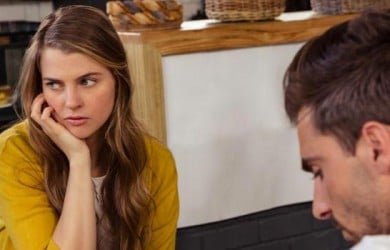 Recent Articles
Popular Topics On Married Life