Recognize the Red Flags of Resentment in Your Relationship
Are you struggling with conflict, anger or any kind of resentment in relationship? Perhaps you'll take comfort in knowing that you're not alone! The ongoing conflict could be a sign that resentment is lurking in your relationship or causing the deterioration of your marriage. What is this silent killer that leads to resentment in relationship, what causes resentment and how to fix resentment in a marriage?
What causes resentment in a marriage or any form of relationship?
Resentment is caused by unresolved pain in a relationship. It's the unwillingness or the inability to forgive another person. Every relationship is going to endure some type of pain. At some point, your partner will let you down or do something that will hurt you.
What you do with your pain will determine if resentment enters your life. Holding on to your pain or holding grudges in marriage will only lead to negative feelings and resentment.
Resentment in a relationship can happen slowly and quietly
What causes resentment in a relationship? The unresolved pain which is the root cause of resentment continues to grow over time. As those small hurts of a relationship pile up, your resentment in relationship begins to build. You might not even realize there's a problem until anger and conflict seem to be destroying your relationship.
Holding a grudge, feeling irritated with your partner, and passive aggression are often signs of resentment. Every time you see them you're reminded of the pain they've caused you.
Holding on to resentment hurts you and your relationship
What does resentment mean in a relationship? Your resentment in relationship is like an open wound in your emotions. It prevents you from healing and moving forward in your life. Your resentment also destroys your relationship because of the underlying grudge you're holding. It prevents you from reconciliation with your partner and keeps conflict alive.
It might feel like your resentment is justified. The pain your partner has caused is real. The problem is that you can't make progress while resentment is living in your relationship.
Letting go of resentment requires forgiveness
So, how do you let go of your pain and allow healing in your relationship? How to let go of resentment in marriage? Or how to get past resentment in a relationship?
Releasing your resentment will require forgiveness. Choosing to forgive the person that has caused your pain and releasing your own negative emotions. Often times people object to forgiveness because it seems like you're letting the person off the hook. You don't want to allow them to continue to hurt you.
Forgiving your partner doesn't mean letting them off the hook. It simply means you're choosing not to hold on to the negative feelings in your life. Forgiveness is not always an easy thing to accomplish. It's a process that requires some work, but the rewards for you and your relationship can be amazing.
Forgiveness allows for reconciliation in your relationship
How to deal with resentment in a relationship? The answer is by practicing forgiveness.
Practicing forgiveness will deal with resentment in relationship and help your relationship to heal. Often times reconciliation has to occur if your relationship has been affected by resentment.
Reconciliation is the process of working through the pain which is caused by resentment in relationship and choosing not to hold on to that grudge anymore. It means that you're working to have a healthier and happier relationship.
Forgiveness is the first step in the direction of reconciliation but it's not always the same thing. You can choose to forgive your partner even if you're not able to reconcile your differences. The ultimate goal is that you can allow forgiveness to happen, release the resentment causing your anger, and have a healthier relationship in the end.
Share this article on
Want to have a happier, healthier marriage?
If you feel disconnected or frustrated about the state of your marriage but want to avoid separation and/or divorce, the marriage.com course meant for married couples is an excellent resource to help you overcome the most challenging aspects of being married.
More On This Topic
You May Also Like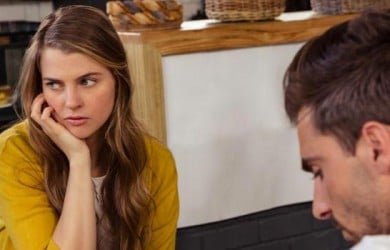 Popular Topics On Married Life