How Long Does The Honeymoon Phase Last After Marriage
At the start of a relationship or marriage, it can feel like you're walking on sunshine.
Everything about your relationship, your partner, and the potential for your future together is new and exciting — you feel whisked away by romance and passion.
This magical first stage of a relationship or marriage is the honeymoon phase. But when does the honeymoon phase end?
The honeymoon period can feel like the most amazing part of a relationship, but it will, unfortunately, come to an end.
And while the end of this romantic phase can seem like a bad thing, it can actually give your relationship a chance to change for the better.
Overcoming the end of the honeymoon romance can cause your relationship to become even stronger.
Whether you're enjoying the start of a new relationship or you've just packed away your wedding dress, here's what you need to know about what is the honeymoon phase and how long does the honeymoon phase lasts.
Also watch this video on when the honeymoon phase ends:
How long does the honeymoon phase last?
There's no one answer to how long a honeymoon romance lasts because every couple is different.
Most couples enjoy the thrill of the honeymoon phase in marriage for anywhere from six months to two years.
So you could have up to two years of fresh and exciting romance where you and your partner continue to discover more about each other and share your first experiences.
The honeymoon phase ends or rather fizzles out when your relationship no longer feels as new or exciting.
You might feel like you've learned everything there is to know about your partner; you might not feel as excited to spend time with them.
You may even be a little bored with spending so much time with them. This isn't to say you don't love your partner anymore.
The end of the honeymoon phase is just something every couple has to overcome — nothing can feel new and thrilling forever.
How to make the honeymoon phase last longer?
Different factors can affect how long the honeymoon romance lasts for you and your partner.
And this means there are certain things you can both do to make the novelty of your relationship last a little longer.
You can't make it last forever, but following some of these steps could keep the flame burning for an extra few months and keep the honeymoon phase of a relationship going:
Related Read: 

5 Tips to Keep the Flame of Passion Burning Post Honeymoon Phase
1. Remember you still need your space
During your honeymoon phase, you might feel like you want to spend every waking moment with your partner. But the reality is, the more time you spend together, the sooner the thrill of the new romance is likely to wear off.
That doesn't mean you should keep your partner at arm's length — it just means a little space can be a good thing.
See friends as well as each other, and schedule in some alone time too. Remember the old saying that absence makes the heart grow fonder — spending time away from your partner can intensify the romance and keep the flame of passion burning for longer.
By seeing friends and family, gaining an outside perspective on your romance, as well as taking time to be alone and reflect on your new relationship, you'll come to appreciate your partner even more.
2. Try something new with your partner
Enjoying new experiences with your partner can keep the relationship exciting and give you a chance to learn more about each other. It doesn't matter what you do, as long as it's something you can enjoy together.
You could go for dinner at a new restaurant and get dressed up, or plan a romantic experience or trip away. Or you try an adventurous date, like a self-defense class or a visit to a rock-climbing wall.
3. Set the scene at home
Whether you and your partner live together already or you have dates around each other's houses, spending some time creating a romantic atmosphere can keep the romance alive.
If you're both busy with work or enjoying each other's company, it can be easy to forget about setting the scene at home.
Keep your home clean and tidy, so when you spend time together, you can relax together without worrying about anything.
And consider doing things in and around your home to make your partner happy — cook them their favorite meal, decorate with their favorite colors, or surprise your partner with a fresh bunch of flowers.
When the honeymoon phase ends
Eventually, the honeymoon phase will come to an end, but don't fret. The end of this phase isn't a bad thing. What happens next can be just as exciting — the make-or-break stage.
You might realize you and your partner aren't compatible in the real world, or you could overcome the end of the honeymoon phase and be stronger than ever.
Related Read

: 

15 Ways to Recapture the Honeymoon Phase in the Relationship
After the honeymoon stage in a relationship, you'll start to realize your partner's habits and flaws. It can feel like the rose-tinted glasses have come off. But if you still feel as strongly for your partner despite their flaws, you may have found lasting love.
With the initial novelty of the relationship gone, it can start to feel more real. You'll begin to feel more comfortable with each other, you might become more open, and you might even have a few arguments, but that's all part of being in a real and solid relationship.
And what no one tells you about the honeymoon phase is it can come and go. You probably won't experience the same intense romance as you did during your initial honeymoon period, but you might go through stages where you and your partner fall in love with each other all over again.
And each time, you might just fall a little harder. So instead of worrying about the end of the honeymoon phase, look forward to what's to come.
Can the honeymoon phase last three years?
So, is the honeymoon phase real? There is a lot of talk about whether or not the honeymoon phase can last forever. Some say it does, and some say that it doesn't. So, what is the truth?
The honeymoon phase is a period of time when someone is newly married or in a new relationship. It is a time when everything seems perfect, and people are happy with each other. Unfortunately, it does not last forever.
Sooner or later, the relationship will begin to become less rosy, and there will be arguments between the couple.
For some people, this happens quickly, and their relationship ends soon after the honeymoon phase. For others, it lasts for many years, and they end up being happily married for years afterward. There are some couples who just can't seem to shake it off, even years later.
So what does all this mean? How can you tell whether the honeymoon phase will last or just fizzle out in a few months? Unfortunately, there is no hard and fast rule about how long a honeymoon phase will last. It all depends on the compatibility of the couple and how much work they put in to keep the romance alive. You can also count on marital therapy to work on your relationship building.
Takeaway
Some people say that the honeymoon phase lasts only for a few months or even a few weeks. However, others believe that it can last for several years or more. There is no set time limit for the honeymoon phase.
This means that some couples will end up breaking up after a few months, and others will be together for the rest of their lives.
The only way you will know if the honeymoon phase will last is by spending time with your partner and observing how they behave around you. If you are noticing a lack of romantic gestures and signs of affection, it is probably a sign that your relationship is coming to an end.
On the other hand, if you notice that your partner is making an effort to show you how much they love you, there is a good chance that it will last for a very long time.
So, there you have it – the truth about how long the honeymoon phase will last!
Share this article on
Want to have a happier, healthier marriage?
If you feel disconnected or frustrated about the state of your marriage but want to avoid separation and/or divorce, the marriage.com course meant for married couples is an excellent resource to help you overcome the most challenging aspects of being married.
More On This Topic
You May Also Like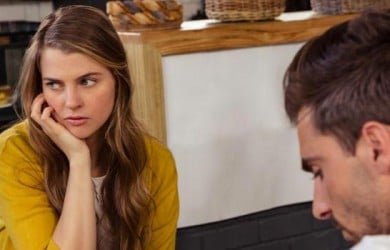 Popular Topics On Married Life