What Is Marriage? Definition, Purpose, Types, and Importance
Marriage, a timeless institution, is the beautiful journey of two lives woven together, each thread representing shared dreams, laughter, and the promise of tomorrow.
It's a commitment beyond words, a journey filled with moments that define a lifetime. Marriage is not just a contract; it's a shared adventure where love is the compass, understanding is the map, and trust is the guiding star.
if you wonder, what is marriage, it's an embrace of both calm seas and stormy weather, a sanctuary for vulnerability and strength. Join us in exploring the essence of marriage – a celebration of partnership, companionship, and a love story that never truly ends.
What is marriage?
What does marriage mean? Marriage is the mix of love and a heartfelt commitment between two people who promise to stand by each other through life's journey. It's the union of hearts, a bond that goes beyond friendship, making two souls partners for life.
Those looking for marriage definition or marriage meaning may not be aware of how deep this concept is.
Marriage is a legally recognized and often ceremonious union between two individuals, typically based on love and mutual commitment. It involves sharing responsibilities and emotions and building a life together as a married couple.
What is another word for marriage?
Marriage can also be referred to as matrimony, wedlock, or the act of tying the knot. These words all describe the same beautiful union where two people become one in a loving partnership.
A brief history of marriage
Marriage has a long and diverse history. It has evolved from arranged alliances for economic and social reasons to today's focus on love and companionship. Through time, it has adapted to different cultures and beliefs, remaining a cornerstone of human society, symbolizing unity and togetherness.
Talking about the origin of marriage, it is again an ancient concept.
Marriage, with its roots deep in human history, finds its earliest known instance dating back thousands of years. In ancient Mesopotamia, the Sumerians, around 2350 BCE, inscribed the laws of Ur-Nammu on clay tablets.
Among these ancient legal codes was the recognition and regulation of marriage, a testament to the enduring institution's significance in human society.
This early example showcased the institution's role in governing relationships, inheritance, and social structure, marking the beginning of a tradition that continues to evolve, shape, and reflect the values of countless civilizations across the ages.
Why is marriage important?
Marriage is like the heart of a society, pumping love, stability, and partnership. It's a cornerstone that strengthens families, creates a sense of belonging, and offers a warm embrace for individuals to share their lives.
The importance of marriage is seen in its ability to foster love, companionship, and emotional support, shaping not only individual lives but society as a whole.
The societal impact of marriage
Marriage carries a significant societal impact.
Studies indicate that married couples often enjoy better physical and mental health, higher levels of happiness, and financial stability.
Children raised in married households tend to fare well academically and emotionally. Marriage can promote a sense of responsibility and community, strengthening the social fabric. The benefits of marriage are well-documented and contribute to the overall well-being of society.
The role of marriage in different cultures
Marriage isn't a one-size-fits-all concept; it's beautifully diverse across cultures. From traditional arranged marriages in India to love marriages in Western societies, the purpose and customs vary widely.
For example, in Japan, marriage is often seen as a way to continue family lines and traditions, while in Scandinavia, it's a symbol of gender equality. Across the globe, the role of marriage serves as a reflection of cultural values, beliefs, and traditions that enrich the tapestry of human existence.
Talking about modern trends, a research finding also indicates that between 1960 and 2011, the stage at which men and women enter a married relationship increased by three to five years.
What is the purpose of marriage?
What is the point of marriage? Let's try to understand what is marriage's purpose in our lives.
The purpose of marriage in people's lives and social setup is complex and multifaceted.
Marriage provides emotional companionship, social support, procreation and family formation, and legal and financial benefits that contribute to the stability and security of individuals and families. It creates a sense of belonging and community, providing a stable environment for raising children.
Furthermore, marriage acts as a social institution that helps to create a sense of belonging and social support. It provides individuals with a network of family and friends, creating a community of support and connection.
As per Umberson et al., 2010, having a strong social support system is linked to better mental health and increased longevity.
Children growing up in stable and loving marital households also tend to have better emotional well-being and outcomes in life. Thus, it can be concluded that marriage plays a vital role in the well-being and happiness of individuals, families, and society as a whole.
Characteristics and types of marriages
Marriage and marriage rules come in a variety of forms, each with its own unique characteristics and dynamics. The type of marriage individuals choose is influenced by cultural, religious, and personal factors. Let's explore some of the main types of marriages.
It's important to note that these are general categories, and marriages can have overlapping characteristics or may fall into multiple types depending on the specific context and cultural practices.
In addition to the various types of marriages, each marriage has its own set of characteristics that contribute to its dynamics and longevity.
Characteristics of marriages include commitment, communication, trust, shared values, flexibility and adaptability, emotional support, and intimacy. These are important factors that contribute to the dynamics and longevity of a marriage.
Marriage vs. Common Law Marriage: What's the difference?
Marriage and common law marriage are two different types of relationships. Let's dig into the differences
Marriage
Marriage is a legally recognized union between two individuals that comes with legal rights, responsibilities, and obligations. It is usually formalized through a wedding ceremony or a legal process.
In a marriage, couples typically obtain a marriage license and have their union solemnized by a marriage officiant. Marriage provides various legal protections, such as inheritance rights, tax benefits, and the ability to make medical decisions for your spouse.
Common Law Marriage
What is common law marriage?
A common law marriage, also known as a de facto marriage or informal marriage, is a type of relationship where a couple lives together as married partners without a formal wedding ceremony or marriage license.
In some jurisdictions, couples who meet certain criteria for cohabitation and present themselves as married may be recognized as having a common-law marriage. The specific requirements for common-law marriage vary by jurisdiction.
As per the American Bar Association, the main difference between marriage and common law marriage is the legal recognition and formalization. While marriage has legal standing and provides explicit rights and responsibilities, common law marriage is recognized based on the couple's behavior and cohabitation without a formalized process.
It's important to note that the recognition of common-law marriages varies depending on the jurisdiction. Some countries or states recognize and validate common law marriages, while others do not. It's advisable to consult the laws of your specific jurisdiction to determine the legal status of common law relationships.
What is a marriage license, and how to apply for it?
A marriage license is a legal document that authorizes a couple to marry. It is a prerequisite in most jurisdictions before a marriage ceremony can be performed. Here's some simple yet informative information on marriage licenses
Check the requirements:

Find out what documents and information you'll need to provide, such as identification and proof of eligibility to marry.

Complete the application:

Fill out the

marriage license application

form with your personal details.

Submit required documents:

Gather any necessary documents, like identification and divorce decrees if applicable.

Pay the fee:

There is usually a fee associated with the marriage license application.

Wait and pick up the license:

Some jurisdictions have a waiting period before the license is issued. Once approved, you can collect the marriage license, which is typically valid for a specific period.
Remember to check the specific requirements and procedures of your local government office for accurate and up-to-date information.
What are the benefits of marriage?
Marriage is a big step in a relationship and brings about several benefits. Let's take a look at some of them
Marriage is a legally binding agreement that provides each spouse with certain legal rights and protections. For example, a married couple has the right to make medical decisions for each other and can inherit each other's assets if one were to pass away without a will.
Marriage provides a sense of social support and companionship, giving you a partner to share life's ups and downs. Studies have shown that married couples tend to have more fulfilling partnerships than those who are not married.
Married individuals tend to have better health outcomes than those who are not married. They are less likely to develop chronic conditions such as heart disease, diabetes, or depression; moreover, they tend to have a longer lifespan.
Married couples can benefit from tax breaks from the government. They can file joint tax returns that may help them qualify for certain credits, deductions, and exemptions.
Some couples get a "bonus" on their federal income taxes by virtue of being married. Other couples suffer a "penalty". The amount can be significant. What are the deciding factors? WSJ's Jason Bellin explains in this video:
Marriage laws: Legal rights & requirements
Marriage laws govern the legal rights and requirements for couples who want to get married. Here's a simple and informative overview of marriage laws
Legal rights:
Marriage laws grant several legal rights to married couples. These rights can vary depending on the jurisdiction, but they often include:
Inheritance rights:

Spouses have the

right to inherit property

and assets from each other.

Decision-making rights:

Married couples can make important medical, financial, and legal decisions on behalf of their spouse if necessary.

Family benefits:

Marriage can provide access to benefits like health insurance, social security, and pension plans.

Parental rights:

Married couples have automatic legal recognition as parents and may have certain rights and responsibilities regarding children.
Requirements:
In order to get married, couples must meet certain requirements set by the law. While these requirements can differ from one jurisdiction to another, some common ones include:
Age requirement:

Couples must meet the

minimum age requirement to get married

, which may vary by jurisdiction.

Consent:

Both individuals must freely and willingly consent to the marriage.

Marriage license: Couples typically need to obtain a marriage license from the local government office before getting married.
Waiting period:

Some jurisdictions have a waiting period between obtaining the marriage license and the actual wedding ceremony.

Ceremony formalities:

Depending on the jurisdiction, couples may need to have a formal wedding ceremony, which could involve witnesses or a marriage officiant.
What are the red flags in a marriage?
Marriage is a wonderful thing, albeit a challenging one as well. However, there are certain signs that may indicate that your marriage is in trouble. Here are some red flags to look out for:
One of the most concerning red flags in a marriage is when communication between spouses breaks down. When couples start having trouble communicating, they tend to become distant from each other, which can eventually lead to bigger problems like misunderstandings, distrust, and resentment.
Physical intimacy is an important aspect of a healthy marriage. If you or your spouse have lost interest in spending intimate moments together, staying physically close, or something that used to come naturally, that may indicate a deeper underlying issue.
In any relationship, cheating or infidelity is the ultimate betrayal. When one partner cheats, it can lead to a loss of trust and can cause irreparable damage to the relationship. Rebuilding trust and healing from such a betrayal is a challenging journey.
A lack of honesty is another sign that a marriage is in trouble. When one partner is dishonest, it can cause a breakdown of trust and make it difficult to move forward in the relationship.
Frequent conflicts with your spouse may stem from unmet needs, past issues, or communication breakdowns. To address these deeper concerns, couples should consider therapy or counseling to build understanding and healing.
FAQs
Marriage is a complex and beautiful journey filled with questions and challenges. Let's explore some common questions about marriage, its ups and downs, and the role of communication and understanding in this lifelong partnership.
What does the Bible say about marriage?
Understanding what is marriage in the Bible is worth understanding and considering. The definition of marriage in the Bible is simple yet beautiful to go through.
It is cherished as a sacred covenant between two people, emphasizing love, commitment, and faithfulness. Verses like "What God has joined together, let no one separate" (Matthew 19:6) underscore the sanctity of marriage.
The Bible teaches spouses to love, respect, and support one another, forming the foundation of a strong and lasting union.
What are the most challenging years of marriage?
The early years and midlife often present the most challenging phases in a marriage. The initial adjustment period can be tough as couples adapt to living together.
Later, midlife crises and the demands of raising children and managing careers can strain the relationship. Open communication and support are crucial during these times.
Why is a marriage license so important?
A marriage license is more than a legal document; it signifies the state's recognition of your union. It grants essential rights and benefits, like tax advantages and inheritance rights. It also provides a framework for the legal dissolution of a marriage if needed, protecting both spouses.
What are some common challenges in marriage?
Common challenges include communication breakdowns, financial stress, raising children, and navigating differences in values and goals. Addressing these challenges requires patience, understanding, and compromise from both partners.
Why is communication important in a marriage?
Communication is the lifeblood of a marriage. It fosters understanding, trust, and emotional connection. Open and honest conversations help resolve conflicts, build intimacy, and ensure both partners' needs and feelings are heard and respected.
How do married couples handle sexual intimacy conflicts?
Sexual intimacy conflicts are common but manageable. The key is open dialogue without judgment. Discuss desires, boundaries, and concerns openly, ensuring both partners feel safe and respected. Seeking guidance from a therapist or counselor can also be beneficial in addressing these issues.
Marriage and its various hues
Marriage has many facets – social, legal, financial, and emotional – that can have a profound impact on our lives.
Legalizing a commitment to a partner and gaining a companion for life are only a couple of reasons why marriage has been a widely practiced cultural tradition.
It's essential to be aware of the pros and cons of marriage before committing, as well as be mindful of common challenges that married couples might face, such as communication breakdowns, loss of intimacy, infidelity, dishonesty, and constant fighting.
However, with a strong foundation of love, trust, and communication, married couples can navigate these ups and downs and create a harmonious and fulfilling partnership.
Marriage is not always easy, and it won't always be smooth sailing, but with patience, understanding, and willingness to work together, couples can enjoy the many benefits that a committed partnership can bring.
Share this article on
Want to have a happier, healthier marriage?
If you feel disconnected or frustrated about the state of your marriage but want to avoid separation and/or divorce, the marriage.com course meant for married couples is an excellent resource to help you overcome the most challenging aspects of being married.
Learn More On This Topic
You May Also Like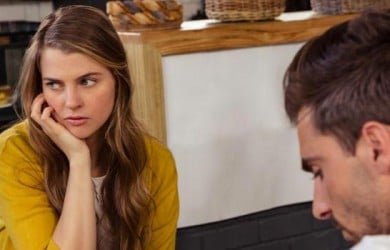 Popular Topics On Married Life