Erectile Dysfunction Is a Couple Issue
When a man comes to me to help them with erection problems, they almost always present with a great deal of shame.
Most of the time, they are alone, even if they are married or in a long term committed relationship, and they see their struggle to maintain or get an erection as an individual failure that they need "to fix" alone.
However, as a couple and sex therapist, my experience has been that ED is not a personal failure but a couple problem that requires a couple solution.
What is erectile dysfunction
ED, short for erectile dysfunction, is a man's inability to get or maintain an erection long enough to have sexual intercourse. According to the Mayo Clinic, it is "very common," with over 3,000,000 cases reported annually.
Eight of ten men will experience Erectile Dysfunction at some point in their lifetime. Eight out of ten! That means most men will, at least, have some ED experience.
It can be short-lived – only happening once or twice and/ or it can last for years. Erectile dysfunction can indicate underlying medical conditions with blood vessels, nerves, or other serious medical concerns.
What causes erectile dysfunction
It can result from taking oral medications that interfere with the libido (such as blood pressure medication). In the absence of medical conditions, erectile dysfunction can be the result of stress and/or psychological problems.
Because there can be many different causes, it is important to pay attention; it is a problem that should not be ignored. However, it is also a problem that can quickly cause a great deal of stress in relationships.
Also watch:
Erectile dysfunction and relationships
For men
Most men respond to the first experience of ED with shock and/or panic. What happens next depends to a great degree how partners respond at the moment.
If the partner is patient and loving, brushing it off as "no big deal" and provides reassurance that it has no particular meaning, a man has a better chance of not entering into a downward anxiety spiral about his ability to "perform."
However, if the partner says things like "What's wrong with you?" or "Why can't you stay hard?" or anything that is degrading, critical or demeaning, this is likely to be crushing to his self-esteem.
This might seem like an extreme reaction, but it is all too common. Unfortunately, our American culture narrowly defines manhood in part by how a man's penis operates.
In my practice, I have found this to be true for all races, ages, and sexual orientations, religious backgrounds, socioeconomic status, and regardless of how conservative or liberal a man is.
Even men who don't think of sex as "important" still fall victim to the shame spiral if they have problems with erections.
Consequently, the anxiety created by ONE really negative experience can have long-lasting and devastating consequences. It may cause a man to think endlessly about and then fear to approach the next sexual encounter.
If he is caught in his head, and it happens again, he may get lost in a profound sense of shame.
After a handful of ED experiences, he will go to great lengths to avoid the fear of not "performing."
He may stop asking for sex and avoid any intimate encounters that may lead to sex. If he can't avoid her advances, he may start an argument and try to make his lack of interest in sex his partner's fault.
This tactic includes blaming her for any small slights (not sex related) or anything that will push her away.
Men who are very anxious about sex may stop kissing or even holding hands with partners, and they may begin to act more like a roommate than a lover without so much as a conversation about the transition. The last thing a man wants to do is talk about it.
For women
When a woman has a partner that can't maintain or get an erection during intercourse, she may start with confusion over what is happening. Most women have no idea how threatening this feels for men.
Thus, she can unintentionally make it worse by uttering a few frustrating words at the moment, or if she insists on talking about it later when he is not ready. If that feels unfair, it is.
If he gets caught in the anxiety spiral and begins to question his manhood, she will likely never know that. What she might feel is his pulling away from her for reasons she can't identify and for reasons he is not willing to admit.
Often women begin to question their own attractiveness and wonder if he is no longer attracted to her. If a woman is already struggling with body issues, this is going to make it worse for her.
If she then tries different things to get her partner interested in sex – wearing sexy lingerie, suggesting sex play or other things she thinks might win him over, and it fails, she may start to feel her own self-esteem plummet.
If he refuses to talk about it (his shame) and she insists and/or gives up out of frustration, this can push relationships into distress.
She may begin to think that it is "not normal" for a man to not want sex and may begin to assume that he must be having an affair.
I actually have had men tell me that they would rather their wives think they are cheating than admit to having problems with ED! It seems crazy, but this is how deep the sense of shame is. So what does this couple do?
Erectile dysfunction treatments
The first step is to understand that ED is common and that it can happen to any man at any age. Even young men can have an ED experience.
Secondly, the couple needs to know that ED is treatable, but if they are stuck, they have to seek help. If the ED is recurring, a man should visit his doctor. A urologist can help rule out underlying medical conditions.
If medical conditions are ruled out, I strongly advise against resorting to pills for a quick fix. My concern about men with no underlying physical conditions reaching for the quick "fix" of a pill is that they never then address the "real" problems causing their ED.
This can create a belief that "I can't get an erection unless I use a pill" when that may not be true.
The work of unraveling whatever mental process is getting in the way (anxiety, stress, depression, relationship difficulties, etc.) takes longer, is harder work, but that work has better long term outcomes.
The good news
Erectile dysfunction is a couple issue because it affects both partners individually, and it affects the relationship.
If a man's partner can support him in seeking answers, such as visiting the urologist with him and/or going with him to counseling, it telegraphs that she does not see him as "broken," but acknowledges that she has a role in addressing this problem.
In the process, they get an opportunity to work together on a vulnerable problem, which in turn can help to build a stronger connection between them.
When couples come together to address erectile dysfunction, I am able to help them identify underlying relationship difficulties impacting their sex life, deepen their emotional intimacy and expand their sexual tool kits- all things that ultimately lead to better and more satisfying sex for both partners.
Share this article on
Want to have a happier, healthier marriage?
If you feel disconnected or frustrated about the state of your marriage but want to avoid separation and/or divorce, the marriage.com course meant for married couples is an excellent resource to help you overcome the most challenging aspects of being married.
More On This Topic
Recent Articles
You May Also Like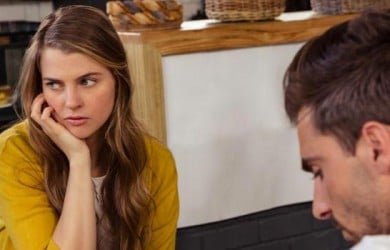 Popular Topics On Married Life