How to Bring Passion Back Into a Marriage: 15 Ways
One of the hardest things in the world is to keep having mind-blowing sex when you are married. And it makes many spouses want to learn how to bring passion back into a marriage.
It is depressing that many marriages are absolutely sexless. In today's interconnected culture, many couples, unfortunately, resigned to a passionless marriage.
But don't fret: this does not have to be the fate you settle upon. While it's hard to have sex with the same person for a decade and still feel the thrill of novelty, you can learn to make love in a much deeper way to feel more fulfilled than ever before.
15 ways of getting passion back in marriage
Having sex with the same person year after year and exploring new bounds of ecstasy requires know-how. It's not going to happen automatically.
How to reignite love? You must make a few significant shifts in how you relate to your partner. When you do, you will find that sex can be as hot as—and sometimes even hotter than—your first time.
Here are some basic ways to learn how to put the spark back in your marriage:
1. Meet afresh
Familiarity is the killer of passion. Lack of familiarity is why one-night stands carry so much sexual charge. When you don't know anything about the person, sex is an exciting discovery. When you're having sex with the same person, monotony can set in. The mystery can wane.
To counteract this natural side effect of marriage, do the opposite. Whenever you want to learn how to bring passion back into a marriage, stand before your spouse as if you have never met and have no history.
Notice something new about them you never noticed before. See and kiss your spouse as if you are doing this for the first time.
Typically, it's the way we think we know someone that makes them boring. Step outside of your assumptions, and you'll be surprised. And surprise creates discovery.
2. Don't drown in the mundane
The mundane details of life destroy passion. When you are married and running a household together, the mundane details stack up. Your entire relationship can become a discussion about who takes out the trash, whether the kids did their homework and when to call the repairman.
Don't let the endless details of life take over your relationship. Learn to have firm boundaries around these kinds of influences. The intimate time you spend with your mate should feel steamy and exciting.
Try going on a date at least once a week where the mundane is off-limits. Set a rule that you are not allowed to talk about "business." You are only allowed to talk about your dreams, desires, and delights, as it can help you address the lost spark in relationships.
You may feel awkward at first. You may sit in silence feeling like you have nothing to say as you are breaking an established pattern. You are being forced to find new ground for relating. Stay there until something new bubbles into your dynamic—that's called passion and originality.
Also Try: 

Is My Relationship Boring Quiz
3. Table subtle resentments
After being together for years, it's only natural for hurt sentiments to accumulate—even subtle ones. These can put you on the defensive, limit sensation, and destroy natural desire over time.
To know how to reignite love, you need to stop holding grudges. So how do you allow yourself to feel so much when your heart hurts?
Keep breathing, maintain eye contact, soften the front surface of the body, relax your heart and let your emotions move freely. Open your body to your partner, no matter how intense your fear of being hurt may be.
With this shift you will go against the natural dynamic of marriage. Instead of settling into familiarity, you can explore the mystery. Rather than letting resentment build a wall between the two of you, you can stay fresh in every moment.
Using these practices, couples discover that sex is not only hot again, but it's hotter than it could ever be with a new partner. The bond of sharing life creates trust. Combine that trust with the re-ignition of passion and you have that everlasting love that romance novels are made of.
4. Express gratitude
When learning how to bring passion back into a marriage, think of using the two magic words: thank you.
Passion has a beautiful link with appreciation. When your partner expresses their gratitude to you, it conveys their appreciation of you. It makes you feel valued and seen, which in turn can respark your relationship.
Research shows that expressing genuine gratitude is an effective counter to conflicts in a relationship. You can fix a relationship that's lost its spark using gratitude, as it compels your partner to feel motivated to invest more energy and time into the relationship.
Related Reading: 

5 Reasons Why Saying Thank You Will Enhance Your Relationship Happiness
5. Self-care
If you don't love yourself, it is difficult to expect your partner to do it.
Find activities and plans that make you feel better about yourself and add to your life. You are much more likely to feel the desire to get intimate with your partner and add passion to your marriage if it has lost the spark.
Self-care activities in individuals and marital satisfaction go hand in hand, as per studies. Marital satisfaction leads to self-care and vice versa. So, make yourself happy to be a better partner to your spouse.
Take the time to go for that grooming session, exercise or relax at a spa. It will help you reignite the flame by making you desirable to your spouse and making you feel confident and sensual in your skin.
6. Welcome experiments
Married life is a long-term commitment, and that's why it requires constant evolution through experimentation in all areas of your life.
You can learn how to bring passion back into a marriage by trying new things sexually. By changing things in this area, you can create excitement and mystery that can keep things fresh for both of you.
You can try role-playing, new sexual positions, techniques or sensual attire, to heat things up.
Also Try: 

What Kind of Sexual Fantasy Do I Have

?
7. Research and learn
Trying to learn how to bring passion back into a marriage? Research it now.
Sex involves the body and the mind for most people. Sometimes your marriage might be suffering from sexual problems that you might need some medical guidance on. So, start researching and learning about the nature of the problem and how you can deal with it.
8. Practice intimacy
Getting the spark back in marriage does not just involve engagement during sex but also before and after it. The marriage should be packed with intimate moments that make you feel connected to your spouse.
To learn how to bring passion back into a marriage, encourage soft touches, hand holding, a caress of the cheek or other small gestures of intimacy. Small touches help you feel engaged with your spouse throughout the day, not just in the bedroom.
Subtle gestures can also put the spark back in marriage by being subtle reminders of your intimate moments with your spouse. These can act as stimulants that keep you anticipating the sex you will have later.
Related Reading: 

20 Communication Games for Couples to Grow Closer
9. Prioritize sex
It is challenging to learn how to bring passion back into a marriage if you don't make sex a priority in your relationship. Passionless sex or lack of sex can be the reality of married life if special attention is not given to the sexual dynamic between you and your spouse.
The chaos and pressures of everyday life can make you disregard having sex with your partner. Set time aside to have fun in the bedroom with your partner.
10. Emotional vulnerability
A good sexual experience involves a combination of mental and physical stimulation. And emotional vulnerability is a good step towards learning how to bring passion back into a marriage.
Research Professor Brene Brown, in her book 'Daring Greatly,' talks about vulnerability being a marker of courage and not a weakness. It can hold negative emotions, but it also is the doorway to happiness, belonging and sexual satisfaction.
By sharing your true feelings with your partner, you can make them feel closer to you. It builds trust and faith in each other, which makes the sexual experience more passionate.
When you go from closing down to being vulnerable, you eliminate the toxic energy. The past becomes irrelevant and the present moment becomes new again. This is the absolute key to staying attracted to your partner.
Related Reading: 

How to Identify Vulnerable Narcissist and Deal with Them
11. Try new hobbies
Sometimes passionless sex is a part of marriage because of the monotony and lack of excitement. Reigniting passion in marriage can become easy sometimes if you try doing something new with your spouse.
Get rid of the complacency in your sex life by trying out activities that neither you nor your spouse has tried before. The experience of doing something new together can give fresh new energy to your sex life.
You can try ballroom dancing, an adventure sport, pottery, baking, exercising or any other thing that has the potential to recharge the sexual intimacy between you and your spouse. Trying new things together is one of the best ways to rekindle a marriage while having fun.
12. Communicate
Don't hesitate. Don't hide. Just say it.
Communicating your sexual needs, limitations and dissatisfactions to your spouse can help you restore passion in marriage by directly addressing it.
Sometimes your partner may be unaware of any problem in your sex life, but that does not make your concerns invalid. If you sense that there is a problem, openly talk about it with your partner.
Open communication with your spouse can help them understand your concerns better and work towards a solution with you.
Remember, ignorance is bliss, but that may be at the expense of your marriage's health.
Watch this video to learn more about communicating the right way in a marriage:
13. Visit an expert
Couples therapy is an often underutilized resource that can help you through the problem of
A therapist can help bring excitement back into a marriage by getting to the root cause of the problem and finding ways to address it directly.
The therapist can give you a solution and a well-informed perspective to improve your sex life and overall relationship. They might see things objectively and point out details that are not apparent to you and your spouse.
Related Reading: 

How to Find the Best Sex Therapist – Expert Roundup
14. Scene change
Sometimes all that it takes to learn how to bring passion back into a marriage is a positive change of scene.
The environment, the same routine, followed by the same two people, can take all the excitement out of a sexual experience. You can hit the refresh button on your sex life with your spouse by changing the scene a little bit.
Change of scene can be as simple as having sex in places other than your bedroom, going on a picturesque vacation for sex, or booking a hotel room for the night. The change in the surroundings can help you break out of your comfort zone.
15. Initiate
If your marriage lost spark after some time had gone by, it might be because both you and your spouse have become complacent. Both of you might be hesitant or disinterested due to boredom, monotony or complacency.
Why not learn how to bring passion back into a marriage by initiating sex with your spouse? If you don't usually initiate sex, it can be exciting for your spouse to see you initiating things.
Spice up your sex life by finding exciting ways to lead your partner towards the bedroom. Don't wait for your spouse to suggest having sex.
Take the first step and it may just be the thing that helps you in putting the spark back in your marriage.
Also Try: 

Are You Good at Sex Quiz
Conclusion
Marriages can become about everyday struggles, and that can make the sexual flame slowly burn out. But this is not the fate of every marriage.
By changing the approach using the tips mentioned here, you can learn how to reignite romance in your marriage. Reinfusing the passion back in your marriage will help your relationship on the whole.
Share this article on
Want to have a happier, healthier marriage?
If you feel disconnected or frustrated about the state of your marriage but want to avoid separation and/or divorce, the marriage.com course meant for married couples is an excellent resource to help you overcome the most challenging aspects of being married.
More On This Topic
You May Also Like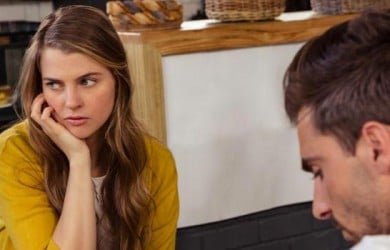 Popular Topics On Married Life