25 Ways to Get Him in the Mood
When you have been in a relationship for a long time, you are probably comfortable with your partner.
You know each other too well, and you don't get shy letting him know that you want some sexy time.
Of course, you just don't go to your partner and ask for it, right?
You want to know effective ways on how to get him in the mood fast. We want these ways to be erotic, fun, challenging, and effective.
That is why we will be giving you 25 ways on how to get your boyfriend in the mood fast.
Related Reading: 

16 Things Men Wish Women Knew About Sex and Intimacy
Essential tips when turning him on
Before we start with the ways to make your boyfriend hard and ready, we must first understand that it's normal to 'not be in the mood,' for sex once in a while.
Don't jump to the conclusion that he's already cheating or you're unattractive. These assumptions will only make things complicated.
There will be moments where, despite your efforts, your husband or boyfriend won't be able to give you the attention that you want.
It's not that he's no longer in love, but maybe there's another reason why.
Men will most likely refuse to have sex if they are:
Pressured from work or deadlines

He wants to spend some

alone time

Maybe he wants to spend time with the kids.

He may be struggling with his performance, or he has a hard time getting hard, and it causes anxiety

Your partner might be experiencing some self-esteem issues due to age or physical changes

He might just be really tired.
If you think he may be suffering from these reasons, maybe it's time to talk about it. You can also make some extra efforts to make sure that you get him in the mood.
25 sure ways to get him in the mood immediately
There will be times where you just feel sexy and naughty. However, your partner doesn't seem to get it or may not show that he's in the mood.
You can start setting the mood for him and let him know that you want it.
Check out these 25 surefire ways on how to get him in the mood fast.
1. Get him to relax
"I want to know how to get my boyfriend in the mood."
One of the reasons your husband or boyfriend seems uninterested in sex is when they are stressed out.
Set the mood for him. Prepare a delicious meal, a cold beer, and put on his favorite TV show. You can also ask him to take a warm bath to remove the stress away.
Why it works:
Anyone who's stressed out can't and won't enjoy sex. If you know how to get your man to relax, it would be easier for him to get turned on.
Relate Reading: 40 Romantic Dinner Ideas at Home for Couples
2. Treat him with a full body massage using hot oils
If you see that he's stressed or tired, level up your efforts and treat him with a hot oil massage.
Not only will this help him relax, but it will also be a great way if you want to start getting into the mood for sex.
Start by setting the room with scented candles, ask him to get naked and use your favorite hot oil, massage him and see how it works like a charm.
Why it works:
The soft touches of your relaxing massage and the hot aromatic oils contribute to a sensual experience that will lead to arousal. You're not just massaging your partner; you're also seducing him.
Related Reading: 25 Ways to Please Your Man
3. Let him know what you want him to do
Sometimes, men don't have a clue about what their partner wants. You have to tell him directly.
But instead of saying it to him like you're craving pizza, why not do it in a sexy way?
You need to know what to say to get him in the mood. Whisper them, touch him or be clingy as you give him the idea of what you want.
Why it works:
It works because, for men, it's hard to resist a woman telling you how you can please her.
Also Try: Am I Clingy Quiz
4. Flaunt your assets
Here's a secret on how to turn him on fast. Wear something that will accentuate your assets.
Does he love your long legs? Wear sexy shorts. You can also wear a sexy dress or anything that will turn him on.
Wear your hair down and put on some simple makeup. Your man would notice you – that's for sure.
Why it works:
Men are visual creatures. They would notice your sexy and beautiful assets without a word.
5. Wear that sexy lingerie
Get a man in the mood by wearing sexy lingerie.
Choose that lacey and silky lingerie that shows how sexy you are. Go to your husband and see how his eyes wander.
Oh! Did you just drop something? Pick it up – slowly.
You can also bring your man some wine and talk to him. Make him look at you and allow him to feast his eyes on you.
Why it works:
Who wouldn't think about sex when you have lingerie and wine?
Related Reading: Sexy Lingerie Styles That Will Drive Your Husband Crazy
6. Caress his face and hair
If you want to know how to get him in the mood fast, then look at him and talk to him, but this time, linger more.
Aside from the words to turn him on, it would also help if you would caress his face and hair.
Why it works:
You're close, and you're giving him soft touches that are full of affection, love, and even lust. You just want to get closer and kiss.
Related Reading: What Is the Physical Touch Love Language?
7. Kiss him tenderly, and then stop
Now that you have the chance to kiss him, do it slowly and tenderly. When you feel that he's already yearning for a wilder kiss, stop.
You can stand up and just walk away. Go to another room and let your husband wonder why you did it.
Why it works:
Teasing always works. Aside from that, you've already given your partner a taste of your sweet kiss, and let us not forget the fact that you left him hanging.
8. Play some sexy music
To be an effective seductress, you must know how to set a romantic mood.
Do this by dimming the lights, wearing your favorite lingerie, putting on that sexy perfume, and turning on that sexy music.
There can be many choices, from instrumental to wild and sexy songs, that get you both in the mood.
Why it works:
Music can make us feel sad, happy, and even turned on. If you choose the right songs, you can find one that will get you in the mood – fast.
Related Reading: 100 Love Songs for Him – Express Your Romantic Feelings!
9. Wear his favorite perfume
"Are there ways to turn on my husband that are subtle?"
Indeed, some women prefer giving subtle hints rather than being bold and wild. You can do this, and one way is to put on some of his favorite perfume.
Don't be surprised if he hugs you from behind and kisses you.
Why it works:
He would love the fact that you smell nice, and who could resist that? He'd want to get more of you in no time.
Related Reading:  Easy and Effective Tips on How to Seduce a Man Subtly
10. Text him from your bedroom
Want to know how to get him in the mood fast? Try this naughty trick.
Go to your room and get naked. Lie in bed and get your phone.
Now, go ahead and text him that something he wants is waiting.
You can also send a teasing photo of yourself. This act will make your boyfriend or husband think and feel excited.
Why it works:
Who wouldn't get curious with naughty texts? He would, of course, want to know what's inside that room and when your man sees you like that? You will get what you want.
Related Reading: 100 Sexy, Dirty Text Messages for Him to Drive Him Wild
11. Snuggle and guide his hands
Sometimes, you wake up, and you want to get frisky. Snuggle with your man and while you are it, guide his hands where you want them.
Allow his hands to touch and caress you. You know what will come next, right?
Why it works:
Your man will appreciate the initiative, and he will happily comply.
Related Reading: 9 Different Types of Hugs and What They Mean
12. Reminisce the first time
Don't just use seductive words to turn him on. You can also reminisce about the time when you first did it.
Bring it up out of the blue and tell him how exciting it was. These memories can ignite that fire again. He may want to do it like it was your first time all over again, so be ready.
Why it works:
Those memories are unforgettable, and they bring excitement as well. It allows your mind to want it and experience it again.
13. Remove all distractions
Do you want to know how to get him in the mood fast? Then, simply remove all distractions.
You can turn off the TV, get him to put down his phone, make sure he doesn't have deadlines, and so much more.
You want your man's 100% attention.
Why it works:
Men do get distracted easily. So if he's watching his favorite game or has pending deadlines, chances are, he won't be in the mood for sex.
Related Reading: Break The 6 Barriers to Effective Communication in Marriage
14. Demand and be in control
Be in charge – in bed. Your man would be thrilled to follow your every rule.
Grab him and tell him you want to have all of him tonight. Or you can also kiss him and grab his hair, and then let him know that you will do what you want with him, and he does not have a choice.
You would probably see him smile. Just make sure that you do take control when you're doing it so he won't be disappointed.
Why it works:
When it comes to bed, men love it when women take control. It makes them feel aroused, wanted, and they appreciate a dominant woman in bed.
Also Try: Who Is the Dominant One in a Relationship Quiz
15. Seduce him at the right time
If you want to make sure that he gets turned out quickly, make sure that you choose the right time.
We also need to be considerate. If your husband had a bad day at work, it's not right to try to seduce him.
Why it works:
If your timing is right, you would be able to achieve your desired results – a man who wants to have you tonight.
16. Start sexting him
Start when your husband is at work. He would be surprised to receive a naughty text from you. Let's go for a slow burn this time. Throughout the day, entice him, tickle his mind and make him curious.
He would be so excited to come home and have you all to himself. Make sure you're all set when he's about to arrive.
Just make sure you don't overdo it. We don't want your husband to be too distracted.
Why it works:
Teasing, again, is an effective way to arouse your man. The slow teasing will make him want you even more.
Related Reading: How to Sext – Sexting Tips, Rules, and Examples
17. Entice him with forbidden places
When you're having a conversation, casually ask him about locations where he thinks sex would be exciting but forbidden.
You can tell him about past adventures and where you think you can do it.
Let him know how doing it in the backyard at night sounds naughty and instill some more naughty ideas. In no time, you might find yourself doing it in those places.
Why it works:
The thrill of doing it in forbidden locations would excite anyone.
Related Reading: Best Places to Have Sex, According to Your Zodiac Sign. Leo Will Make You Blush!
18. Change your looks
Is your boyfriend or husband used to seeing you wearing no make-up or just simple, barely-there make-up?
If so, change your look for the day. Aside from wearing something sexy, you can apply a darker shade of lipstick.
When he comes home, don't talk to him much and stare at him, making him guess what's happening.
Why it works:
That new sexy look is, by itself, an aphrodisiac for a man.
Related Reading: How Much Do Looks Matter in a Relationship?
19. Surprise him and go commando
This tip is something fun that will turn him on fast.
Wear a skirt and go commando. Clean the house and pick up those magazines 'in front of him,' and suddenly, you start finding other things that you need to pick up.
Let him have a peak of that gem.
Why it works:
It's a form of teasing that makes you feel naughty and hot. This vibe will arouse any man.
20. Talk to him and make deep eye contact
Look at him deeply and for a long time. There are no words needed here. Once you get his attention, you can slowly come close and tell him how much you want him – now.
Why it works:
You're taking the initiative, and you're serious about it. No man can resist a woman that intense.
Related Reading: 10 Powers of Eye Contact in a Relationship
21. Hand him a clue
Be ready and be sexy. Then while your man is sitting on your sofa or just reading a book, hand him your lace undies.
Once he looks at you, just wink and smile.
Why it works:
Actions speak louder, right? So hand him those undies, and he'll get the message.
22. Invite him to watch porn
Let's try this classic – watch porn. This time, you will be the one who will invite your husband and surprise him by joining.
Let him know what turns you on, what you like, and what you want him to do to you. You'll get busy in no time.
Why it works:
A man will feel turned on by a woman who appreciates porn with him.
23. Talk about your fantasies
Want to know how to get him in the mood? Then, talk about your sexual fantasies. The topic is enough to turn him on. You can also share your sexual fantasies with him and ask him what he thinks.
You can also make those sexual fantasies come true by trying out role playing.
Why it works:
Let your imagination run wild when talking about sexual fantasies.
Thinking of doing role play? Here are some tips that might help.
24. Give him a lap dance
If you are looking for something else to arouse your man, try to treat him with a lap dance.
Put on that sexy lingerie and play that music. Dim the lights and start showing your man what you got. Don't be shy and unleash your wild side.
It will be fun and erotic.
Why it works:
Men would get turned on seeing their girlfriend or wife being all sexy and confident.
25. Surprise him in the bathroom
While he's taking a bath, go inside and surprise him. Slowly lather that fragrant soap all over his body. The warm water and sensual touches will surely turn him on.
Why it works:
Who can resist such erotic actions? Your man is relaxed with the hot water, and you're lathering him with soap.
Conclusion
When you're feeling hot but your partner is not trying to get into it, this situation can be frustrating.
You don't have to wait for him to ask you. Don't let your sex life get boring and awkward.
There can be many ways on how to get him in the mood fast. These tips can be fun, easy, thrilling, and of course, erotic.
You will enjoy your sex life even more, and you'll learn how to be sexually confident with yourself.
Don't hesitate and start getting your man in the mood.
Share this article on
Want to have a happier, healthier marriage?
If you feel disconnected or frustrated about the state of your marriage but want to avoid separation and/or divorce, the marriage.com course meant for married couples is an excellent resource to help you overcome the most challenging aspects of being married.
Learn More On This Topic
You May Also Like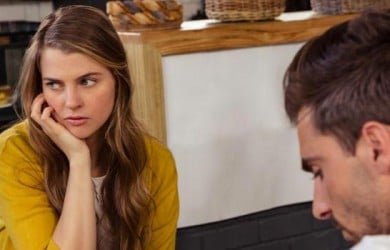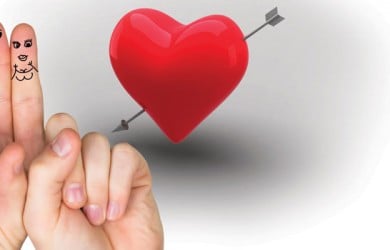 Popular Topics On Married Life