5 Reasons Why Saying Thank You Enhances Your Relationship Happiness
Couples come to therapy for several reasons: communication issues, inequity in the relationship, financial issues, and parenting style differences, among many others.
What I have discovered, and what many other therapists recognize, is that problems with the laundry are rarely about the laundry, the dishes, or the groceries. Sometimes, "you did the laundry wrong" is code for something much deeper.
Often it is a sign that points towards an unmet need in the relationship.
As a therapist, I often encourage the couples with whom I work to cultivate the skill of "generous reinterpretation." Hearing what the partner might be saying beyond and beneath the words that just came out of their mouth.
Until partners learn to communicate exactly what they need or exactly how they feel to one another explicitly, it is helpful to note that criticism about inadequately folded laundry in many instances might be about something entirely different.
Using the two words "thank you" can elevate the closeness of couples
Similarly, work with couples includes helping partners cultivate –
Most importantly, though, is adopting and using the two words (and all that is included in their meaning) that can elevate the bond, intimacy, and closeness of couples, that is, "thank you."
Gratitude has improved psychological health and physical health, reduced aggression, and increased mental strength. I would argue that the use of "thank you" (and meaning it) on a regular, consistent basis has the capacity to enhance intimacy significantly.
5 reasons why saying thank you increases intimacy
1. Saying "thank you" shifts our perspectives
Rather than focusing on what we perceive as our partners' negative or less-than-perfect qualities, a thankful posture, along with the expression of gratitude through the use of the words "thank you," shifts our perspective to the positive, attractive qualities our partners possess.
Perhaps your partner's inability to fold the laundry properly can also be seen as your partner's willingness to learn and participate in a task that has not been practiced for years. "Thank you," then, can be a means of acknowledging our partners' gifts, efforts, and desires.
Rather than fixating on what is not being done right, a simple "thank you for all you do to make our home comfortable" can go a long way.
2. Saying "thank you" can help our partners heal
Many people become trapped in cycles of shame when criticized. To emphasize our partners' value, worthiness, and adequacy, saying "thank you" mirrors the true, loveable nature of our partners. In other words, we can reflect on what our partners can often miss about themselves.
A comment like, "thank you for sharing your life with me. I feel like the luckiest person alive to have you along on this journey" can be invaluable.
Even and especially in the seemingly smallest moments of gratitude, we find healing. It is the frequent, consistent gestures that make the most significant difference.
3. Saying "thank you" can make us better communicators
Saying "thank you" pushes us to examine what we are truly thankful for and, subsequently, how we communicate that to our partners.
For example, although seemingly trivial, thanking your partner for going grocery shopping can also reveal gratitude for many other things beneath and beyond grocery shopping.
In other words, when we can reflect on the meaning of our partners' efforts, we can also see our partners' desire to invest in developing a shared relationship.
The groceries, as with the laundry, is rarely about the groceries. In this case, the groceries can reflect a more meaningful connection and mutual desire to serve one another.
When we can truly see and appreciate our partners' efforts, especially when we are consciously and thoughtfully looking, we become better at communicating and thus, connecting.
4. Saying "thank you" reinforces new patterns
Breaking old communication patterns can be challenging for many couples. So can practice new ones. When one partner attempts to change and succeeds, hearing the words "thank you" can be a powerful motivator for continued change.
The next time your partner listens to your experience rather than reacts, try, "thank you for listening. I felt heard and understood, and I'm grateful to be able to share my feelings with you."
This "thank you" can motivate your partner to continue in the new pattern. More importantly, both of you can see the substantial benefits of the communication shift, which can reinforce the trust that a new pattern can be effective and draw you closer.
Also Watch: How to Find Happiness in Your Marriage
5. Saying "thank you" empowers us
Cultivating an attitude of gratitude, as the cliché goes, can be empowering. As you foster the ability to see the gifts you have at your disposal, particularly in your partnership, it becomes easier to see what is possible. Rather than a naive Pollyanna approach, gratitude, and subsequently, saying "thank you" for what you see are the gifts in your life.
These can empower you and your partner to reach for more connection, intimacy, and closeness within and outside of the relationship.
While strangers and friends frequently utter the words "thank you," the intentional, mindful expression of gratitude within the two words elevates their significance.
In other words, saying "thank you" helps us – not just our partners – find joy in what we have and the journey, rather than where we might feel stuck and hopeless.
Start by saying thank you
When you begin to take your partner for granted, become somewhat complacent in the relationship, or find that you have lost a sense of gratitude for your partnership, begin by taking a grateful posture. Saying "thank you" can be a powerful way of seeing your partner differently and, consequently, the laundry.
Share this article on
Want to have a happier, healthier marriage?
If you feel disconnected or frustrated about the state of your marriage but want to avoid separation and/or divorce, the marriage.com course meant for married couples is an excellent resource to help you overcome the most challenging aspects of being married.
More On This Topic
You May Also Like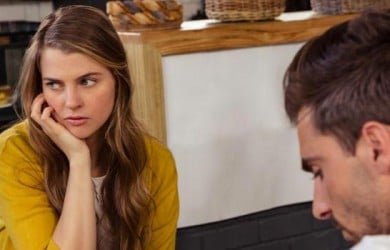 Popular Topics On Married Life