5 Ways to Connect Again With Your Spouse
It doesn't happen overnight. It's more like a long, slow process, so subtle that you may not even realize it is happening. But one day, you wake up, and it is there: you are feeling disconnected in your relationship.
There comes a time in every marriage where the strong link you felt to your spouse seems lessened, or even non-existent. How does this happen? And, more importantly, what are some ways to connect again with your spouse?
Also watch:

How emotional detachment manifests?
Feeling distance in a relationship is typical. It is often situational: your job is taking up a lot of your time and focus, or the children put demands on your emotional reserves so that there is little left for your partner.
All marriages will experience an ebb and flow to the feeling of connectivity each spouse feels towards the other, with moments of feeling an extreme connection to moments where you feel a lack of emotional connection in the relationship.
It is essential to keep track of an emotional disconnection in marriage because you do not want the feeling of being disconnected from your spouse to deepen and take root. Take action before that happens, and it will be easier to reconnect with your husband.
How to reconnect with your spouse
Forget the grand gestures of what media shows us: love is not about expensive gifts and weekly bouquets of red roses. Long term couples know that a true, lasting love connection is built on small but frequent moments of genuine affection.
These intimate, daily moments are essential to creating (and rebuilding) the emotional connection upon which all happy and healthy relationships thrive.
Small ways to connect again with a spouse that make the most impact
Have you forgotten all the little things you used to do early in your marriage to connect with your husband? Let's look at some of these:
1. Being present for their emotional needs
What does this mean? It means when your partner comes to you with a problem, you tune in to him, and you listen. You give him your full attention.
You don't check your phone while saying, "Uh-hum. Right. Go on." You turn your body towards him to show you are invested in what he is saying. He feels heard. And this provokes a feeling of emotional connection. Which promotes and enhances your loving relationship.
2. Communicating respectfully
Reconnecting with your spouse requires respectful communication. Perhaps over the years of your marriage, you've accumulated some anger over something your partner neglects to do, continually.
Maybe each week, you have to remind him to take the recycling to the curb. You are so over asking him to do this each week, so your request comes out, "Could you for once remember to take out the recycling?"
A request framed this way can result in deepening resentment and disconnection between you. But making requests respectfully will reward you two ways: it is more likely to get your husband to grant the request without conflict or anger, and you will be helping build an emotional connection.
Some other ways to connect again with a spouse
It is normal in a long term marriage to forget to acknowledge and thank our partner for the daily things they do to keep things running smoothly in the relationship. So how about paying attention to the "thank yous" and the compliments?
These are warm ways to reconnect with your spouse. "Thanks so much for unloading this dishwasher this morning," makes you both feel good. "I love how you help out with the kids' homework," shows your husband you acknowledge his contribution to the child-rearing and encourages him to continue.
These are small things that cost nothing, but go a long way in strengthening the emotional connection with a man.
3. More physical touch
Hugs, kisses, a hand on the lower back, a shoulder massage. Physical contact goes a long way in enhancing your emotional connection.
4. Prioritize your marriage
Put, you want to prioritize your marriage above all else. This does not mean that you are not paying attention to the children.
It means that your loving connection, both physical and emotional, is the bedrock upon which your happy family is built. So take time for date nights, seduction, and sex. These will keep your emotional connection strong and vibrant
5. Unplug
We are all so addicted to our smartphones, our Netflix, our podcasts. This impacts our face to face communication with our partner. When you get home in the evening, unplug. Without our screens, we can be more present with each other.
I'm feeling disconnected from my husband. Should I be worried?
If you are going through one of those moments where you sense that the emotional connection in your marriage is missing, you might begin by asking yourself some questions:
Is there something going on at work that is taking up my emotional bandwidth?

Am I having trouble balancing the demands of my children with the needs of my husband?

Am I angry with my husband, and if so, what are the reasons?

How long has this feeling of being disconnected from my spouse been going on?
Now that you have asked yourself some questions, it would be beneficial to sit down with your spouse and ask how they are feeling. Are they, too, feeling disconnected in the relationship? Dedicate some time to this conversation; find a calm moment where neither of you is distracted.
Set the stage for an honest discussion about your marriage. Book a babysitter and go out. Often just taking time to speak from the heart with each other is enough to start reconnecting with your husband.
Share this article on
Want to have a happier, healthier marriage?
If you feel disconnected or frustrated about the state of your marriage but want to avoid separation and/or divorce, the marriage.com course meant for married couples is an excellent resource to help you overcome the most challenging aspects of being married.
More On This Topic
You May Also Like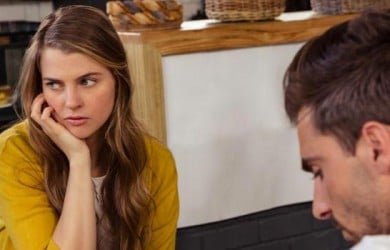 Popular Topics On Married Life