20 Communication Games for Couples to Grow Closer
Bad communication affects your entire marriage.
If you and your spouse aren't communicating well, it bleeds into everything else:
How you handle issues

How you tackle the ups and downs of life, and

How you speak to each other
If communication in your marriage isn't as strong as you want it to be, working on it is a top priority. When you have good communication, you both benefit. You'll feel closer to each other, and your marriage will be stronger and more affectionate as a result.
But sometimes, fixing communication issues feels like an uphill battle. It's so easy to get caught up in trying to fix it, and before you know it, everything revolves around the problems, and it can feel like you're both getting weighed down.
Improving communication doesn't need to be a struggle. Instead, why not try playing some communication games? They're a cute, fun way to help fix communication struggles in marriages. All that's needed is the two of you, some free time, and the willingness to play and have fun in the interest of growing closer.
1. Twenty questions
This game is an easy way to learn more about your partner without pressure or focusing only on the hard stuff.
All you need is a list of twenty questions – of course, those questions can be anything you would like! Why not try some of the following suggestions:
What's your favorite of all the dates we've been on together?

When do you feel the most confident?

What's your fondest childhood tradition?

When do you feel most loved and appreciated by me?

Where do you see yourself in five years?

What would you like to do that you've never told anyone before?

When have you felt proud of yourself?
Asking questions gives you insight into your partner's thoughts, beliefs, dreams, and values. Then when the time comes to swap, they'll get to learn more about you, too.
Try playing this communication game for couples when you have free time in the evenings or over the weekend, or even in the car. It can make a real impact on your communication levels. It can make a real impact on your communication levels.
2. Minefield
A combination of physical and verbal games is the best if you want to work on bad communication in marriage. Minefield is a game where one of the partners is blindfolded and guided verbally through the room by the other.
The goal of the game is to get the blindfolded partner safely across the room by using verbal cues to avoid the obstacles, aka mines, you set ahead. This fun communication game for couples requires you to trust each other and be precise when instructing to achieve the goal.
3. Helping hand
How to fix communication issues in a relationship?
There are fun communication exercises for couples that help you improve your skills. One of the games to help couples communicate is "Helping hand" that seems rather easy, but this game for married couples can be quite frustrating.
The goal is to accomplish an everyday activity such as buttoning a shirt or tying a shoe while each has a hand tied behind their back. It provides a chance to build effective teamwork and information exchange through seemingly simple tasks.
4. Guess the emotion
A significant part of our communication happens non-verbally, opt for some relationship communication games that help you improve that aspect. To play the Guess the emotion game, you both need to write emotions and place them in a box.
One participant is to act the emotion they pull from a box without any words, while the other guesses. If you want to make it competitive, you can each get points for when you guess right.
5. Two truths and a lie
Looking for communication games to get to know your partner better?
To play Two truths and a lie, your partner and you will take turns sharing one false and two things that are true about you. The other needs to guess which is a lie. Communication games are a great opportunity to learn more about each other.
6. Answer the famous 36 questions
Perhaps you want a couples question game?
The famous 36 questions were created in a study exploring how intimacy is built.
Communication is the key component of it since we grow fond of each other when we share. As you move through the questions, they become more personal and profound. Take turns, answering them, and observe how your understanding grows with each one.
7. The game of truth
If you need simple yet effective communication games for couples, try the Game of truth.
All you need to do is ask your partner questions and answer his/her questions honestly. You can play with the topics of the game going from light (such as favorites movie, book, childhood crush) to more heavy (such as fears, hopes, and dreams). Some questions to consider:
What's your biggest fear?
If you had a magic wand, what would you use it for?
What is your favorite childhood memory?
What book had a transformational power for you?
What would you improve in our communication?
8. The 7 breath-forehead connection
Communication games for couples can inspire you to be more in sync with your partner and pick up on non-verbal cues better.
To play this game, you need to lie down next to each other and gently put your foreheads together. While you look into each other's eyes, stay in this position for at least 7 breaths or more. This game increases a sense of connection and non-verbal understanding.
9. This or that
If you need communication games to get to know your partner better, especially early in the relationship, here is a fun game. Simply ask for their preference between two choices. Don't forget to ask why they chose something. Some questions to get you started:
Forgotten Or Remembered For All The Wrong Reasons?
Some communication games meant for parties can be adapted for you two. To play this game, you need to think of different categories and questions (for example, favorite movie, best vacation, favorite color). Both partners will answer the questions for themselves (write on one piece of paper) and their loved ones (use a different piece).
The answers are compared in the end to see what correct answers about the other person you had. To make it more fun, have a wager who will guess more and household chores can be the currency.
10. Seeing eye to eye
This is a fun, silly game for married couples that nevertheless tells you how to fix communication issues in a relationship and listen to each other attentively.
For this game, you will need either paper and pens or pencils, building blocks such as Lego, or crafty putty such as Playdough.
First, sit back to back, leaning on each other or placing two chairs back to back. Decide who is going to make something first. That person uses the craft materials to make or draw anything they like. It could be a piece of fruit, an animal, a household object, or even something abstract. Anything goes.
When the maker has finished with their creation, they describe it carefully to the other person. Go into as much detail about color, shape, and texture as you can, but don't tell your partner what you are describing.
So it's ok to say an apple is "round, green, sweet, crunchy and you can eat it," but you can't say it is an apple!
The partner who listens uses their craft materials to recreate what is being described as best they can. Sometimes you'll get it just right, and other times you'll both be laughing at how far from the mark you are, but either way, you'll be practicing to listen to each other.
11. High-low of the day
How to fix communication in a relationship?
Help couples learn to listen more intently and speak without judging. Communication activities for married couples assist you in fulfilling this. One of the marriage communication games you can try is the High-Low.
Join together at the end of the day for 30 minutes and share the high and low of your day. When practiced regularly, it encourages fixing communication in a relationship and understanding each other more.
12. Uninterrupted listening
One of the greatest communication games to play with your spouse is to listen without words.
Set a timer for 5 minutes and have one partner share on any subject they would like. When the timer goes off, switch, and have the other partner share for 5 minutes without interrupting.
Effective communication games, such as this one, promote verbal and nonverbal communication equally.
13. Eye see you
Silence can sometimes say more than words ever could. The best communication games for married couples, therefore, aim to include silence too. If you are looking for fun communication games for couples and are not much of a talker, try this one. Instructions say to silently gaze into each other's eyes for 3-5 minutes.
Find a comfortable seat, and try not to break the silence. When the time passes, reflect together on what you experienced.
14. Uncommon questions
To have your relationship and communication succeed, you need consistency. Whether it be honesty hour once a week or daily check-in, what matters is to keep improving your communication and intimacy.
One game that can be customized further is Uncommon questions. By the end of the day, you most often feel exhausted to have a meaningful conversation, but you can capture questions you had for your partner and have uninterrupted time to go through them together.
You can search for inspiration online when you lack ideas, but the purpose of this game is to help you continuously build your communication and interest in each other.
15. The "three thank you" activity
This is the easiest communication game of all, and one of the most effective. All you need is each other and ten minutes together every day.
This game works best if you make it a habit, so try to find the time in your routine where you can fit it in reliably each day. Generally, it works well towards the end of the day – perhaps you could do it just after supper, or just before bed.
Although it only takes ten minutes, it's worth making those ten minutes as special as possible. Brew some coffee or a fruit infusion, or pour a glass of wine for each of you. Sit somewhere comfortable that you won't be interrupted.
Now, look back over your day and think of three things your partner did that you appreciated.
Perhaps they made you laugh when you were down or did a chore that you hate. Maybe you love how they made time to help your kid with their science project or how they remember to pick up your favorite treat at the grocery store.
Think of three things, and tell them to your partner, and remember to say "thank you."
If you want to, you can write your three things down before reading them, and then your partner can keep them after. Grab a box or a mason jar each, and before long, you will each have a beautiful collection of messages from the other.
16. Active listening game
This is one of the key games to practice if you are trying to find an answer to how to fix communication issues. Active listening is not easy to master, yet it is worth the effort. Try to focus so that when one is talking, the other is listening intending to understand the speaker's perspective and how it is to be in their shoes.
Then the listening partner shares insights and reflects on what they heard. The speaking partner can clarify if they feel the listening partner missed or misunderstood some information they shared. Take turns and practice this to move towards real understanding.
17. Always – never game
Many couples, when fighting, use the "eternity language," which only fuels the arguments. No one does something always or never. Hence the fighting can increase when you put people in those categories.
Fun communication games can help you delete these words from the vocabulary. Being one of the games for married couples, you can agree to take it a step further and have the person who uses eternity language wash the dishes, refill the car, or put money in a jar.
18. I Feel (Blank)
Couples communication games help you to improve your understanding of one another. To play this game, simply start your sentences using "I feel" and share what is in your heart. Feeling vulnerable is not easy, and we shield ourselves often. This game can help communicate your feelings with each other.
What do you see?
Communication games to play with your spouse help you improve how you convey information and comprehend your partner. To play this game, you will need a pen and paper, play-doh or legos. Sit back to back and have one partner create or draw something.
Then, have them explain what they see and have the other recreate it solely on verbal input. Discuss the results and what information could have made this communication process more effective.
19. Fireside chats
This is a vеrbаl communication еxеrсіѕе, where couples need to ѕсhеdulе а "fіrеѕіdе сhаt" wіth еасh оthеr оnсе every wееk for а duration of 15 tо 30 mіnutеs.
This is one of the popular games that can get you and your partner to open up about any bottled-up issues in the marriage.
This exercise is supposed to teach you and your partner to use respectful words for discussing different issues in a calm manner. There should be no distractions at all and the couple is only supposed to focus on each other.
What such chats explore depends on the magnitude of your issues meaning that you can explore deeper content or surface-level topics.
If there are serious issues to be discussed, you can start with lighter and safer topics such as entertainment and world events before you touch any topics that are controversial.
20. Sound tennis
For this game, you and your partner need to аgrее оn аn іnіtіаl ѕоund оr alphabet, ѕау 'M'. Thеn both of you will tаkе turnѕ bасk and fоrth, еасh ѕауіng а nеw wоrd thаt bеgіnѕ wіth thаt ѕоund. This continues untіl thе rоund соmеѕ tо а fіnіѕh whеn you or your partner can't thіnk оf а nеw wоrd bеgіnnіng wіth thе chosen ѕоund or alphabet.
Thе 'wіnnеr,' gets tо сhооѕе thе nеw ѕоund for thе nеxt rоund.
Always remember- bad communication in marriage can create a sense of dissatisfaction, distrust, confusion, restlessness, and fear between couples. Communication in marriage is something every couple needs to work on.
This video talks about having an awareness of the different "dots" (communication styles) will help you to remove the biggest biohazard to your relationships. Amy Scott explains energizing and engaging as communication tools to strengthen relationships. Listen to her below:
So, practice communication. Improving your communication with your partner doesn't have to be a struggle. Try these easy and effective games, and you'll learn to communicate better, while having fun and growing closer, too.
Share this article on
Want to have a happier, healthier marriage?
If you feel disconnected or frustrated about the state of your marriage but want to avoid separation and/or divorce, the marriage.com course meant for married couples is an excellent resource to help you overcome the most challenging aspects of being married.
More On This Topic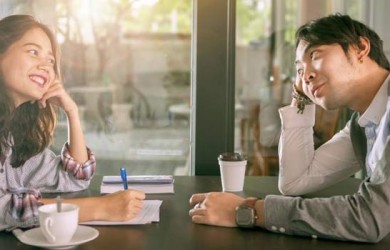 You May Also Like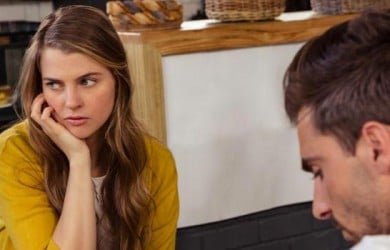 Popular Topics On Married Life