Being Single Versus Relationship: Which Is Better?
Each of us has experienced a situation where we met someone, and we kind of saw ourselves in a relationship with them. However, then thought of which is better, single versus relationship, came to our mind.
We're not quite sure we want to be with them, yet we're unsure if we want to stay single. When things go wrong in our relationships, we doubt if we have made the right decision or if we are "made to be loved" at all.
Feeling like this can shatter our confidence and destroy our self-image, the way we see ourselves, and the way we speak to ourselves – our inner dialogue.
What is the difference between being single and being in a relationship?
We all are aware of the fundamental difference between being single and being in a relationship.
You are single when you do not commit to somebody. At the same time, a relationship encompasses being with somebody (mostly monogamous), and being committed to them, unless decided otherwise by one or both the parties.
However, when it comes to emotions, you may find these lines blurred.
Some people may be single, but they cannot be in a relationship with somebody in love with somebody. On the flip side, people could be in a relationship but not in love with each other.
They are both merely relationship statuses, but being single or being in a relationship has many more layers and pros and cons.
Related Reading: 

Dating vs Relationship - 8 Differences You Must Know About
Is it better to be single or in a relationship?
Which is better – being single vs being in a relationship?
We are all different, and some of us may have bigger emotional needs than others. Some people may feel better if they have a partner. On the other hand, others may want to enjoy their solitude and company and thus want to remain single.
If you can't make up your mind, don't worry. Give yourself time to understand the pros and cons of both relationship statuses. Single versus relationship is not a decision you have to make just because your friends are single or partners.
Related Reading: 

Reasons Why Being Single Is Always Better
Pros and cons of being single
There are many pros and cons to being single. We always see more reasons why it's better to be single when we are in a relationship and opposite. It's like the grass is always greener on the other side.
Is being single better than being in a relationship?
While this depends on each person's perspective, here are some situations when it may be the right call.
You may not need to be answerable to someone
Being in a relationship is great. However, one cannot deny that there are days when you need to be answerable to your partner about what you are doing, where you are, and similar situations.
While this is not a problem to most people, it can come across as a burden to a few. If you happen to be one of those people, being single sounds like the ideal choice for you.
You can rediscover yourself
Many people rush into relationships because they have a fear of rejection and loneliness.
You can be alone, yet never feel lonely. When you are single, you can discover your passion and true purpose and develop your skills even more. You can flirt all you want. This is one of the perks of being single.
Your career can always take the front seat
Your relationship and your career can be equally important to you, and you might end up finding yourself juggling between the two very often.
If you believe you are in a phase of life where your career should be the priority, staying single sounds like the right choice.
You have headspace
If you're just out of a relationship or marriage, it's a pro to be single again.
You need breathing space, and you need to find yourself again. Taking some time off dating or relationships will help you be more mindful of your choices and decisions.
More peace of mind
Why is it better to be single? No drama. No explanations, no lies, no excuses.
We can have some baggage that we carry from our past experiences and relationships, which can interfere with our peace of mind when we are in relationships. If you feel you still have issues you need to deal with, being single is the right choice.
Related Reading: 

Signs You Might Be Single Forever
Being single, as great as it sounds, can come with some cons as well. Here are some cons of being single.
It can get lonely
Being single for a long time can make you feel quite lonely and yearning for a genuine, deep connection with someone.
However, you do not need to be in a relationship to cure loneliness. Finding yourself and ensuring you are happy in your own company is super important.
Related Reading: 

Key Tips on How to Fight Loneliness
You subconsciously fear you'll stay alone
For some, living the single life vs relationship question never comes up.
They love freedom and don't have any intentions of settling, while others do want to settle eventually. Being single can put them under pressure if they crave a relationship or wish to be with someone specific.
Your needs may go unsatisfied
We all have our needs. These needs can vary from just being held on bad days to sexual needs.
While you may be self-sufficient, if you feel the need for a partner around you, these needs may remain unsatisfied when you are single.
You can often end up as a third wheel
Your best friend has got a boyfriend or girlfriend, and they spend a lot of time together. They want to include you as well since you're an essential part of their life.
It can get quite awkward if you are the third wheel, you won't feel great, and they will feel bad for you too. Not that having someone is a must, but you might prefer a double date in this situation.
Related Reading: 

The True Meaning of Being in a Relationship
Pros and cons of being in a relationship
Single versus relationship can be discussed for hours, and we still won't find the "right answer" about what's better.
All you can see is love birds, holding hands, sharing ice cream, and hugging each other by the lake. You eat your ice cream alone, and you sit on a bench for two, with no one next to you, listing all the reasons why it's great to have someone.
Pros of being in a relationship
What is it like to be in a relationship? Does it have any pros? Of course.
Here are some pros of being in a relationship with someone you like or love.
You always have your "partner in crime"
It's reassuring to know your partner's got your back no matter what life throws at you. You also have your mischief partner and someone to do all the great things with.
No awkwardness
We all remember the messy first kiss or the awkward first date and how perfect we try to be. When you are in a relationship, it's a very comfortable place for both of you to be who you are.
Everyone prefers not to go through the first awkward dates again!
Sex bell is the thing
No more waiting for the right guy/girl to get down to it.
When you're in a relationship, there's plenty of sexy time with your partner, and it only gets better the more you get to know each other!
You always have your "+1"
It's great to have someone you love and you're proud to bring to family gatherings.
No more awkward questions like "when will we meet him/her?" It's great to have your partner for events that will create lovely memories.
You have a best friend and a partner too
Happy relationships are the ones in which partners are best friends too.
You always have someone to share your fears and worries, but your excitement and happiness knowing they will genuinely be happy for you.
Related Reading: 

The Untold Realities of Being in a Relationship
Cons of being in a relationship
What is the point of being in a relationship if you are not happy?
Here are some cons of being in a relationship and why it may not be the right time for you to enter one at this time in your life.
You can get too comfy
Relationships can make us get too comfortable with each other to the point where we don't put any effort into looking good for ourselves or them.
There are no personal boundaries when it comes to using the toilet, which is a real romance pooper.
Related Reading: 

Signs You're Getting Too Comfortable In A Relationship
You are answerable
When you are in a relationship, you have a responsibility towards the other person. You cannot go on and do whatever you want, whenever you want, without considering how it affects them.
Moreover, you would not want to do so when you love someone. Being in a relationship may mean being answerable to your partner, and you should not be in a relationship if you think this isn't your cup of tea.
Joint decisions
Where you're going to eat, where will you travel, what kind of curtains will you put up – are all decisions of the two of you now.
You'd want to ask your partner before deciding upon basically anything because that is what a partnership is about. However, you may not always enjoy making decisions with them, especially if you both have different tastes and choices.
Responsibility
Is it good to be in a relationship when it comes to your finances? There are two answers: yes and no!
Suppose you are someone who likes spending and is not thinking of saving for a mortgage.
In that case, you definitely won't feel like giving up on your lifestyle to save for a house (which is likely to eventually become a topic of your discussions if you stay together for long enough.)
Their family
When you're in a relationship, you will have to learn to get on with people you might not even like, all for the sake of your relationship or marriage.
It's not a great experience when you have to pretend you love them, but you can find the strength in you to respect them.
Their friends are your friends
You will share friends with your partner too, and it might feel like two worlds colliding.
In some cases, partners have a great group of friends that get along fine, but sometimes it can be a nightmare. Trying to organize a party and make sure no one gets injured, starts a fight, or creates drama in front of everyone can be quite a challenge sometimes.
Remember that it is better to be single than in a bad relationship. If you feel these cons overpower the pros, you should consider staying single until you feel ready.
Related Reading: 

Single? Looking for Love? Never Do This
3 Things to consider before you take the call between single versus relationship
Now that you have gone through the pros and cons of being single vs. being in a relationship, you probably better understand what you should do.
If you have been in a dilemma about this, here are some things you should consider before taking the final call.
1. Would I be happier single?
There is no right or wrong answer. It depends on you, your personality, and the reasons why you're unhappy in your marriage or relationship.
Some people find themselves in even worse places after leaving their partners. It's a matter of what you truly want and how you feel about yourself and your significant other.
2. How ready do you feel for a relationship?
Of course, that single versus relationship question depends on where you are at this moment.
What's the point of being in a relationship if you just broke up? It's only natural to take some time off between relationships to heal and find your true self.
Related Reading: 

Ways to Know If You Are Ready for a Relationship or Not
3. How often are you in a relationship?
If you are someone who is always in a relationship and rarely spends any time by yourself, you might want to consider taking a break just to give yourself a chance to get to know yourself better. It's easy to lose our identity if we're always in someone else's company.
However, if you are someone who is coasting for a long time and just not finding "the right one" to start the relationship with, ask yourself if you're looking for perfection?
Single versus relationship can be a choice of how ready you are to grow as a person. Many happy relationships weren't love at first sight but a product of a patient nurturing of the feelings.
Related Reading: 

How to be Single And Happy
Are singles happier than couples?
There has been research on this topic, and one of the factors that contribute to our happiness is social interaction.
According to research done by Berkley, single people have richer social lives, which means that they engage with people more, which results in them being happier than the people who are in relationships.
Bear in mind that we can't decide what's better, single versus relationship, based upon one factor.
If you are more inclined to be single, watch this video to know some more reasons.

What is in our nature?
"Should i be single or in a relationship?" can be a common question you ask yourself, or even your close friends and family. Human beings are social animals and are not biologically designed to be alone.
Single life vs. relationship is a matter of personal choice and shouldn't be something we need to ask others for opinion, to make up our mind and make decisions.
They both have many pros and cons, and it's very personal which one you like better.
Share this article on
Want to have a happier, healthier marriage?
If you feel disconnected or frustrated about the state of your marriage but want to avoid separation and/or divorce, the marriage.com course meant for married couples is an excellent resource to help you overcome the most challenging aspects of being married.
More On This Topic
You May Also Like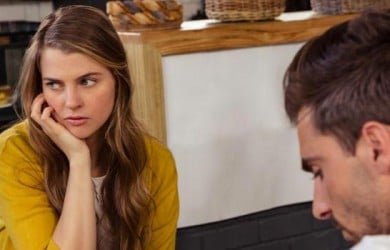 Popular Topics On Married Life