10 Ways To Improve a Marriage Without Love
If you are in a loveless marriage, it may seem hopeless and you may feel helpless. Instead of wondering how to stay in a marriage without love, you should focus your energies on improving the dynamic between you and your partner.
Remember, you once loved this person and they loved you, but now that has gone away and you are left with a shell of the relationship you once had with no love in the marriage.
What is a loveless marriage?
Over the years, married couples can sink into indifference and apathy. They may feel paralyzed with hopelessness, joyless relationships, lack of passion and monotonous existence.
It is not uncommon for married people to feel that they are sacrificing a hope of ever having a love life and paying a dear price for their financial and emotional stability and the well-being of their children.
French Philosopher Michel Montaigne claimed that love-stricken people lose their minds, but marriage makes them notice the loss. Sad but true – marriage carries such an overwhelming dose of reality that it can be life-threatening to the illusion of love.
Many married couples claim that their feelings of "love died." Sometimes feelings change significantly and someone's love can unexpectedly drop dead. But often, romantic love changes into something else – unfortunately much less exciting, but not worthless.
Related Reading: 

How Can I Be Happy in a Loveless Marriage?
What do you do when you are in a loveless marriage?
When you are in a loveless marriage, broadly speaking, you have three options. You can either stay in the marriage while letting the resentment build between you and your spouse. You can work on making things better or choose to end the relationship and go your separate ways.
If you continue to stay in a loveless marriage, it can hurt your mental well-being and that of your spouse. The frustration and resentment might increase over time if you ignore the problem by staying married but not in love with your spouse.
If you choose to end your marriage because you see no hope for improvement in the state of things, you will be giving yourself another chance.
However, a middle road offers couples the chance to address the issues and try to revive the love in their marriage. It can give your marriage the boost of energy and warmth that it needs to retain its loving nature.
Can a marriage work without love?
The definitive answer to the question, can a marriage survive without love, is "it depends."
Some couples regard their love as an independent creature that can come to life or die of starvation at any time, regardless of the lovers' actions. That is almost always not true.
Nobody has a right to claim that a nurtured love will last forever, but a neglected one is doomed from the very beginning.
Often people hear a clichéd and nauseous remark: "Marriages are hard work." As annoying as it is to admit, there is something to it. "Hard," however, is an overstatement. It would be fair to say that relationships take some work and a certain amount of time should be invested in them.
If you are both dedicated to making the marriage work and want to fall in love again, you're already a step ahead of the game. It might take effort and dedication from both parties, but you can improve things and be happy together again.
Something caused you to stop feeling the love, and it could simply be just life circumstances.
Though you may fear losing each other, it's a matter of reintroducing yourself to the person you chose to marry. Searching for the cause behind the discord can help you figure out how to bring love back into a loveless marriage in a constructive manner.
It is important to note that it means you both have to work at things and you both have to be willing to fix things—but you can find that love again and make your marriage better than ever before.
Related Reading: 

10 Tips on How to Fix an Unhappy Marriage
10 ways to improve a marriage without love
For those looking at fixing marriages without love, try to go in with an open mind and a positive attitude. If you are both willing to try, you can improve a marriage without love and get things back to normal again.
Learn how to fix a loveless marriage and get it back on track with these helpful tips:
1. Start communicating
Communication is one of the most critical elements of making your marriage work again. Somewhere along the way, the two of you stopped talking effectively.
Life got in the way, children became the priority, and you became two strangers that just passed each other in the hallway. Start making communication your mission and begin to talk again.
Make it a priority to chat with each other, even if it's for a few minutes at the night's end. Talk about things other than the mundane tasks, and you will start to see each other in a whole new light.
Communication is at the epicenter of a successful marriage, so start talking and see how this helps to improve things for the two of you.
2. Get back to basics
If marriage without love is stifling your happiness, try to recapture who you were when you were first together. Something made the two of you fall in love with each other, and you need to find that again.
There was a time when you were happy and in love, and you need to think back to that time.
Transport yourself mentally to the early days when life was great and you were carefree as a couple when you were only committed to each other and loved each other above everything else.
If you want to improve a marriage without love, you need to fall in love with each other again.
Mentally think through the early days of your relationship and marriage, and use those positive thoughts to move you forward. It can help you fight the lack of affection in marriage.
It's easier to be happy with each other when you reflect upon what brought you together in the first place!
3. Add excitement and spontaneity
It's easy to feel you've fallen out of love when you go through the same boring routine each day. In a marriage without love, add a little excitement and work at the physical intimacy one night. Plan a date night or a getaway for no reason at all.
When you add that spark and make things a bit exciting, no matter what else you have going on, then it can work. You get to reintroduce yourself to your spouse and remember why you got together in the first place.
This is exciting to plan, and you'll likely want to take turns, and it keeps you both on your toes positively and cohesively.
Related Reading: 

4 Keys to Add Spice and Excitement in an Intimate Relationship
4. Make each other a priority
To break the unhealthy patterns in a marriage without love, you need to make time for just the two of you.
Sometimes life gets in the way, and it's up to you to make each other a priority. Sure, you have a lot going on, but when you stop to take the time to make each other a true priority in life, then it makes the other person feel appreciated and cherished.
When there is no love in marriage, make time for just the two of you – whether it's a good chat, snuggling in front of a favorite show, or going out on a date.
Ways to improve marriage include making each other a priority and finding ways of connecting is truly the secret to fixing a marriage without love.
Think of why you married each other and celebrate that as often as possible, and your relationship will blossom because of it.
Related Reading: 

What Are the Three Biggest Priorities in a Relationship
Watch this video by Relationship Coach Susan Winter to learn how to become a priority in your partner's life:

5. Have realistic expectations
It is impossible to have butterflies in one's stomach forever. Make peace with it.
Extramarital affairs provide people with some excitement, but the price is usually too dear. The excitement is temporary, while the devastating blow to the spouse and children is likely to become permanent. Not to mention the butterflies will end up disappearing anyway.
6. Tiny signs of attention
Try making their favorite meals once in a while and buying presents. Simply asking, "How was your day?" and listening are easy things to do, but they make a huge difference.
If you are trying to learn the steps to a better marriage, remember that the magic is in the small gestures. Leave them a love note, surprise them with a vacation or remember the little things about them.
7. Spend quality time together
Having quality time alone is crucial for any married couple. Once in two or three weeks, get rid of the kids and have a date night. It will be an excellent reminder of the early stage in a relationship – a mind-blowing new love.
When there is no affection in marriage, avoid talking about kids, chores and financial issues when you decide to have a date night. Build the affection by really paying attention to your spouse.
8. Express gratitude
It is not a good idea to take one's spouse for granted. Express your gratitude and let them know that you value their actions and presence in your life.
If you don't let your spouse know that you see and appreciate all that they do for you, they will feel underappreciated and unloved. And not feeling loved in marriage can destroy a person's confidence and faith in their marriage.
So, start repairing your marriage with a simple "Thank you."
9. Dress up for them
When young people go out on dates, they make an enormous effort to look their best. How come after they get married, often husbands and wives dress up for work and completely neglect their looks at home?
It is vital to look decent in front of your spouse and avoid the temptation to get into old sweatpants just because it's comfortable.
10. Sexual healing
Sometimes the problems in a marriage get aggravated due to the lack of intimacy that a couple shares.
It is easy for negative feelings to take root in your marriage and transform it into a marriage without love if you are not satisfied sexually.
You can address sexual frustration by initiating sex and finding new ways to make things exciting in the bedroom. Try something new and transform your sex life by working towards making marriage better for you and your partner.
How to live in a relationship without love
In such a scenario, you either walk away or if you choose to stay, you look for help on how to stay in marriage without love, ways to be happy in a loveless marriage and redefine what you want from your marriage.
Children, financial reasons, mutual respect and care for each other or the simple practicality of living under a roof – can be reasons why some couples choose to live in a marriage without love.
In such an arrangement, couples are beyond seeking answers to how to fix a marriage without love.
The marriage is functional, where the partnership requires cooperation, structure, equitable distribution of work and responsibilities and a sense of agreement between couples.
Takeaway
Staying in a marriage without love stunts the growth of two married individuals as a couple.
No love in marriage spells the death blow for relationship satisfaction. Unfortunately for some, life's circumstances thrust them into living in a loveless marriage.
If you have already walked the path to bringing love in marriage, but see no tangible improvement, then living without love in a marriage is a bitter reality.
Share this article on
Want to have a happier, healthier marriage?
If you feel disconnected or frustrated about the state of your marriage but want to avoid separation and/or divorce, the marriage.com course meant for married couples is an excellent resource to help you overcome the most challenging aspects of being married.
Learn More On This Topic
You May Also Like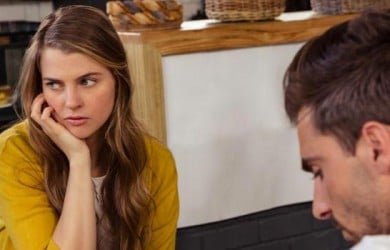 Popular Topics On Married Life