Significance of Commitment in Relationships
The commitment you make to your partner to be their other half in life is a huge one.
There's a goal of permanence and solidity between you when you announce commitment in a relationship.
You have chosen your person, and they are choosing you back
Making promises and taking vows are part of this arrangement. You decide to give yourself wholly to someone else with the intention of staying together forever; then life happens, things get hard, you struggle, you fight, and you may want to give up and split up.
Thinking this is an easy way out is a mistake, I hope if you're feeling this way, you'll stop and think about it long and hard before you leave your partner and give up on your love.
As a therapist I have helped couples in a lot of different circumstances to find their way back to a loving and close relationship where they both feel important and valued. I know it is possible, even if it doesn't seem so in the moment.
We hear a lot about "the old days" when people stayed together no matter what and enjoyed lasting commitment in a relationship.
We know that a lot of couples worked it out, figured out a way to fix their problems and move forward, and it also means that there were toxic and abusive relationships where partners were trapped and felt like they had no option but to stay with their partner.
Whether it meant they were living with alcoholism or violence, they felt they had no choice but to stay; in large part due to the stigma society of the time put on divorce and single women of marriageable age who chose not to be with a partner.
I hate to see couples who are staying together for any reason other than love and commitment but some couples stay together for the sake of the children, for economic reasons or lack of other viable options.
At the core of it, commitment in a relationship means keeping your promises.
Even when it's difficult, even when you don't feel like it. If you promised to be someone's person, to be there and show up in their life, you need to take that seriously.

Adult relationships require adult responses
I would say that it's no less important if you're not legally married. A promise should be binding on you both. While we can get upset, give up, feel stuck or despairing, we need to take a step back and look at the big picture.
Remember your promises to one another and your commitment in a relationship to see it through. Don't give up on your love too easily, it's worth fighting for.
If you are legally married you have a deep commitment and a binding contract.
You've assembled all your friends and family to witness this commitment ceremoniously, made vows before all to love and cherish each other forever.
You have a spiritual and legal connection to your spouse and your family. You're very sure you plan to keep these vows. The time to remember this is when the going gets tough and you feel like giving up.
Commitment in a relationship means honoring your word in the small things as well as in the big ones.
How to show commitment in a relationship
A key sign of a committed relationship is in being the person your partner needs on any given day.
If you need to be the strong one, be the strong one. If your partner feels needy, show up and give them what they need.
Be faithful, be consistent, and be somebody that your partner can rely on to keep your word.
It seems simple, though I know at times it can be extremely difficult. Our partners are not always lovable. They're not even always likable! This is when commitment matters most.
Show your commitment by being kind, being helpful, and honoring your partner even when they're not around.
Keep your private business private, don't demean or insult your partner in front of other people.
Put them in a higher place, and defer to them over your friends and even your family. What's important to your partner should be important to you, and if it's not, you should reconsider your position.
This is another aspect of commitment in a relationship – Becoming a unit, a team that stands together.
Relationships go through ups and downs
It's not easy living with someone day in and day out. All the baggage we bring to our relationships, our habits, our triggers; they are not always easy for our partners to understand or cope with.
There will be times you don't like each other much, and you may want to get away from your partner for a while.
Go into another room, take a walk or hang out with friends. It's okay to feel this way, everyone does, but commitment means that you deal with the unpleasantness in the moment, and when you take your walk, think about how much you care for your partner, and how deep your commitment is.
Relationships go through phases and you and your partner may not always be perfectly in sync. It's important to remember that these are temporary phases that all relationships go through.
People grow and evolve at different rates
This is the time when you need to be your most kind and loving and court your partner.
If you are feeling less in love than you used to, it's time to fulfill your commitment to love and cherish your partner by getting to know the person they are now, at this point in your relationship, to learn them again and to fall in love with them anew.
Commitment in a relationship is shown most in the day to day living that we do with our partners. The small things that we do to show we are 100% with one another through thick and thin, through the easy times and the hard times; for a lifetime.
Stuart Fensterheim, LCSW helps couples to overcome the disconnection in their relationships. As an author, blogger and podcaster, Stuart has helped couples around the world to experience a unique relationship in which they can feel special and important, confident in knowing they are deeply loved and that their presence matters.
The Couples Expert Podcast consists of provocative conversations offering the perspectives and insight of experts from a variety of relationship-related fields.
Stuart also offers daily relationship video tips by subscription in Stuart's Daily Notes.
Stuart is happily married and a devoted father of 2 daughters. His office practice serves the greater Phoenix, Arizona area including the cities of Scottsdale, Chandler, Tempe, and Mesa.
Share this article on
Want to have a happier, healthier marriage?
If you feel disconnected or frustrated about the state of your marriage but want to avoid separation and/or divorce, the marriage.com course meant for married couples is an excellent resource to help you overcome the most challenging aspects of being married.
Learn More On This Topic
You May Also Like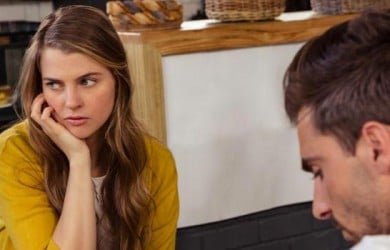 Popular Topics On Married Life