5 Ways To Spice Up Married Love Life
At some point in nearly every marriage there comes a time when you get into a rut, and you need to spice up married love life to keep things interesting. Though you both might be very dedicated to each other and care deeply about the commitment, it's easy for life to get in the way sometimes. You may be overtaken by children, work, or just life responsibilities that keep you from sharing special time with your loved one. It's not that you mean for it to happen, but nearly every married couple gets into a rut and a drought—so knowing how to spice things up can be fundamentally important!
You love each other and it's important to show that. Think back to when you were first married and your only priority was each other. Now carry that mindset with you to think through some fun and creative ways to add the all important element of spice to your relationship. It doesn't have to all be about physical intimacy, for sometimes the greatest way to show that you care is to tell your spouse or to plan something special. This is about knowing each other and thinking through what will help you to feel connected as a couple. Use the following ideas as starters and then creative and think of what will work best for you as a couple. Some thought and effort can help you to rediscover each other, and to take your marriage to the next level.
1) Leave little notes for each other
It doesn't always have to be something elaborate, for it can be a little note to let them know you're thinking of them. Try leaving a note for your spouse before you head off to work in the morning. Send them a text throughout the work day to let them know you love them.
Not only can these little love notes help to make them feel important, but it can also get them thinking about you during their normal day. You can really add an extra level of spice by being playful, fun, and even making the notes sexy. Use this fun way of communicating to show them that you still care, and that you think of them and it can really help to build some much needed momentum.
2) Be spontaneous and plan a fun overnight getaway
There doesn't need to be a special occasion to plan a little getaway. It doesn't need to be anything elaborate, for simply planning a night at a hotel down the street can do the trick. Getting outside of your normal environment, away from any distractions, and having time for just the two of you is what it's all about.
If you plan this spontaneously and take your spouse off guard, then it's all the better. This is a great way to spice up married love life in terms of the physical intimacy, but it allows you a chance to reconnect in so many other ways too. You come away from a getaway feeling re-energized and your bond is stronger than ever, and so it's well worth it in the end!
3) Make date night a priority
It's easy to get stuck in a rut when you haven't had time alone together in awhile. Don't let this happen! Even if it's just getting out for dinner every few weeks, be sure that date night is a priority in your marriage.
This gives you a chance to really talk, to fall in love again, and to remind yourselves of why you got married in the first place. Take turns planning a fun night out and try to get creative. Think of things that you like to do together, then plan a night around it. Nothing can help to revitalize a relationship like a fun date night with the one that you love!
4) Make it a priority to spend some time together
It can be as simple as having a way of connecting with each other that can awaken that love that has been hidden beneath the surface for awhile. No matter how busy life may get, you need to incorporate just a few minutes for the two of you at the end of a busy day.
Having time to hug, snuggle, or just talk one on one can really do wonders for getting out of a rut. Even if it's just five minutes of chat time, snuggling up to each other and watching a favorite show, or spending some face time with one another it can work wonders to help you stay connected.
5) Develop intimacy between each other
If you want to know the secret to spice things up, then it's all about making intimacy a priority. This of course comes through physical intimacy and an active sex life, but it can go much further than that. Kiss each other every day for more than just a second, hold that embrace just a few more minutes, look into each other's eyes, and feel that physical connection. Make a healthy sex life a priority and add some excitement into it to help awaken the bond between the two of you.
Intimacy involves more than just the physical, but you do need to include this in your marriage too. If you think through these things and you stay close mentally, emotionally, and physically then you can spice up married love life and stay happy for the long term. Being aware of what it takes to keep each other happy and making each other a priority can keep the love in your marriage, and help you to stay together for the long term!
Share this article on
Want to have a happier, healthier marriage?
If you feel disconnected or frustrated about the state of your marriage but want to avoid separation and/or divorce, the marriage.com course meant for married couples is an excellent resource to help you overcome the most challenging aspects of being married.
More On This Topic
Recent Articles
You May Also Like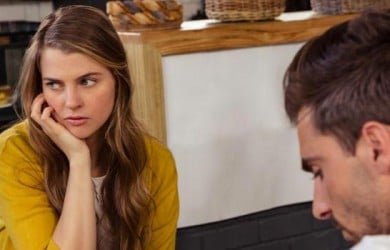 Popular Topics On Married Life