15 Causes Of An Unhappy Marriage & How to Solve it
Being in a marriage is not a guarantee that you will be happy. At times things turn upside down and people end up being discouraged and regret why they tied the knot in the first place.
When you walked down the aisle, you promised your partner in the presence of witnesses that you will always be there for them through thick and thin. However, as time passes, you realize that your partner is not who you thought she or he is and you experience harrowing marriage problems.
What happens is that most people only think of quitting their marriages forgetting that there is no problem without a solution.
What are the signs of an unhappy marriage?
Many people hide their dark emotions and feelings in their marriage and fear to reveal that they are living an unhappy married life.
Check out these signs of unhappy marriage:
Constant criticism

You both are happier when separate

Constant argument

Spending quality time is a struggle

You both are defensive

Lack of intimacy

You think about leaving the relationship often

You both hardly share happy news with each other

Relationship is not the topmost priority anymore
Is it normal to be unhappy in marriage?
Getting married to your loved one may look like a dream come true, whereas in some situations it may end up being a challenge to one's body, mind, spirit, and soul.
Marriage has many ups and downs and it is okay to have feelings of unhappiness in marriage because of the arguments and disagreements. A marriage can be hard work and if the unpleasant feeling continues for long periods of time and when you are unhappy in your marriage, it is definitely a sign that you both must sit together, communicate the feeling and work on it together.
Related Reading: 

9 Ways to Manage the Ups and Downs in Your Relationship – Expert Advice
15 causes of an unhappy marriage and how to deal with them
Before we even dive into those tips you could be looking for to fix your unhappy marriage, let's examine what causes it. When marriages go bad, it becomes hard to figure out the problem and how to fix it.
However, know some common marriage problems and solutions thereafter:
Physical and emotional abuse
If you are going through emotional and physcial abuse in marriage, this is one of the major causes of unhappy marriage. Abuse, at any level, is not acceptable and to have an abusive partner will only kill your self-esteem and ultimately, the relationship.
Lack of communication in the relationship leads many misunderstandings. When partners refuse to communicate or share their feelings, it is surely going to lead to a downfall.
Related Reading: 

3 Detrimental Effects of Lack of Communication in Marriage
Money is one of the major causes of an unhappy marriage. Financial problems in marriages lead to conflict and thereby, a crack in the relationship. Mistached financial goals, overextending budgets and lack of financial counseling can be the major causes of an unhappy marriage.
Also, infidelity goes a long way in making sure a marriage is unhappy, unhealthy and toxic. It is a clear indicator of an unhappy marriage if you don't trust your partner anymore.
Many often keep an affair outside home, be it a mistress or a mister outside the marriage. The happiness of keeping an extra marital affair only remains until it is a secret. Once the secret gets exposed, you are totally lost in your married life and you are heading for an unhappy marriage experience.
Jealousy in a relationship is healthy to an extent. However, when it crosses boundaries, it only shows the insecurities of the jealous partner and such a situation leads to being over possessive and restricting the partner which can be major causes of an unhappy marriage, if not resolved.
Fighting in the relationship is healthy but if both the partners have the habit of nitpicking and fighting with each other without the goal to resolve the problem, this can be the major concern and cause of an unhappy marriage.
Another cause of unhappy marriage is lack of intimacy among the couple. Intimacy is that feeling that grows between the couple in a slow and steady manner. The attraction to each other is considered as a measure for it. Once you start loving your partner, intimacy will develop on its own between the couple and it will act as a connection on your marriage life. So lack of intimacy among couples is one of the reasons for unhappy marriages.
Once you get married and start living together as a married couple, being honest to one another is one of the most important factors which decide the future of your marriage.
Therefore, it is the duty of each couple to maintain the trustworthiness and honesty to each other. If either you or your partner starts to lose the trust in the other one, then it will surely lead to unhappy marriage life.
Related Reading: 

5 Key Reasons for the Lack of Trust in Your Relationship
Lack of commitment by either or both spouses
If partners are not ready to commit to each other for one reason or the other, they won't be happy and want to sever ties with each other.
Having unrealistic expectations
Having high expectations is also a major cause of unhappy marriages today. We have a lot of expectations when getting married or even being in a relationship and thinking about our partner and try to plan out things, keeping in mind the criteria, desires and expectations you have in mind.
It is good to have some expectation, desires and fantasies in a marriage but you should never expect too much from your partner, as it may not go as planned thereby leading you to disappointment.
Related Reading: 

How to Recognize and Tackle Unrealistic Expectations in Relationships
The major cause of an unhappy marriage is often incompatibility. This means you are not willing to accept your partner for whosoever they are but rather you want to change their personality to suit your lifestyle. NO! It shouldn't be done in a relationship at all.
You should rather accept your partner for who he or she is or else you are heading for an unhappy marriage. Also, compatibility is something you have to work towards. It is not possible to achieve it all at once.
Another most important thing required for a happy marriage is the readiness and grit to make it work. Love and respect is not a ready-made thing; rather it's a process. You have to work on the bond between you and your partner continuously. And if you are not ready to adjust, then marriage is not meant for you.
It might be extremely difficult to tell if you are in an unhappy marriage, especially for those who have been married for a very long time. It takes a lot of effort to build a happy marriage but it takes only a little recklessness and carelessness to make the marriage unhappy and unhealthy.
When it comes to recklessness in the relationship, it means that partners are not caring about each other's likes and dislikes and not working together as a team.
14. Blame game
When your partner shifts the blame for their actions on someone else or some sort of flimsy situation, it shows you are already in or you are heading for an unhappy marriage. The blame game can be a huge relationship killer and it should be ensured that it's not creeping into the relationship.
Related Reading: 

How to Stop the Blame Game in Your Relationship
15. Lying to each other
You are heading for an unhappy marriage once you start doubting the words and actions of your partner. If your partner just changes the truth when they don't like the way a conversation is going, it is an indicator that you are engaged in a marriage with a partner who is not trustworthy.
Can an unhappy marriage be repaired?
A marriage today might have been a relationship yesterday. The couple starts off dating, courting and then getting engaged to each other before finally getting married.
Love is the very basis, the bedrock and the foundation of marriage. Without it, a marriage is lifeless, unhealthy and should be put to an end. Marriage is a relationship that is meant to be enjoyed not endured.
If you're not exactly blissful and happy in your marriage, you are not alone. "Only 60 percent of people are happy in their unions" according to the National Opinion Research Center.
However, if you both are willing to work together on the problem, the solution is not far.
How to deal with unhappiness in marriage
Now that you already have an idea about the possible causes of unhappy marriages, it's good to remember that there are hurdles which you are likely to encounter no matter how perfect your marriage may seem to be.
At times, evil thoughts can pop into your mind and start thinking, 'what kind of trouble did I get myself into??' When you are unhappy and depressed, the only thing you think of is filing for a divorce or separating from your lovebird.
You forget that marriage is supposed to be a lifetime institution between couples.
How to fix marital problems? If you are still wondering how you can cope with your marriage yet you are about to give up, here are ways you can apply to fix your unhappy marriage
1. Build an effective communication structure
Communication is a vital component that keeps marriages healthy and happy. When you fail to communicate, you poison the relationship between the two of you.
If you are unhappy, try communicating with your partner and you will see positive change. Don't be too busy with your work or children and forget that your partner is there with you.
Create time and engage with your partner on a daily basis. Talk about the things affecting your marriage and don't forget to tell them how important they are in your life. If you fear to talk to them directly, text or call them and you will surely pass a message that will bring happiness back into your marriage.
Also watch: How to Find Happiness in Your Marriage
2. Learn to forgive and forget
You have probably heard the phrase 'to err is human' more times than you can recall, right? If you have, then you have to understand that no one is perfect and even the most perfect people do make mistakes.
If you want to bring happiness back to your marriage life, both of you must learn to forgive each other and most importantly, forget about the bad thing she or he did. Also, never judge your partner because doing so makes them feel bad and you can affect them mentally and psychologically.
If your partner has done something wrong, talk to them nicely without cursing or shouting at them, and make them understand how bad you feel about the bad thing they did to you, but mention that you forgive them.
Related Reading: 

Learning To Forgive: 6 Steps to Forgiveness In Relationships
3. Be committed to your relationship
As stated earlier, lack of commitment is a dangerous poison that kills marriages. If you want to bring happiness back to your marriage, be committed to your relationship.
The time you've started experiencing unhappiness is the best time to be more committed to your partner. Talk about his or her goals and ambitions and always be supportive. The best thing you can do is to avoid anything that reduces the level of commitment to each other and show them that you still love them.
For instance, you can brew a cup of coffee for her or leave a letter note in his briefcase. That way, you give yourselves a reason to be happy again.
4. Seek help
Sometimes carrying marital burdens could be very tiresome requiring someone to share with; after all, a problem shared is half solved. If you know of a couple who are happily married, talk to them and ask how they manage to be happy in their marriage.
Ask how they solve problems and also how they talk to each other when storms strike their marriage, and then apply their techniques in your relationship. If you think your marriage needs more support, talk to a professional either with your partner or alone.
Talking to a professional can help in uncovering the root cause of your unhappiness and give you any ideas on how to fix it.
5. Love and respect your partner regardless of the situation
Love, affection, and attention are some of the pillars that keep marriages happy. When one or all of them is missing, the happiness disappears too. You should give them all to your partner even if you two are not in good terms.
Give your partner the attention they deserve and most importantly, show them love. Treating them with gratitude and respect can surely fix your unhappiness. It may be tough to show love to the person who has wronged you, but it's only affection that can bind the hearts together.
Be kind to your partner and do good to them even if they are the bad guys in your situation. When you show such love and affection, your spouse responds with the similar affection and there you are, happy again!!
6. Deal with every situation at a time
At times you may realize that so many issues, may it be household chores, family responsibilities, money or even child care have cropped up causing uneasiness in your marriage.
Trying to solve all of them at the same time will only give you nothing but a headache and more troubles between the two of you. The best thing is to solve them individually and when you manage to fix it, move on to the next issue and deal with it head-on.
You can do this regardless of how long it takes to solve a single problem, and most importantly, solve it together.
As you find the solution to one problem, happiness will come back in your marriage without even noticing.
Tips on how to fix an unhappy marriage
It is often said that humans cannot thrive in the solitude of mind, body, and spirit. Therefore engaging in happy relationships is an important part of a fulfilling life. Being in relationships is a necessary part of healthy and successful living.
In order to have a happy relationship, know some effective tips:
10 Tips on How to Fix an Unhappy Marriage
Final thoughts
Marriage can be tougher than you first thought, and making it work requires care, time, and patience. When you are not experiencing the happiness, you had when you were dating or when you married, just know there is a problem.
Thinking of when things started becoming sour in your relationship could be the road towards discovering your problem. After finding out where the challenge is, follow the above ways and you will definitely fix the unhappy marriage and enjoy living happily ever after.
Share this article on
Want to have a happier, healthier marriage?
If you feel disconnected or frustrated about the state of your marriage but want to avoid separation and/or divorce, the marriage.com course meant for married couples is an excellent resource to help you overcome the most challenging aspects of being married.
Learn More On This Topic
You May Also Like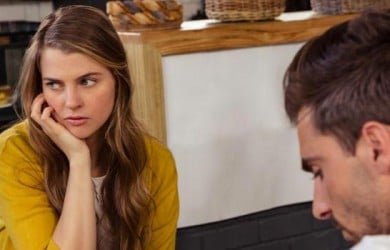 Popular Topics On Married Life