10 Signs You're Settling In a Relationship
Most couples are extremely happy when they start a relationship. However, as time passes by and they get to know more about each other and encounter challenges together, many find themselves unhappy or uncontented.
When these feelings emerge, the question "am I settling in a relationship" is quite common. If you find yourself asking the same question right now, then you are on the right page. Find out the answer by knowing the signs of whether or not you are settling in a relationship.
What does settling in a relationship mean?
"I think I am settling in a relationship" is a phrase most people use when discussing their relationships with their friends. But what does settling mean?
Settling in a relationship means being ready to accept less than what you want or deserve. Therefore, settling in a relationship can be a bad thing.
When you decide to settle in a relationship, you choose to accept things that you deeply know don't sit right by you. The fear of losing the one you love is the main reason why you could be settling.
Settling often begins when you lose yourself to your significant other. It happens when you begin losing your worth and changing little bits of yourself to remain committed to a relationship that doesn't serve your best interest.
However, it would help if you didn't confuse settling with compromising. When you choose to be okay with everything your partner does at your expense to keep the relationship going, that is settling.
On the other hand, compromising is being ready to accept that your partner is not perfect; they have their faults. Accepting imperfection is compromising.
We all have a list of non-negotiable things we cannot condone. If you find yourself ignoring the list of things you cannot tolerate to remain in a relationship, that is settling. Accepting your partner is not perfect is compromising, which is important for every relationship.
Related Reading: 

Reasons Why People Settle for Relationships
What is the difference between settling and being realistic?
Have you found yourself questioning if your significant other is the one, or am I settling in my relationship?
It isn't easy to know if you are settling in a relationship or just understanding your partner's shortcomings and the relationship you share with them.
Here is the difference between settling and being realistic:
Are you compromising or always making the sacrifices?
A relationship doesn't mean getting things to go your way every time.
You need to compromise and bend a little to accommodate your partner. But if you are constantly making all the sacrifices and going the extra mile, you are settling.
Related Reading: 

How to Never Compromise Yourself in the Relationship
Are you letting go of your younger version, or are you putting your future on hold?
If you hoped to marry a pop star or a celebrity in your teenage years and realize you won't get married to one and that doesn't matter, that is growth.
Your lover may not be the most handsome or the richest person, but he could be what you want. That is being realistic.
However, if you are beginning to slowly let go of your future aspirations and the personal dream you had for your future, then you are settling.
Can you openly talk about your relationship problems, or are you ashamed to discuss them?
The fact is, no relationship is perfect. Every relationship has its fair share of issues.
One day it might be all roses, and the next, your significant other might be annoying you to the core. However, if you can openly disclose your relationship problems, then chances are they are tiny normal things.
But if your issues make you feel embarrassed and you cannot discuss them with anyone, that could be a sign of settling. The right person will never do anything that hurts you and is embarrassing even to share.
Are you excited about an imperfect future together, or are you afraid of being alone?
There are so many changes and unexpected occurrences in life. So, the future will never be perfect. If you are excited about an uncertain future together, you are realistic.
But if you are okay with an imperfect future with someone because you don't want to be alone, you are settling. Relationships settling comes out of fear of being alone or starting over.
Related Reading: 

How the Fear of Being Alone Can Destroy Potential Love Relationships
10 Signs you're settling in your relationship
Are you settling in your relationship? And if you are, how to know if you are settling in a relationship?
Read the signs below, and if you can relate to them, you may be settling in your relationship.
1. You are comfortable putting up with deal breakers
Have you ever sworn never to be in a relationship with another drunkard, but you are dealing with that exact situation?
If you are putting up with traits you hate and wouldn't previously tolerate, then you are settling.
Related Reading: 

Deal Breakers in a Relationship That Are Non-Negotiable
2. External timelines are pressuring you
Society has different opinions and rules regarding a relationship. For example, everyone has an opinion on what age you should get kids and at what age you should marry.
These external pressures are the main reason why people settle in relationships and could end up marrying wrong. Examine deeply why you are with your partner and be honest with yourself.
3. They don't want deep talks
A healthy relationship is one where you can make all major decisions.
If your partner doesn't consult you on major decisions, but that doesn't bother you, you have started to settle.
4. You are constantly scared you are missing out
If you are constantly scared that you have a better chance of love out there, you are missing out on; you are settling.
The constant worry that there is someone better for you out there who can treat you, appreciate you, and see your worth is a clear indication of settling.
5. You are trying to change him
If your best attempts are channeled towards changing him to be the person you want him to be, that is a red sign.
When your partner's habits are bothering you, and you find his behavior unacceptable, but you are still hoping your love will change him, you are settling in your relationship.
Related Reading: 

Why You Shouldn't Try to Change Your Partner
6. You have put yourself on hold
A healthy relationship should encourage personal growth. It should challenge you to improve and be the best version of yourself.
If you have to put your dreams and aspirations aside in a relationship, you are settling.
7. Your enthusiasm for the relationship is declining
Do you prefer spending time with family, friends, or people other than your partner but still won't give up on your relationship?
If you feel this way, you could be settling. On the other hand, if you don't have a sense of happiness and feel nothing when you are around him, it is a sign you are settling.
8. You fear loneliness
A classical sign of settling is the fear of being alone. While fear of being alone is understandable and relatable, it shouldn't be the sole reason you are in a relationship.
Loneliness can often make us feel like we need somebody with us all the time, or we need to be in a relationship with someone to feel complete. However, that may not be the solution. Instead, you can learn to be alone without feeling lonely.
Here is a book by Professor Kory Floyd that talks about finding real connections in life without the fear of loneliness.
Related Reading: 

Tips on How to Fight Loneliness
9. You justify
Do you constantly feel the need to convince your friends or family that you are in a happy relationship? Or do you always have to emphasize the reasons why you are dating this person?
Constant justification could be a sign of settling.
10. Frequently comparing your relationship to others
If you find yourself comparing your relationship to the relationship of others and you realize that others seem happier or more compatible, it is a red sign.
But, of course, when you are dating someone you love and adore, the comparison wouldn't matter.
Want to know if you are compromising too much in your relationship? Watch this video.

Is it ever okay to settle in a relationship?
No, it is not.
However, it's understandable why you want to protect your relationship, given that you have invested a lot of time and effort in it.
However, there is a big chance of you ending up feeling physically and emotionally drained in the long run. Therefore, you need to be with someone who nurtures your personal growth, pushes you to be the best you can be, and supports your dreams.
Are you worried that you are settling for someone you don't love for the right reasons?
You might be scared of being alone or letting go of your precious feelings. However, whatever the reason for your settling may be, you should know your worth and never settle for less.
Related Reading: 

Reasons We Settle for Less Than We Deserve in Relationships
How to avoid settling for less in a relationship?
The phrase "never settle" has always been thrown around when relationships are being discussed. But, if you realize you are settling for less in a relationship, how do you turn it around?
Here are tips to ensure you don't settle for less than you deserve.
Take control of your life
When settling in a relationship, you may end up constantly blaming your life problems on your partner. It certainly is the easy way out, but not the right way. So, take a step back, examine your life, your goals, dreams and own your life.
Owning your life means clearly understanding what you want out of life in general and out of your relationship. Thus, you will know when to stop settling for less and be patient enough to wait for the better.
If you want to take better control of your life, here is a book by a clinical psychologist, Dr. Gail Ratcliffe, that can help you gain more perspective.
Also, here's how you can start to take control of your life:
Don't be afraid to try new things

Challenge the norms

Learn to say no

Be more disciplined, especially about quality

time for yourself

Prepare for the worst

Stop hanging out with people whose company isn't enjoyable for you

Think of everything as a choice.
Could it be possible that you are settling for less in your relationship because of your standards? How you present yourself to others will determine how they treat you.
Therefore, raising your standards will help you attract someone who wants to match those standards. Also, it will help pluck off people not willing to meet your effort.
When you are ready to commit to something fully, you must achieve it. So raise your standards and commit to finding a better partner with whom you will be happy.
Don't settle; take action
No relationship is ever going to be perfect.
Therefore, you shouldn't confuse settling or compromising. However, if you can relate to our ten signs of settling in a relationship discussed above, it may be time to take action.
Settling for someone you know is not good enough for you will frustrate you, harm your future and drain you emotionally. Overcome your fear of loneliness and recognize that sometimes, being alone and happy is better than being undermined in a relationship.
Share this article on
Want to have a happier, healthier marriage?
If you feel disconnected or frustrated about the state of your marriage but want to avoid separation and/or divorce, the marriage.com course meant for married couples is an excellent resource to help you overcome the most challenging aspects of being married.
Learn More On This Topic
You May Also Like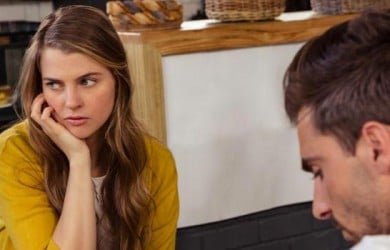 Popular Topics On Married Life