9 Ways to Know If You Are Ready for a Relationship or Not
To be or not to be. There is always this confusion when it comes to love. Sometimes, we ignore love saying it's just infatuation whereas some misunderstand affection as love.
When you discuss it with your friends, the first thing they ask is 'How do you know you're in love?' It is legit for them to ask as you have to be ultimately sure of your emotions.
So, whilst you're trying to understand the emotion and figuring out 'Am I ready for a relationship?' the below-mentioned points, perhaps, may help you reach a certain conclusion.
Let's have a look at signs you're ready for a relationship.
1. Paying attention to some else's interest
It's not usual to put someone else's interest above yours. There are very few people whose interests and choices matter to you. These can be your friends, family, and relatives.
However, when you suddenly start paying attention to someone's choices and interests means you've started to develop a feeling for that individual.
This changes the entire dynamics and can be taken as a sign that you're getting into a relationship. Usually, your friends will point it out, but you must also keep a note of it.
2. Unconditional bonding between the two of you
Love is always unconditional. Agree or not, but there is always some sort of agreement with the people around us.
When you're falling for someone without any conditions, you're falling into love. So, when you're asking 'Am I ready for a serious relationship?', see if you're developing a bond with a person without any conditions.
3. You've stopped asking questions
How do I know that I'm ready for a relationship? Well, the answer to this would be 'have you stopped asking questions for everything around you'.
When you have gone through a breakup, it's usual to put up questions about things around you.
However, when you're getting ready to be in a relationship, you stop questioning these things. You go with the flow and are ready to welcome people in your life.
4. Not afraid of solace or 'Me' time anymore
Not many would like to spend time alone or would avoid distractions. There are few who actually love that, but most of us prefer some sort of distractions.
However, to answer 'Am I ready for a relationship?' start observing if you're enjoying this non-distracted time by yourself.
You're happy not getting distracted by the TV when you're alone or are glued to your phone. You just spend some time alone and it's not at all hurting you in any sense.
This means, your mind and soul are at peace. This implies that the chaos inside you has come to a standstill.
5. Understanding the necessity of communication
Obviously, in a relationship, communication plays an important role. So, when you're getting ready for a relationship, you start paying attention to your conversations.
You don't want to ignore this fact and wish to develop an uninterrupted communication channel that strengthens the connection between the two of you.
If this starts to happen, then consider this as an answer to 'How to know if you're ready for a relationship'
6. Your ex becomes a history
Usually, girls compare their boyfriends with their ex. So, suddenly your girl stops talking about her ex and is more focused on what you guys are going to do in the future, then do take this as one of the signs she is ready for a relationship.
This isn't usual with girls or even with guys. When you're looking for answers to 'Am I ready for a relationship', do look for this particular hint of whether or not you're talking about your ex with your friends.
Your ex will be replaced with the person you're involved with. It happens as when you're in love, or are moving towards a relationship, you start to put that individual in every aspect of your life
7. Blending your life into someone else's likes and dislikes
Authenticity is needed in a relationship, but things can take a turn when you're getting deeply involved with someone. You would find yourself adopting their habits, unknowingly.
This is the result of the time you spend with them, you appreciate their good habits and finally start accepting them into your life. It's quite usual and happens with people who are in a relationship.
8. The checklist is flushed down the drain
We all have a list with us of what we expect our partner to be like. How do you know you're in love? When you have thrown away that rigorous list of 'Must Have' in your future partner.
When you have found someone who supports and loves you unconditionally, you don't need that list anymore. When the connection is made, you don't want to tick that list off just to be sure. After all, the heart knows what's best for you.
9. Happy with what you have
In the end, what matters is happiness. When you're with a person who makes you happy and jolly, you don't care about anything else.
So, if you're asking yourself, 'Am I ready for a relationship?' ask yourself if you're happy with the person. If the answer is yes, then you're surely ready for a relationship. When you're with a person who makes you happy, no other feeling comes close to it.
Also watch:

Share this article on
Want to have a happier, healthier marriage?
If you feel disconnected or frustrated about the state of your marriage but want to avoid separation and/or divorce, the marriage.com course meant for married couples is an excellent resource to help you overcome the most challenging aspects of being married.
More On This Topic
You May Also Like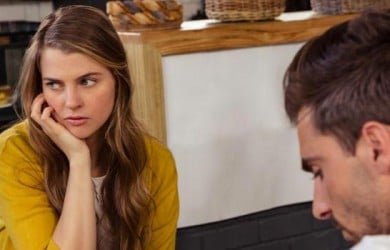 Popular Topics On Married Life