7 Signs You've Found the Right Person to Spend Your Life With
Everyone wants to find the right person to share their deepest desires, most significant dreams, and darkest secrets with. Marriage allows you a sense of security and reassurance by having your best friend by your side.
But how do you know if they're "The One"? How do you know if you're with the right person?
Before you commit to marriage, it's essential to listen to yourself, trust your gut, and share your feelings with friends, family, relationship coaches, and other trusted sources of guidance.
Marriage isn't easy, but here are seven ways to determine if the person you're embarking on this journey with is the right person for you.
Check for these signs to find out if your partner is your perfect match.
1. You're in sync, emotionally, mentally, and physically
Understanding each other's tendencies in every situation and reacting appropriately is key to success. When you're upset, they know how to cheer you up. When you're stressed, they know how to relieve your worries and vice versa.
Once you are with the right person, you both will fall into line with each other's habits, eccentricities, and quirks. One of the signs he's the one will come when you have the feeling of comfort around them. For instance, you will let go of your body image issues if you have any. As much as you will accept them, you will begin to accept yourself as well.
2. You have the same vision for your future
A marriage can't be successful unless you agree on how you want to spend the rest of your lives together and understand the meaning of marriage. Communicating your vision and marriage goals for the future early on into the relationship and seeing eye to eye regarding children, location, and a work-life balance is crucial.
If you know you are with the right one, you can align your visions as individuals and about the relationships and merge them as a married couple. This will also help you to get to know your spouse better.
3. You don't hold onto grudges
When you have an argument with your significant other, you communicate your feelings, take time to cool off, and truly move on, leaving the disagreement in the past. It's impossible to progress in a relationship if one or both of you are unfairly holding onto residual emotions.
So, arguments don't end up in a breakup or cause chaos in the relationship with the right person. You both take a step forward to resolve the issue and understand the concerns of your partner.
4. Your friends & family see what you see
They know you best and hold your best interests in mind, so if they don't get along with your partner, this is often a prominent red flag. If the version that you have of your partner is vastly different from how your loved ones see them, it's time to question why that's happening.
People can be blinded by love and glaze over the glaring complications in a relationship unless they're open to hearing their trusted companions' concerns.
So when you find the one, your family and friends will share a great level of compatibility with your partner, and so will you.
5. You actively challenge each other to be better
You both want to grow as individuals and partners and have your cheerleader alongside you every step of the way. Challenging each other goes far beyond just words–actions that show you both care to want to see improvement in each other is arguably more important.
Finding the right person means you both know each other's capabilities and constantly push each other to be better. A healthy challenge in the relationship there is an open dialogue and questioning done with honesty.
It's also a continuous thing—your partner should encourage you every time you embark on a journey that will yield big rewards.
6. You can both be your authentic selves
This goes without explanation, but the right person should love you for everything that you are. When you find the right one, you feel entirely comfortable to show your real personality, sense of humor, and character around them, and your spouse should feel the same around you.
In the video below, Relationship expert Rachel DeAlto talks about how we wear numerous masks. This makes us mediocre and stops us from being the best version of ourselves. Listen to her below:
7. You just know
How do you know you found the one?
If you're questioning the relationship and always trying to fix the same recurring problems, then maybe it's time to delve deeper into your marriage. Not all doubts are grounds for complete incompatibility, but you know your relationship the best.
Sometimes everything just clicks with the right person, and you know deep down this is the person you're meant to be with.
A marriage is a union of two people who dedicate themselves to each other for the rest of their lives, but it can also be very tricky to navigate. It's normal sometimes to question if the person you're marrying or are married to, is the one person you're supposed to be with.
Relationship coaching provides an external source of communication where you and your spouse can express your thoughts in a confidential setting and receive expert advice from professionals that understand the ups and downs of a relationship.
If you run through this list and aren't entirely convinced your partner is 'The One,' the next step would be to reach out to others for help.
Share this article on
Want to have a happier, healthier marriage?
If you feel disconnected or frustrated about the state of your marriage but want to avoid separation and/or divorce, the marriage.com course meant for married couples is an excellent resource to help you overcome the most challenging aspects of being married.
Learn More On This Topic
You May Also Like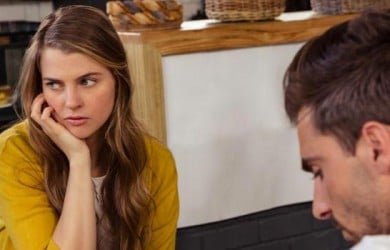 Popular Topics On Married Life