Why Is Accepting Responsibilities in a Relationship Important?
All relationships require love, nurturing, and efforts to survive and be successful. Placing trust and commitment as the foundation of one's relationship is essential. However, for any relationship to flourish, it is equally important for each of the individuals to be ready for owning and accepting the responsibilities in a relationship of their words and actions.
So, what is a responsibility in a relationship?
This is an important aspect of any healthy relationship and the two partners to stay happy and contented in their relationship.
Why is taking the responsibilities in a relationship important?
There are various reasons why is responsibility important in a relationship. Responsibility is an important attribute of personality. It sets a standard for how you would see yourself and how others will see you.
Being able to take the responsibilities in a relationship for your deeds motivates your partner to be completely honest and vulnerable. Doing so will encourage them to be more open, candid, and authentic with you and result in honest, meaningful conversations.
This kind of communication between partners is said to be the key to a strong relationship.
Secondly, be willing to accept your flaws and mistakes allow you room to grow. It motivates and enhances your self-esteem and promotes you to be mostly independent rather than depending on your partner for reassurance of your self-worth.
Taking ownership and accepting responsibilities in a relationship enhances trust and dependability amongst partners. Both partners know that they can count on the other always to have their back.
Here are 3 reasons why taking responsibilities in a relationship will do you good and how relationship and responsibilities are connected:
You will be able to control situations
By taking relationship responsibility or responsibility in marriage, you will understand when to come to the rescue, take charge, and make things smooth when things go topsy turvy. Lack of responsibility in the relationship will cause the relationship to fall apart.
Your partner will look up to you
Your partner will be able to trust you and count on you. You will be looked upon as the leader in a relationship. This will also lead to unparalleled personal growth and that of the relationship.
Being compassionate is one of the most important aspects of the relationship. By being a responsible partner, you will learn empathy and support your partner.
In the video below, Jamil Zaki is an assistant professor of psychology at Stanford University says empathy is a skill. He discusses how to hack our sense of empathy and get others to become more empathic.
How to take the responsibilities in a relationship for your word and actions?
It is essential to know how to accept responsibility in a relationship or marriage. Accepting responsibilities is one of the ways to become responsible in a relationship and keep it genuine. Here are some tips for how to be responsible in a relationship.
1. No blame game
The major part of accepting the responsibility of the relationship is to avoid blaming your partner. Instead of blaming your partner, you accept your mistakes and flaws. You agree if you're at fault. However, this does not mean you also accept misplaced blame.
This is the characteristic of an unhealthy relationship to be accused wrongly and taking that misplaced blame.
It is unhealthy to make excuses for your partner's and your behavior and accepting such unhealthy practices as normal.
2. Being able to apologize and forgive
None of us are indeed perfect, and we all carry flaws. What matters is that those who love us can look past these flaws and accept us for who we are.
Partners need to work their way through hard times and tough challenges to strengthen their relationship.
Practicing apologizing and forgiveness for each other allows for partners to learn, grow, and develop trust and accountability.
3. Complete honesty
Honesty between couples is vital. Couples who are utterly honest with each other can lead a happy life while steering their relationship towards growth and success—partners who trust each other and are fully candid with each other about everything.
For example, finances, work, or maybe even embarrassing matters, tend to keep misunderstandings out of their relationship.
4. Listen to respond and not react
It is essential that when either of you raises their concerns or complains to each other, the other should listen to solve these issues and put their partner's worries to rest instead of listening to deny or spark an unwanted argument.
You should listen to your partner with complete attention and respond without getting defensive.
Instead of reacting adversely, act accordingly in the situation with clarity and awareness. In times like these, it may also help look at the matter from your partner's perspective and figure out where their thoughts are coming from.
Taking responsibilities in a relationship is important
In a relationship, partners need to be fully honest with each other. Couples should be taking responsibility for their actions and doings to have a happy relationship. If you find yourself in an unhappy relationship, you need to question yourself first that how are you contributing to this uncomfortable feeling.
It is fairly easy to blame someone else for your uneasiness and, instead, take a look at yourself to figure out how you may yourself be damaging your relationship.
Share this article on
Want to have a happier, healthier marriage?
If you feel disconnected or frustrated about the state of your marriage but want to avoid separation and/or divorce, the marriage.com course meant for married couples is an excellent resource to help you overcome the most challenging aspects of being married.
More On This Topic
You May Also Like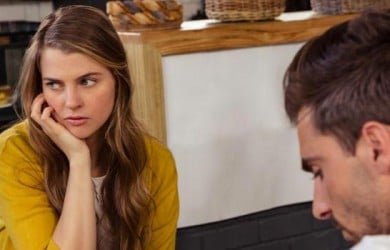 Popular Topics On Married Life