How to Overcome Fear of Rejection in Any Aspect of Life
Rejection is a very bitter pill to swallow, but unfortunately, most of us have taken a dose of it.
Whether it was for a job we applied and didn't get or a college we submitted our application to and did not get accepted; almost all of us have experienced rejection first hand.
Hearing the words no and not interested does not feel good at all regardless of how much you try to focus on the bright side.
Fear of rejection is common with everyone; it breaks many hearts, causes you to cry and creates fear in you deep down inside that soon becomes a hard-to-remove stain.
Fear of rejection phobia is often referred to as rejection sensitivity in psychology literature.
When feeling rejected, it becomes an obstacle to your happiness and success. Getting over rejection is no easy feat.
So, how to get over rejection?
Well, with some simple tricks, overcoming the fear of rejection can become very easy for you to do. So, read below to know all about fear of rejection and how to work at overcoming rejection.
Fear of rejection symptoms
Some symptoms and signs to look out for:
You hesitate to express your opinion as you fear being judged and rejected
You try to blend in as you want to feel included and a part of the tribe.
You have difficulty asserting yourself firmly and can't say no.
You get a better sense of self-worth by being socially likable, and that's why you end up being a people-pleaser
You feel inadequate
You put on a pretense of being someone else to impress others
You don't easily express your disagreement with others
You feel socially isolated and awkward
Your mind is often drifted to self-loathing and harsh, critical thought about yourself
Psychological effects of rejection
Fear of rejection is for real.
Rejection inflicts a lot of pain and damage to our well being and leaves us with a lot of social pain.
Neurologically speaking, when we experience rejection, the same part of the brain gets activated as when we undergo an injury or physical pain. Rejection is in no way less hurting than aggravated physical pain.
Fear of rejection can propel the need to rectify our mistakes or incorrect behavior, in the process helping us improve to survive and thrive.
Rejection elicits aggressiveness in people and they end up lashing out.
Fear of rejection in a relationship makes people doubt their abilities and self-worth, leading them to a path of self-destruction.
It impairs our decision-making abilities and temporarily lowers our intelligence level.
Also watch:

How to overcome the fear of rejection
As mentioned above, fear of being rejected has different challenges and emotional wounds it comes with, and before you learn how to overcome the fear of rejection, you must know the three most common rejection situations.
1. Work
Before delving into how to deal with rejection in love or relationships, let's plunge into another important aspect of life.
Let's understand the dynamics of work and the rejection that entail at the workplace.
When it comes to work, there are two kinds of rejection, social rejection, and professional rejection.
This comes to light when you feel as if you are passed over a promotion you deserve or are not given enough responsibilities.
On the other hand, when dealing with a phobia of rejection, you can also struggle to fit in with your clients and colleagues and feel as if they don't hang out with you or invite you with them as they spend time.
2. Friendship
When entering new friendships, you can feel as if you are being rejected, especially if you are trying hard to connect more than the other person.
Alternatively, with long term friendship, you can feel like your friends are simply using you for favors and taking advantage of you without reciprocating them back.
Or maybe you can feel like you are pushed out of the group or ignored as soon as your friends all get together. Getting over the fear of rejection in such situations is challenging and needs a lot of inner strength.
3. Romantic relationships
When it comes to being scared of rejection, dealing with rejection during a romantic relationship can be incredibly tough.
However, the fear of rejection in relationships is incredibly common.
Whether you struggle with dealing with rejection as a girl or a guy, the feeling of shame and pain is pretty much the same.
Most of the time, people in happy and long-lasting relationships end up questioning things such as how to initiate sex without fear of rejection.
During this fear of rejection, you may feel pessimistic about your love life and even undesirable. This fear of rejection can also take place due to a lack of communication.
However, do not worry, because mentioned below are some tips that will help you overcome this fear of rejection easily.
Overcoming fear of rejection
1. Reject the self-fulfilling ideology
Whenever you hold on to the false assumption that everyone will simply reject you, you tend to create situations where rejection is bound to take place.
Without even knowing, you will be sending out signals that will push others away and turn all your fears into reality.
So instead of doing this, it is important that you battle the self-fulfilling prophecy by looking for signals of acceptance and write them down.
2. Practice being sensitive in small steps
The thing that is very common with rejection is a vulnerability. People avoid being honest with the other person because it makes them sound too sensitive and vulnerable.
When dealing with rejection, it is important that you do not try to continue walking on eggshells or shove your negative feelings away.
Instead, try to express your feelings and thoughts as clearly as you can in a more respectful and clear way. This will help in reducing resentment that will follow rejection.
3. Stop being a victim
If you continue to see yourself as a victim, your actions will continue to show a negative version of yourself.
However, once you let go of being a victim, you will start to see positive things happening all around you.
Instead of having pity on yourself and your life, focus on the strengths you have; focus on the attributes that you have that allowed you to cope in life.
Avoid obsessing over the past choices and situations you have gone through and try to learn from them as an alternative.
As the famous fear of rejection quote goes, by Robert Foster Bennett "It is not rejecting itself the people fear, it is the possible consequences of rejection."
Once you overcome your rejection and prepare to accept the consequences that come along with it, you will be able to live life more freely.
Share this article on
Want to have a happier, healthier marriage?
If you feel disconnected or frustrated about the state of your marriage but want to avoid separation and/or divorce, the marriage.com course meant for married couples is an excellent resource to help you overcome the most challenging aspects of being married.
You May Also Like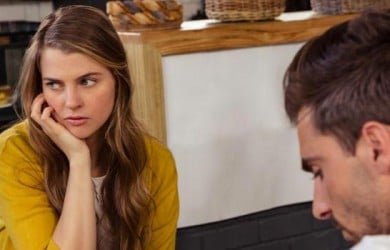 Popular Topics On Married Life