100 First Date Ideas to Make Your Date Memorable
Have you just summoned up the courage to ask out that person you've been trying to land a date with for months and now need some help in coming up with the best first date idea? First dates are important since the first impressions we leave on someone can have a huge impact on what it eventually leads to.
Or, are you on a dating app and are getting tired of suggesting the same safe bar/café/restaurant for your first meetups? Here are 100 first date ideas to choose from.
100 first date ideas to have the best date ever
There is a large variety of activities, from the typical to the atypical, so you are sure to find something that will make you stand out in the crowd, or, at least, have your date thinking at the end of the evening…wow, that person put a lot of thought into our first date!
Check out this research that talks about first date expectations.
1. Create graffiti together
If you need cool date ideas, this counts as one of the more unique first date ideas to consider. Grab a spray and make a lasting first date memory.
2. Put Legos together
Looking for fun date ideas? If you need inspiration for childish things to do on a date, remember that nothing brings out the child in us as Legos do.
3. Plant seeds randomly
Searching for creative date ideas? Consider planting different plants in random places you can later visit together.
4. Yard sales cruising
You can go to yard sales together if you need day date ideas. It will give you conversation starters, and you might buy something cool.
5. Draw each other's portrait
Searching for fun and creative first date ideas? How about doing each other's portraits or dueling landscapes?
6. Do a science experiment
Great first date ideas include freedom to be a nerd too. Find a Youtube video of an experiment to recreate and enjoy being scientists for the day.
7. Pretend to be a tour guide or art expert
If you are both relaxed and funny, this can be one of the best first date ideas. Invent facts about the area, art piece, or history. Extra credit if you have people join your tour.
Related Reading: 

35 Fun and Romantic Games for Couples
8. Make a new dessert recipe
If you want some indoor date ideas, consider creating a new type of food together. Let your creativity go wild and try out new ingredients.
9. Donate blood together
This may not be the most pleasant activity, but it feels good knowing you did something good together. This good feeling will then be associated with spending time with you.
10. Find your way to a place with just a compass and a map
Are you both adventuristic and in need of cheap first date ideas? Go on an adventure together and test how well you get around without google maps.
11. Power out date night
One of the best first date ideas at night is to pretend there is an electricity shortage. You can also pretend you live in the past without any devices. Break out the candles and play some games. This counts as a romantic date too.
12. Go to a karaoke bar together
Even if you can't sing, the silly atmosphere and camaraderie of the group as they support (or make fun of) the singer guarantees a fun evening.
13. Join a meetup together
What is the common interest you have? If you need simple first date ideas, search for meetups near you that feel are worth giving a shot.
14. Find your way out of an escape room
Using clues and relying on each other to find a way out of the escape room falls under creative casual date ideas your date will enjoy. Act as a team and get to know each other more.
15. Go hiking
Consider hiking if you want first date ideas that will make you active and get you outside. Choose a path you know will work for you and your date's current physical readiness.
16. Visit a go-kart track
Many find go-karts to be in the class of perfect date ideas. Although a bit more expensive it sure isn't boring.
17. Ziplining together
Many will go for romantic date ideas, so if you want to stand out from the crowd, make your date's heart race. Check with them in advance if they like similar activities so you don't put them on the spot.
Related Reading:

15 Things Every Couple Should Do Together
18. Write dirty limerick and have some wine
If you are looking for dinner date ideas, you can bring some alcohol, a pen, and paper and let the words flow. Bonus points if your dirty song rhymes.
Related Reading: 

170 Sexy Goodnight Texts to Get Your Spouse Hot and Bothered
19. Have a water gun/balloon fight
This is one of the cute first date ideas you need to have on your list in the summer. It is fun and will cool you down and bring out the child in you.
20. Play hide and seek
Rarely can we feel carefree like kids. Suggest this childhood game with other childish first date ideas so your date can choose.
21. Dress each other in ridiculous outfits
To have a memorable first date, dress each other up in hilarious new outfits. And who knows, maybe you end up liking the new style.
Related Reading

:

 Relationship Building Activities and Their Benefits
22. Photography walking tour
Among many romantic first date ideas, this DIY idea is precious and allows you to have something to keep. You will look back on these images with much joy if it goes well.
23. Play video games
If you are both into gaming, look no more for great first date ideas. Be careful not to become too competitive. You want to connect, not just win.
24. Do a pottery evening
Looking for good ideas for first dates?
Many malls have a pottery workshop space where you can throw a pot or glaze a plate or mug. Show off your creative skills by having your first date in a place where you both come away with an excellent ceramic souvenir.
Maybe your two handprints on a platter? How romantic is that?
25. Have a music lesson together
Do you play an instrument? Have you always wanted to try one? Now is your chance to have fun and a notable date. This would make for an ideal date idea.
Related Reading: 

70 Adventurous Date Ideas For Couples
26. Rent a luxury car and cruise
Consider renting a luxury car if you are okay with expensive, good date ideas. You can try it out and create a lasting memory together.
27. Opt for a sports activity you both suck in
Laugh together doing something you are horrible at. Cute date ideas encourage you not to take yourself so seriously.
28. Build a fort
If you are unsure what to choose from so many first date ideas and know your date is a big child, this is perfect. Watch a movie and have popcorn inside the fort when you are done.
29. Antique shop visit
Each item gets a story of origin you will invent on the spot. Come up with the use of items you don't know the purpose of.
30. Be creative with some sidewalk chalk
Not as lasting as graffiti, yet also fun. A bit of asphalt as your canvas, some fun drawings, and before you know it you will be having a great time together.
Related Reading: 

10 Ways to Make Memories & Stay Connected This Holiday Season

  
31. Accomplish a mission
Create an objective and milestones. Compete against each other or team up to beat the time.
32. Impresionante an ultra-wealthy couple
Playing play pretend allows you to be someone else and explore how it would be. You can make up fake names, jobs, and whole new lives.
33. Kayaking
This falls under a must-try first date idea if you are both outdoor enthusiasts.
34. Go to an auction
Check for an exciting auction near you. You don't have to buy anything, but you can bid on things. This should be one of the most popular first date ideas,
Related Reading: 

What to Talk About on a First Date: 20 Things
35. Make a time capsule
This particular capsule can be opened on some anniversary if you get to celebrate it in the future.
36. Join a workout class together
Whether you embarrass yourself or end up being amazing, you will surely have an endorphins boost afterward.
37. Play a round of mini-golf
For some, it falls under boring first date ideas, while for others, it is a perfect chance to teach the other person some moves through physical contact. It is all a matter of perspective.
38. Volunteer an evening for a good cause
How about meeting at the local soup kitchen and working the line there?
Involving yourselves in a volunteer activity will bring you closer emotionally.
Meeting up to do some community service, like working the food bank, helping kids gain some literacy skills, or just passing out warm coats to those in need, is a win-win proposal for your first date together.
39. Rock climbing
Choose a climbing wall depending on your level of experience and physical readiness. This active date is not about reaching the top but sharing the experience. This will be the perfect first date for adventure lovers.
40. Catch a comedy night
One of the best first date ideas is to relax while someone else makes you laugh.
41. Take a cooking class
Whether you are a great cook or not, a cooking class is an activity date that takes the pressure off since you are not required to talk so much.
42. Watch a film under the stars
This romantic date might seem not as ideal as you won't be able to talk as much, but you can press pause or take a walk after and talk.
43. Go to a concert together
If you are both fans of similar music, check out a concert, an open mic, or a gig nearby you can visit.
44. Sunset walk
If you are into romantic first-date ideas, this is on the top list. Choose a place with amazing views, and a kiss is almost sure to happen.
Related Reading: 

Two Birds with One Stone: Couple Walking
45. Tour an art gallery or museum
Is there an exhibit you haven't had a chance to visit? Go together, talk about your impressions of the artifacts, and learn more about each other.
46. Ice skating
You don't have to be a pro in skating to like it. Ideally, they are not that great either, so you can have an excuse to hold hands.
47. Organize a picnic in the park
If it is sunny and you both like to spend time in nature, this will most definitely be a pleasurable date. If you are not great with home-cooked meals, you can always run to the local bakery.
48. Be a tourist in your city
Explore together all the places you've been meaning to visit.
49. Go to the zoo
Do you both love animals? Why not visit a zoo? Every exhibit can give you plenty to talk about and connect over.
50. Play a board game
How long has it been since you played Monopoly or Jenga? This is a great idea if you are both fans of board games.
51. Feed the ducks or swans
Animal feeding is a simple yet cute date idea that is low cost and helps you bond with your date.
52. Yoga in the park
Fresh air, physical activity, and stretching together. If this sounds like a great first date idea to you, pack workout clothes and yoga mats and head to the park.
Related Reading: 

6 Ways Yoga and Meditation Can Improve a Romantic Relationship
53. Spa date
For a moment of mutual pampering, book a couples' spa date.
How relaxing (and potentially intimate) would it be to have a massage and sauna with the person you've got a major crush on?
54. Enjoy the sunrise together
This is great if you are an early bird. Sunrise is the moment of nature awakening. If you go to a great spot in nature you are sure to feel the thrill.
55. Go running together
Are you both athletes? Is there a more suitable first date idea than to bond over a shared passion and go for a run together?
56. Visit a Burlesque or Drag Show
If you are in a city where this is available, consider going together. These shows are entertaining, make you laugh, and have fun.
57. Stop by an open house
If you want to see the inside of some beautiful buildings, this is your chance. Plus, you can talk about what you like and dislike inside and get to know your date thoroughly.
58. Create a vision board
Resolutions are not restricted to the New Year. If your date inspires you and you both value personal growth, write up some goals, and share your hopes and dreams.
59. Take a meditation class
This is perfect if you worry about what you will talk about on your date. Meditating together will relax you so that the conversation will flow much smoother afterward.
60. Buy funny gifts for each other
Since you don't know each other that well, it can be an excellent opportunity to get something small and fun to each other. Bonus points if you make it useful too.
61. Share each other's favorite spot
Where do you go when you need to think or enjoy some time alone? Share what is special about this place and encourage your date to do the same.
62. Bike rides in the park
Nature lovers will enjoy this. You can talk or ride a bit further away if you need a moment alone while the blushing goes away.
63. Get an aura reading
Whether you are into horoscopes or not, this can be a lot of fun. You can talk about it over dinner later on.
64. Go to a sports event
Even if you are not a big sports fan, it can be fun to cheer on a team. You can chat when you want or focus on the game when you don't want to communicate.
65. Look through a bookstore
You don't need to be book nerds to have fun in a local bookstore. There will be titles that make you giggle and produce topics to talk about.
66. Visit a brewery
It's a win-win. If you enjoy their company, it will be even more fun, and if you don't like your date, it will be a bit easier to pass the time.
67. Do you both have dogs?
Suggest a long dog walk together, or take your puppies to the dog park. You'll learn a lot about the person by watching how they interact with their (and your) dog.
68. A flea market visit
It is about what you can find and about exciting people there. Whether you end up buying something or not, you will not be bored for sure.
69. Go to a botanical garden
You don't have to know anything about plants, the smell alone will set a great mood. It is a perfect spot to get away from the city rush and be present with each other.
70. Watch the fish in an aquarium
Would you prefer to be able to live underwater or fly? This is just one of the questions an aquarium visit can spark.
71. Enjoy a ferry ride
You can see your city from a different angle, have some fresh air, talk to each other while enjoying the view. When the ride is over, combine it with some of the other first date ideas.
72. Have fun in an art class
You don't have to be the next Picasso to attend an art class. Bonus – you have something to hang on your wall later on.
73. Have some beach fun
Watching the waves and talking seems like a perfect romantic date idea. You can make a day out of and build sandcastles all over the beach.
74. Go to a dancing lesson
An hour of dancing for beginners allows you to interact and connect on a bodily level physically.
75. Horseback riding
A true fairytale first date. You don't have to be a pro. Instructors will help you if you are new to it.
76. Go clubbing
Why not dance the night away? One of the more classic first date ideas, yet still pleasurable.
77. Go to a hunted site
If you are horror fans, this is for you. Hold on to each other tight while you stroll through a scary place.
78. Create a campfire
The intimate atmosphere can be perfect to talk to and open up to each other. It aids you to feel close on the first date already.
79. Ride a hot air balloon
Although pricey this is an experience you won't forget. A whole new way to look at the world.
80. A specialized tasting
Find a wine-tasting, whiskey-tasting, vodka-tasting, or another sort of spirited, themed alcohol tasting workshop.
A fun, educational way to spend an evening with your new person, and the pressure is off because you don't have to interact just with each other. Bonus: the alcohol will loosen you both up, so by the end of the evening, your conversation will flow easily!
81. Tour to candy or chocolate factory
This is a sure-shot great date for any sweet tooth. Not only will you have fun, but you will also go home with tasty souvenirs.
82. Fly a kite
This is a simple yet sweet idea. You can visit a park or head further from the city if you want to combine this idea with a bit of a road trip.
83. Bird-watching in nature
Besides going to the zoo to see animals, you can go together on tour to watch all kinds of birds in nature nearby.
84. Catch a lecture
What is something you are both interested in? Find a lecture about it and spend the night discussing it afterward.
85. Put a puzzle together
Another budget-friendly first date idea. Bonus – if you don't finish it, there is an easy invite for the second date.
86. Play Twister
Move around and get more intimate with each other. A first date idea that is sure to get you to laugh together.
87. Find a record in Guinness Book to break
Browse through it and find something you could attempt breaking. Whether you succeed or not, this activity is fun on its own.
88. Take compatibility tests
This is an amusing way to see how much you belong together. Whether the results make sense or not to you, you will have fun doing the tests.
Related Reading: 

10 Best Love Compatibility Tests for Couples
89. Go through old photographs
No one expects you to have your baby photos. Use the ones you have on your social media account(s). Talk about periods when the photos were taken, develop closeness, and learn more about each other.
90. Is there a funfair in town?
Take your date to the carnival.
The noisy, cotton-candy atmosphere will make you feel like a kid again. Try all the rides you used to love, ending the evening on the Ferris wheel, where, with a little luck, you can grab a kiss when your car stops at the top of the wheel!
91. Quiz Night at the local
Got a bar that features a quiz night? Take your date there.
You will see how they function in a team and get insight into their trivia skills. Throw in a couple of beers, and this will be a first date that you'll both enjoy, especially if your team wins.
92. The Farmer's market
If it's summertime, why not meet up for a stroll through the local Farmer's market.
It will give you a chance to see their eating style.
If you both get along well, you can take your purchases back to your place and cook up a lovely brunch together.
93. Ethnic restaurant or tea room
Pick a place that is a truly exotic experience, a cuisine that takes you to a faraway place – North African couscous, for example, or Ethiopian Wat.
This will open up the conversation, and you can talk about places you've traveled to or wish to travel to.
You'll get an idea of your date's sense of adventure (or if they aren't into travel at all).
94. Get your palm read
For some fun, visit a psychic or palm reader together. See what they predict for you.
If this first date turns into a true relationship, be sure to thank the person who foretold your happy future!
95. The Planetarium
Does your city have a planetarium?
You may have thought this was just for school groups, but it's an excellent idea for a first date. You'll have stars in your eyes, not just because you like this person, but because you are learning about the night sky!
96. A poetry reading
Are you both into poetry? Check out a local poetry reading or poetry slam.
After the reading, go to a nearby coffeehouse and deconstruct the poetry you've just heard so you can show off how well-read you are.
97. Meet up at the arcade
Got a Chuck E Cheese in your town or a Dave & Buster's? Take your date to one of these fun places where you've got arcade games and pizza.
Sure, it's noisy, but it will get your adrenaline pumping and put you in high spirits as you play against each other. Bonus points if the arcade has vintage games from your childhood.
98. Participate in a political rally
Nothing says "we're in this together" than marching, chanting, holding a sign that says "Vote for …..".
You'll want to make sure you are both on the same page politically before proposing this as a first date, however.
99. Go bowling
For some, bowling is the ultimate retro evening out.
What's not to like? You get to wear fabulous shoes. It's not that difficult once you get the hang of it, and helping your date position themselves to get a strike will give you an excuse to touch them.
100. Jump around in a trampoline park
Bouncing in a room with trampolines and spending time in indoor parks count as good first date ideas. Let your date know to dress comfortably to maximize the fun.
Also Try: 

Fun Quizzes for Couples to Take Together
Dos and don'ts of a first date
Here are a few dos and don't to remember when it comes to your first date.
Do pick an appropriate timing. Make sure the timing of the date does not make the other person uncomfortable.

Do not be too hard on yourself. You want them to like you, but trying too hard will only have the opposite effect.

Do put in some effort. Do not show up on the date in the clothes you wear at home. Take some effort to dress up, so they know it is important to you.

Be friendly. You should be nice to everyone, especially someone you are

meeting on a first date.

Do not get sloshed. Even if you both meet up for drinks, make sure you are not too drunk that your date has to get you home, or you pass out in the restaurant itself.
Want to know some more don'ts when it comes to the first date? Watch this video.
Things to keep in mind on your first date
Here are some things you should remember when going on your first date.
Be on time. No one likes it when the other person keeps them waiting and does not value their time.

Do not talk about the exes. The conversation should not be about the past.

Talk, but also listen. Do not talk only about yourself. Let your date tell you more about themselves too.

Do not use your phone too much. Answering an important call or replying to an urgent message is okay, but it is a red flag if you are on your phone too much.

Do not push them when it comes to intimacy. If you are both feeling it, the kiss will happen. If they do not feel comfortable, you have to let it go.
The bottom line
First dates are magical and can be the beginning of something great. You may end up finding the love of your life, your soulmate, or it might just become a hilarious story to tell your friends. Either way, you should make sure you are comfortable, happy, and have fun while you are at it.
Share this article on
Want to have a happier, healthier marriage?
If you feel disconnected or frustrated about the state of your marriage but want to avoid separation and/or divorce, the marriage.com course meant for married couples is an excellent resource to help you overcome the most challenging aspects of being married.
More On This Topic
You May Also Like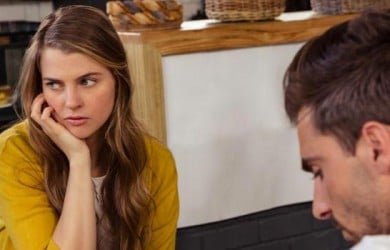 Popular Topics On Married Life