How to Keep a Relationship Moving Forward
Moving forward in a relationship is one of the major goals of all the people who are in serious relationships.
As someone who is in a serious relationship with your partner, you want to be able to look at your journey after an appreciable amount of time and see that your relationship is not at a standstill.
Knowing how to keep a relationship moving forward is an important skill you have to learn if you want to enjoy your romantic life. In this article, we will show you all you need to know and the ways to keep your relationship working.
What counts as a serious relationship
At what point should you consider a relationship serious? When you look at your partner and feel a flurry of butterflies in your stomach? When they walk up to you with a dashing smile on their faces? When you've started hanging out with them, even if they say nothing about 'the relationship' to you?
At what point should a relationship be considered serious?
If you have been asking this question, here's an answer for you.
Health line discusses that a serious and healthy relationship is one that is characterized by adaptability, open communication, trust, and a sense of independence.
This implies that your serious relationship can be counted as healthy if all these elements (and more, depending on your unique needs and tastes) are captured in your romantic relationship.
While this generally describes what a healthy relationship should look like, it still doesn't quite give a comprehensive definition of what a serious relationship is.
Simply put, a serious relationship is one in which all involved parties have made a conscious decision to be committed to themselves. Everyone involved in a serious relationship operates from the same page.
There are no assumptions as to what is going on between all parties, and at some point, everyone in the relationship would have had an honest conversation to define what is going on.
A serious relationship is usually one in which you and your partner are exclusive and monogamous, and you are committed to making the relationship last.
From everything discussed above, you can assess your relationship immediately and define whether yours qualifies to be seen as a serious relationship or not. If there's one thing you should know about serious relationships already, it is that serious relationships require honesty, commitment, and absolutely no assumption on all sides.
5 signs your relationship is moving forward
Now that we have clearly defined what a serious relationship is, let us take a look at some signs that show that you are moving forward in a relationship.
If these signs aren't there, it could imply that your relationship is not progressing.
1. You have prioritized caring for each other
To keep a relationship going, both parties must be committed to taking care of themselves and looking out for each other. If a quick look at your relationship reveals that you are still yet to prioritize taking care of yourselves, it may be a sign that your relationship is at a standstill.
2. You've become more personal with them
At the start of your relationship, there's every possibility that you had a way of being formal around yourselves.
However, one sign that your relationship is moving forward is that a time comes when these formalities begin to go out the door. It doesn't mean that you've started losing your respect for your partner, it only means that you are becoming more comfortable around yourselves.
Also Try: Quiz: Are You Open with Your Partner?
3. You have started introducing them to the people that matter in your life
Have you, at some point, invited them to a family dinner? Have they, at some point, introduced you to a close friend or family member? Do you know all their loved ones? Have you invited them to hang out with your brother?
If you checked these boxes, it is possible that that relationship has started getting more serious.
4. There is trust
Not just that there is trust. The first is growing as time progresses. If you have only found yourself gaining more trust in them (and vice versa) with the passage of time, that may be a sign that you are carefully taking your relationship to the next level.
5. You know yourselves better now
Take a look at the relationship and define if you know your partner better now than you did before. Can you easily tell the things they love, tolerate, and hate? Can they do the same for you?
Yes? That may be a sign right there.
15 ways to keep your relationship moving forward
To keep moving forward in a relationship, here are 15 things you can do.
1. Commit more time and energy toward understanding your partner
So far, understanding has brought you where you are. To move a relationship forward, you must make a conscious effort to understand your partner and keep this knowledge evolving, even as they grow and change.
Also Try: Is He Committed to Me Quiz
2. Find a way to remain best friends
Figuring out how to keep a marriage together is a lot of work. As time passes priorities may begin to change. In order to keep your relationship as strong as it must be, you must find a way to remain best friends.
Your friendship is what would keep you committed to them, even when your sexual urges aren't as frenzied as they used to be.
3. Forgiveness
Your partner, regardless of how nice they are, is only human. On some days, they may hurt you and make you realize. However, if your aim is to keep moving forward in your relationship, inject everyday forgiveness in your relationship.
Related Reading: 

5 Qualities of Forgiveness in Marriage

  
4. Put your feet on the brakes
While this may seem totally opposite from what you may have expected, sometimes, the first thing you should do on your journey to figuring out how to progress a relationship is to take things slow.
It may be a bit difficult, but knowing when to take things slowly is vital.
5. Rekindle your flirting skills
If you have spent some time together, one way to move your relationship forward is to learn to flirt with your partner. This returns that thrill you had in the beginning and gives you something exciting to look forward to in the relationship.
Check out this video to know more about some flirting strategies:

6. Spend more 'alone' time with your partner
If you are married to them (or you have been in that relationship long enough), one thing you'd notice is the tendency for you to start spending less time with them. Looking for how to move forward in a relationship?
One critical thing you must do is learn how to consciously spend time with your partner.
Related Reading: 

20 Signs You Might Be Single Forever
7. Honest conversations
One of the reasons why relationships die is when one or more parties begin to keep secrets from the other.
Effective communication is a vital ingredient in relationships, and if you want to have a relationship that works, even after a long time, normalize baring your soul to your partner even as they do the same to you.
8. Be invested in helping your partner achieve their goals
Your partner has goals, dreams, and aspirations. One way to get their heart and keep it for a long time is by being of help to them, even as they work toward the achievement of their goals and dreams. To keep moving forward in a relationship, your partner must know that you are interested in their success every inch as much as they're interested in yours.
Related Reading: 

6 Positive Thoughts for Those Who Need Marriage Help
9. Acknowledge their 'little' acts of kindness
Everyone wants to feel appreciated and acknowledged, even your partner. To keep a relationship going, all parties must keep their ears to the ground to identify the good things their partners are doing for them.
When you have identified these, don't be ashamed to tell them how awesome they are and how you feel blessed to have them in your life.
10. Make up your mind that you would be happy
And by this, we mean that you would be happy – as an individual. Too many people get into relationships with so much sadness and hatred, expecting their partners to work some kind of miracle and rid them of all sadness. This hardly ever happens.
Your partner is there to compliment you. This implies that as an individual, you should have some things going on; some of which include your ability to figure
out the things that make you happy and do them for yourself.
Related Reading: 

How Do You Tell Your Spouse You Want a Divorce – 6 Things to Remember
11. Prepare for troubles ahead of time
Notwithstanding what you may see on the internet, no relationship is a bed of roses. All relationships take work and commitment from both parties (as we have already established early on).
To keep moving forward in a relationship, you must prepare yourself (mentally and emotionally) for challenges. You would need to face them head-on when they finally appear.
12. Dream up creative ways to spice the relationship up
Sometimes, you may need to sit down with your partner and do a brain dump. During these sessions, come up with creative things you can do together to strengthen your bond and keep a relationship going.
Remember the saying that two heads are better than one, right?
Related Reading: 

5 Creative Romantic Long Distance Relationship Ideas for Couples
13. Spice up your sex life
One thing that can easily take the spice out of your relationship is if your sex life begins to die down. It is your responsibility (as a team) to ensure that this doesn't happen.
Make a list of healthy sexual fantasies and figure out how to make them a reality for yourself and your partner. Try having sex in other places but your bedroom. Couple a little extra flirting with a rekindled sex life, the result can be mindblowing.
14. Collectively make plans for your future
If you are in a serious and committed relationship, one thing you can do to keep moving forward in the relationship is to collectively make plans for the future. Would you like to relocate? How many children do you want to have?
Talking about these and making plans for them helps you begin to mentally register your partner as an integral part of your future and can help move a relationship forward.
Related Reading: 

30 Tips on How to Make Him Miss You
15. When you have an unconventional idea, share it with them
Do not be afraid of getting judged or criticized by your partner. If you think about doing something that is completely out of the ordinary, talk to your partner about it and seek their honest input.
Your partner should know and feel that their opinions on your life are accepted and needed by you.
This way, you can strengthen your bond as a couple.
Suggested video: 10 signs a relationship is becoming serious.

Summary
Moving forward in a relationship is no easy task. It requires commitment and discipline from both partners in the relationship.
If your relationship is at a standstill at the moment, take some time to go through all 15 points we have discussed and implement as many as you can. If you do that correctly, you'd notice a difference in your relationship soon enough.
Share this article on
Want to have a happier, healthier marriage?
If you feel disconnected or frustrated about the state of your marriage but want to avoid separation and/or divorce, the marriage.com course meant for married couples is an excellent resource to help you overcome the most challenging aspects of being married.
More On This Topic
You May Also Like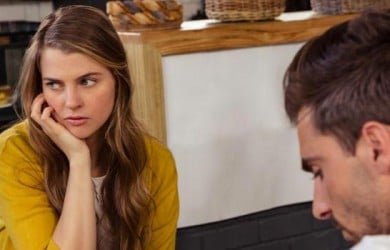 Popular Topics On Married Life