Five Steps To Take Before Starting A New Relationship
Have you met someone that you think you'd like to date exclusively?
Here are five steps to take before starting a new relationship. These tips will ensure that you both get off on the right foot so that your romance has every chance of success!
1. Make sure you both are on the same page
You've had a series of dates and some great, in-depth discussions. You are both physically and intellectually attracted to each other. But one thing that some people ignore is the importance of voicing what their relationship expectations are. We might be fearful of scaring the other person off or seeming too needy. But there are ways to express what you want in a relationship (and in particular, with this person that you've met) without seeming too demanding or inflexible.
Drop into the conversation the things that you've identified as "must haves" in a relationship by saying something like "Once I know I'm really into a guy, I date just him. I'm exclusive. Are you?"
The goal of this conversation is to clarify that you are both looking for the same thing as you embark on this new chapter in your love life.
It's better to find out now, before you invest too much in this man, that no, he still wants to play the field.
2. Take it slow
The number one thing people can do to nip a potentially-terrific relationship in the bud is to become intimate too quickly.
Blame our hormones, but it is very easy to "go too far, too fast" when you've just spent a wonderful evening dining, drinking, pouring out your hearts to each other, and the stars in your eyes are blinding you to the fact that you really haven't spent the necessary time building up an emotional connection.
Remember: sleeping together at an early stage of a relationship rarely contributes to building the intellectual and sentimental connections you want in a long-term, stable relationship.
The better way to build a stable foundation upon which to construct a love story is to first establish an emotional bond, then a sentimental one, and lastly a physical one. The process should be done slowly, carefully, and with continued communication between the partners.
If your partner is pressing you to get intimate sooner than you are feeling comfortable with, and does not listen to why you'd like to wait, this might be a red flag you wish to pay attention to. Nine times out of time he won't call you in the morning should you "give in" to his request.
The experts say that a good rule of thumb is to use the first six dates getting to know one another and constructing that all-important non-physical connection before you take things to the bedroom.
3. Give this plenty of space to grow
We all love the heady, first-weeks feeling of a blossoming relationship. And while it is so tempting and easy to exchange texts, photos, messages and emoticons all day long with your new love interest, hold back.
Don't flood his inbox. It may be an old-fashioned concept, but it is a proven one: love ignites better when there is some space and distance between the communications.
Too much contact at the beginning will dose the growing flame like water on fire. It's hard, but don't be too present. (You can think about him in your mind all you want; no one will know about it!).
And if he is constantly messaging you, be suspicious.
He is probably an adrenaline junky, doing the same with other women. The healthiest way to start a new relationship is pacing out the emails, texts and messages as well as the date in such a way that there is room between each of these for your feelings to grow organically.
4. Your first dates are not therapy sessions, so don't reveal too much
One of the biggest mistakes you can make when beginning a new relationship is the tendency to unpack all of your emotional baggage right away. After all, you have an attentive partner right there, asking you lots of questions, eager to get to know you.
If you are fresh out of another relationship, and perhaps dating a little too soon, it will be very easy to reveal all the details of that relationship. Your pain is right there on the surface, ready to spill over onto anyone that inquires about why you are now single. (Let us advise you right here to not date too quickly after a breakup, and to make sure you are truly over your ex before you jump into another relationship, especially one that you want to go long term with.)
A mystery is enticing, so use those first six dates to talk about yourself in broad terms—your work, your passions, your favorite vacation spots—but save the former relationship stories or deep, personal traumatic experiences for way down the line when you are feeling safe and secure with your partner.
Use those first six dates to have fun, share light moments, and show each other your happy sides.
5. Keep living your own, best life
Another mistake that people make when connecting with a new person is to invest too much into the new relationship and put aside their own lives. Your new friend was attracted to you because of the great life you were living before you met, so keep on living that life! Continue your training for that marathon, your French classes, your volunteer activity with the homeless, your girls-night-out.
There is nothing that can kill a budding relationship faster than giving all of that up to concentrate solely on the new person.
Don't neglect who you were before this relationship came on the scene—you are all the more attractive because of all these enriching things you do when apart.
Share this article on
Want to have a happier, healthier marriage?
If you feel disconnected or frustrated about the state of your marriage but want to avoid separation and/or divorce, the marriage.com course meant for married couples is an excellent resource to help you overcome the most challenging aspects of being married.
More On This Topic
You May Also Like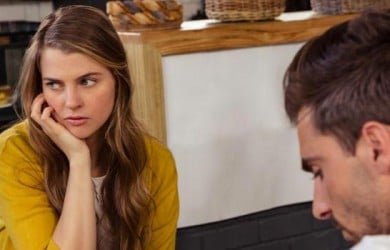 Popular Topics On Married Life