How to Rekindle the Romance and Connection With Your Partner
Are you feeling alone in your relationship? Are you starved for attention from your partner and feel like you're going through an emotional drought? Not sure how to rekindle romance in your marriage?
It can feel empty and soulless in a relationship like this, but it's never too late to rekindle romance and connection with your partner once again.
It can be scary to be the one who reaches out and tries to rekindling love, especially if your partner has not been making an effort to do so.
The way I see it, you have nothing to lose and everything to gain by renewing the romance in your relationship and sparking that connection with your partner.
What's your alternative for rekindling relationship connections?
You could remain the way you are, fallen out of love, in a lonely, and isolated situation living with someone who feels more like a roommate than a lover.
There's not much that hurts more than lying next to someone and missing them as if they were not there. The only way through it is to do it.
Also watch:
Here are some suggestions on how to feel more connected with your partner and ways to rekindle love in your relationship:
1. Communicate your feelings
At a time when you're together and have the freedom to talk, simply tell your partner that you have something to discuss with them.
For connecting with your spouse, tell them how you're feeling and how much you truly want to change things.
Reach out in love, without blame or judgment, and simply let your partner know that you don't want things to continue the way they have been.
Tell them how much you miss the romance and connection that you're lacking. Take a chance and make that connection. Reach for their hand, and embrace them with a kiss that lets them know you're serious.
2. Plan a romantic dinner
Set up a romantic dinner and seduction. Don't play or be coy; simply be direct and let your partner know that you want to rekindle romance, and you want to begin now.
Dress to impress and have all the trappings, food, wine, and soft music. Make no mistake, this is adult behavior, and you are letting your partner know that you've been missing your connection.
Two people in love need to have a physical connection. If this has been missing in your life, there's no time like the present to remedy that
3. Increase your physicality
If a romantic dinner is a bit drastic way to rekindle romance, you can take it more slowly by starting over in smaller increments.
Begin with non-sexual touch, holding hands, hugging, a back rub, or foot rub. Begin increasing your physicality with each other and work your way back to romantic and sexual interaction.
Physical touch is a need we all have it promotes relationship health, and if you're missing it, the chances are good that your partner feels the same.
That empty boundary is invisible. Treat it like it's not even there and get close to your partner again.
4. Be more affectionate
Do show your partner how much you love and miss your closeness and how much you dearly want to rekindle romance and get back to that deep and loving connection that you used to have.
It's not as hard as you may think, and whatever your partner's response, at least you know you'll have made an attempt to get closer again.
Romance isn't everything in a relationship, but it is an important part of you both feeling important and loved.
It's never too late to reach out and give your partner some loving interaction. If you're worried about their reaction, then start small.
If your efforts are rejected, then there's definitely something going on that you both need to work out together.
I recommend the services of a couple therapist to help you to sort out what is at the root of your problems.
If it seems you've grown apart and neither of you is happy, come on back together and find that romance and connection you've been missing.
There's a lot of love and happiness at the end of that road. Taking the first step to rekindle romance can be scary, but it's so worth it to try.
Share this article on
Want to have a happier, healthier marriage?
If you feel disconnected or frustrated about the state of your marriage but want to avoid separation and/or divorce, the marriage.com course meant for married couples is an excellent resource to help you overcome the most challenging aspects of being married.
Learn More On This Topic
You May Also Like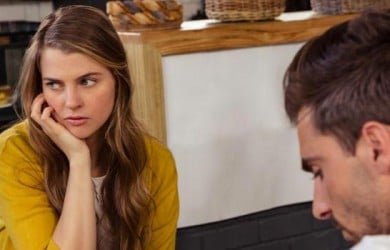 Popular Topics On Married Life