10 Ways To Avoid Being Complacent In A Relationship
Do you feel the passion receding in your relationship? Have you gotten too comfortable around your partner?
Your relationship can be experiencing a complacent dip.
Being complacent in a relationship is something that many couples' witness, especially in long term relationships.
If complacency has crept into your relationship or marriage, here is all you need to know how to look for it and how to avoid or overcome it.
What causes complacency in relationships?
We can all fall victim to complacency in a relationship because the easiest thing to do is to do nothing.
We start out trying to show the best version of ourselves while dating. However, over time we might lower the effort we are putting in the relationship. In essence, we start taking each other for granted, more or less.
You know what it looks like:
Talking about to-do lists instead of dreams and goals.

Dressing up for going out with friends, but not for each other.

Missing out on showing recognition and appreciation for one another.
Complacency can change a lot of things in the relationship for the worst. If you worry, you might be complacent in love, check out the signs of complacency in relationships.
10 signs of being complacent in a relationship
1. Lack of concern for personal grooming
Being complacent in a relationship is a double-edged sword. On the one hand, it helps you feel unconditionally loved and accepted for who you are, even at your worst. On the other hand, too much complacent behavior can damage the relationship.
Being comfortable and being complacent in a relationship have a fine line between them that is easily crossed.
Therefore, if you notice you are lowering your standards for your physical appearance while with your partner, take notice. If you want them to see you as attractive, you need to put some effort into it.
2. "I love you" is said routinely
Can you recall the first "I love you" said to each other? Remember, with how much emotion and care did you pronounce those words?
If you are saying these three magical words without looking into each other's eyes or while passing one another, you might want to change that before they lose the meaning they once had.
3. Date night is part of the past
Dating is what helped you become the couple you are today. If you no longer take the time to date each other or seduce one another, you might have fallen into complacency in the relationship.
If you don't spend quality time with each other, you might forget why you got together in the first place. From there, it is easy to take each other for granted.
4. Loss of desire for sex
Have you ever heard the saying:" Good sex doesn't necessarily translate into a good relationship, but bad sex translates into a bad one"?
One of the signs of complacency in the relationship is a decrease in sexual desire. Usually, when we stop engaging in new things outside the bedroom, we become complacent in the sheets as well.
Sexual and relationship satisfaction are intricately intertwined, and studies have also suggested strategies for mitigating sexual desire discrepancy in relationships.
Thus, pay attention to physical intimacy changes since they can indicate the existence of other problems in the relationship.
5. No desire to share your experiences
A complacent relationship is not just about forgetting to put on cologne; you can become emotionally indifferent as well.
At the beginning of the relationship talking was quite effortless, and you could stay all night chatting, juiced up on all the pheromones.
You don't have to confide in each other for everything, but if you are not checking in with each other about big or small things, you might be slipping into complacent behavior.
6. You are your worst self around each other (a lot)
A part of true intimacy is being able to be at our worst and still feel accepted. However, if you notice you are like that always and exclusively with your partner, there is a chance you are becoming too comfortable.
Pay attention if you are taking things out on each other or perpetually short with one another. This is a slippery slope from being comfortable around each other to being comfortable devaluing one another.
7. Feeling distant
As a result of not taking the time to talk to each other and settling instead of improving your intimacy, you could grow distant and reserved.
Complacent behavior leads to lowering the effort we put in the relationship, and therefore we grow farther from one another.
8. Feeling bored and settling
What do you do for fun as a couple? How does that compare to when you first started dating? If you find you are rather spending time with friends or alone than with your spouse, something needs to change.
Boredom is the silent killer of marriages. It prevents you from seeing all the wonderful and interesting parts of your partner's personality that attracted you to them in the first place.
9. Not talking things through
Conflicts happen in healthy relationships too. When they happen, spouses that value the relationship work on resolving the conflict. It is a natural response to attempting to preserve the relationship. As long as you are working on resolving the problem, there is hope for a relationship's success.
Spouses being complacent in a relationship won't pour much effort into communicating about the issue. When you no longer care to be engaged in resolving the argument, you are choosing to be complacent in a relationship and endangering the future together.
10. Lack of attention
With so many things to do daily, it becomes easy to forget to add each other as a priority on top of our to-do lists. We pay more attention to the grocery list, kids and their needs, and other problems that come up rather than to our partner.
Do you ask them how they are, follow up on a story they told you, put your phone down when they talk to you? How do they know you care if you are not attentive? This can be detrimental to the relationship, and if you notice this sign, it is time for a correction.
The danger of being complacent in a relationship
Being complacent in a relationship for a short period might be a transition you are going through. It might not be a red flag as long as it doesn't last too long (what is too long will differ based on each couple's preferences).
However, being complacent in a relationship is dangerous because it can lead to apathy and passivity. It's the biggest danger lies in its demotivating nature. No relationship can survive unless partners have the drive to keep working and improving.
Moreover, no relationship can endure if it stays just the same as it was in the beginning. Why? Because life circumstances and challenges differ, and the couple needs to adjust and adapt to them. Yet, complacency leads to the opposite – to settling and lethargy.
Disinterest in a relationship leads to loss of desire to communicate, lack of effort in conflict resolution, taking passive roles in each other's lives, and disregarding personal improvements.
Complacency provides the satisfaction of being in the comfort zone but disconnects us from our spouse. Therefore we can say that being complacent in a relationship does NOT contribute to satisfaction and longevity of relationships.
10 Ways to Overcome complacency
You don't have to be a victim or have your relationship suffer over something preventable. If you are asking yourself how to stop being complacent, there are things you can start doing today:
1. Change your mindset
Any time you are trying to change something, you want to start small to stay consistent. Adopt a mindset that allows you to focus on the things you can right now. Over time that action zone will increase.
Ask yourself every day: "What is a small thing that I can do today to become more engaged and appreciative in my relationship?"
In the end, small efforts will add up to something great.
2. Take notice and complement each other
Pay more attention to little things your partner does. Maybe they change something about their appearance or help out around the house.
Complement them, so they feel their effort is recognized and valued. When people feel appreciated, they value the relationship more and are likely to be more attentive in return.
3. Set aside some alone time
To stop being complacent in a relationship, you need to find motivation for being more active—a reminder of the things you love about you as a couple can serve that purpose.
To recall those things, you need some alone time frequently. While alone, perhaps you can browse through old photos and favorite memories. Those can motivate you to generate new adventures together.
4. Shake up the routine
A sense of adventure can make the relationship seem more exciting and chase away the boredom. You can start small, like picking a different place for date night rather than going to a familiar restaurant you know serves good food.
Stop by their work to have lunch together with phones in your pockets, so you can catch up. Surprises work wonders in creating a sense of excitement in the relationship.
5. Be honest with yourself
Imagine if you are dating yourself. What things would you complain about yourself? Make a list and pick the smallest one that will have the most impact.
It is not easy to acknowledge you are complacent in the relationship, and that change needs to start with you. However, it will be rewarding once you see their reaction to your transformation.
Also, your sense of confidence and self-worth can increase as a result of your progress.
6. Adopt a curiosity mindset about your partner
Most of the time, you can assume what your partner will choose to eat or say. However, don't assume you know them entirely. There are still things they can share that might surprise you.
Although that is a bit scary to think about, it is also exciting to know you still have things to learn about them. Your adventure is not over, so don't treat your partner as though you know everything there is to know.
7. Imagine your life without them
This is a thought experiment that can frighten you yet snap you out of being complacent in a relationship.
Once you imagine how it would be to live a life without them, a new sense of appreciation will appear for all the little things you might be taking for granted now.
8. Be grateful every day
Gratitude works wonders for relationships. It helps your partner feel seen and reinforces the efforts they made.
Research found that expressing gratitude is associated with increased happiness, life satisfaction, and social desirability. Moreover, data shows gratitude is linked to a positive outlook on the partner and higher chances of voicing our concerns.
When we feel free to share what is bothering us, we have a chance of resolving it.
Also watch: How does gratitude affect romantic relationships?

9. Build up the physical intimacy
Sex is not just a physical need; it also brings you emotionally closer to your partner. Set aside time to update each other's love map and reconnect. Snap out of thinking sex just happens; you need to build the atmosphere outside of the bedroom first.
10. Set relationship goals
When you want to accomplish something work-related, you set goals and milestones. You can do the same in your relationship. To stop being complacent in a relationship, hold each other accountable for the goals you set together.
When something is clearly defined, it is easier to check if it is being worked on and how much progress is happening.
It is worth overcoming complacency
One thing is for sure, being complacent in a relationship can happen to anyone. Do you disregard your physical appearance, show less attention and gratitude than you used to, feel distant from your partner, and experience a decrease in sexual desire?
It is important to notice the signs on time to figure out how to avoid complacency.
It is preventable and also restorable. The main thing is that both partners are willing and motivated to make some changes.
If you are not sure how to start overcoming complacency, take small steps. Don't assume you know everything about your partner and be curious. Show gratitude and appreciation for small things and keep shaking up the routine.
Intimacy is a moving target. You need to continuously try to accomplish it. If you seek to find new adventures and improve your intimacy, your relationship will be more exciting and satisfying.
Share this article on
Want to have a happier, healthier marriage?
If you feel disconnected or frustrated about the state of your marriage but want to avoid separation and/or divorce, the marriage.com course meant for married couples is an excellent resource to help you overcome the most challenging aspects of being married.
More On This Topic
You May Also Like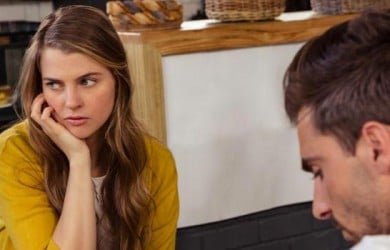 Popular Topics On Married Life