How to Manage the Differences in Your Relationship
When choosing a mate, many will choose someone with a good combination of similarities and differences. While similarities can be very positive and provide a solid foundation for a relationship, the differences are what impact and help shape your relationship in order for it to grow, change, and evolve. A partnership involves two people – and often it is the differences between these two people that strengthen or weaken it. The nature of these differences can make or break a relationship. Do the benefits outweigh the risks?? Let's take a look…
Benefits
Just as there are benefits to sharing similarities with your partner, there are several benefits to having differences as well. First, you have the opportunity to share your experiences and interests with the person you love. It provides the opportunity to learn more about who your partner truly is, what makes them tick. You may find they enjoy a variety of activities you have never tried. You might find yourself drawn closer to them because of their adventurous spirit or their willingness to try some of your interests. You can learn much about your partner through shared experiences.
Second, by sharing in these experiences, you learn to appreciate the person rather than the activities themselves. You may not enjoy horseback riding, but seeing the joy on your spouse's face may be enough to understand the value that activity holds. Your partner may dislike taking the time to hand wash the car, but he or she can learn to appreciate your enthusiasm for taking personal pride in your belongings and enjoy the experience alongside you.
Third, being different allows you to see the world through a new lens. You may have adventures you never dreamed of having or attend events you would never have chosen for yourself. You may find yourself taking into consideration another point of view simply because you have been shown a new way of thinking and feeling. The differences in how you communicate, socialize, interact, and express emotion can be difficult to navigate but can provide a level of insight into experiences that was never possible before engaging in your relationship.
Risks
While the benefits seem to be extensive and appealing, there are risks that accompany them. First is boredom. If you do not share enough similarities and spend much of your time apart due to differences in interests, you will likely become bored in the relationship. Keep in mind, it is the time apart, not the differences themselves, that can incite boredom. When you are not able to connect with your partner on a deeper level, it is difficult to maintain a sense of security and positive affection in the relationship.
Second, differences have the potential to create conflict and confrontation. Neither of these is likely to be a pleasant experience. Conflict happens and is a healthy way of growing in a relationship. But it can also produce dissonance and an inability to effectively communicate with one another. Are you willing to compromise and create solutions that are agreeable to both partners? If not, it may be time to re-evaluate the relationship and decide if it is more harmful to remain together than to go your separate ways.
Third, as previously mentioned, differences in interests can assist in reducing the time spent together overall. It is difficult to maintain a healthy relationship and positive communication patterns when you do not spend quality time with your partner in shared activities. Differences in interests can create an excuse for not spending time together and thus cause a level of instability in the relationship.
Importance of values
Take a look at your values. What is it that you believe in very strongly? What would you consider your morals to be? How does your view of right and wrong affect your life decisions? It is important to know where you stand in order to use your values and beliefs as a measuring stick. Take a look at the values and things your partner finds to be important. It is likely that you will share some similarities as well as a few differences. Values do not go away. They sometimes change or evolve, but they remain a constant part of life. Be sure you and your partner share at least a few common values or you may find yourself engaged in significant conflict as the relationship progresses.
"What do I do if we're just too different?"
There may come a time in your relationship when you realize just how different you are from your partner. It is not always necessary to leave the relationship, but it is important to take a step back and re-evaluate the risks and benefits of remaining together. Are you willing to compromise in some areas? Is your partner? If not, the relationship may not be a healthy one and it may be time to decide whether or not to let go.
Share this article on
Want to have a happier, healthier marriage?
If you feel disconnected or frustrated about the state of your marriage but want to avoid separation and/or divorce, the marriage.com course meant for married couples is an excellent resource to help you overcome the most challenging aspects of being married.
More On This Topic
You May Also Like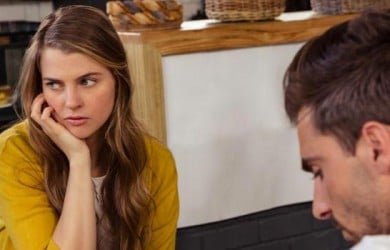 Popular Topics On Married Life