4 Resolutions You Need to Make to Improve Your Relationship
Valentine's Day is fast approaching and with it comes the same old annual flourishes of affection for your partner — decadent dinners, blooming bouquets, lavish boxes of chocolates and all.
No one can deny that the 14th of February is a wonderful time to indulge in your relationship and allow it to take center stage.
The only problem? As soon as the day ends, all that affection and effort often stops, life takes over and your relationship takes a backseat until the next Valentine's Day rolls around.
But it doesn't have to be that way. This year, why not commit to taking your Valentine's Day to the next level? Valentine's offers a great opportunity to take stock of your relationship and to make changes that can improve your relationship in the long-term.
Relationships take work.
Even the best relationships face highs and lows, trials and tribulations. Whether you're still bathing in the loved-up glory of the honeymoon stage or trudging through mundanity of a long-term one, here are four resolutions to make this Valentine's Day one that improves your relationship and helps you keep that lovin' feeling all year long.
1. Prioritize play once a week
How often do you and your partner let your hair down, have fun together and play? For many of us in long-term marriages, playfulness can take a back seat.
Life demands us to be serious and so too do our relationships.
But it turns out that there's a lot more to the expression "couples who play together, stay together". Scientific studies reveal that playing together helps couples to improve their sense of intimacy, happiness, and overall enjoyment of their relationship, while many people in successful long-term marriages claim that laughter and fun are the keys to their longevity.
Far more than a childish indulgence, play helps to relieve stress, defuse tension and encourages you to truly enjoy your relationship.
So resolve to prioritize time to play once a week — whether it's a game of scrabble with a glass or two of wine after a long day at work or a weekend-long baking extravaganza — find something that takes you both out of the mundanity of the daily grind and allows you to have fun together.
2. Schedule time for intimacy as often as you can
Do you remember what your relationship was like at the beginning? How every look and touch made your knees weak and your heart flutter?
That sexual connection was no doubt a big reason that you and your partner were drawn together in the first place.
But sadly for many of us, that initial passion and insatiable desire for our partner slowly gives way to sexual lethargy. Where once you couldn't keep your hands off of each other, now you go for days, weeks, and even months without getting intimate with your partner.
As a result, you've started to feel disconnected and out of touch with them.
Sexual connection is integral to successful relationships
Make sure to make time for it regularly. With your busy schedule, spontaneous sex may be a pipedream, but there's nothing wrong with scheduling time for intimacy. Set a date, establish a time and commit to it.
Why not also take your relationship to the next level by indulging in new and exciting ways of relishing your sensual connection and reawakening your sexual desire.
A sensual couples' massage is an excellent choice for couples looking to reconnect sexually. Designed to stimulate your erogenous zones, it helps to reignite your sexual energy while inserting some novelty into your love life.
Did you know that when we try something new and intimate with a partner, our brain is flooded with feel-good serotonin — the same chemical that is released by the bucket load when you first fell in love?
It turns out that you can trick your brain into feeling the flutters of falling in love with your partner all over again.
3. Say those three magic words as often as you feel it
It may have been a while since you and your partner first exchanged those three magic words, "I love you". But there's no doubt you remember what a significant moment it was in your relationship and how it made your heart sing to hear them.
You may think that years of commitment are enough to show your partner they're loved, but you should express love to them every chance you get.
Understated, "I love you" packs a punch when it comes to feeling connected to our partners. Studies show that not only does receive and expressing affection improve our relationships with partners, but they also help to strengthen our sense of worth and our relationship with ourselves.
So don't hold back. Whether you're overwhelmed with affection when you're out grocery shopping or putting the kids to bed, say it, mean it, and feel it.
When it comes to telling your partner that you care, there's no time like the present.
4. Do a digital detox once a week
Have you ever opened up to your partner only to discover them scrolling on their phone? How did that feel?
Technology has drastically changed our lives and our relationships in good and bad ways, making us feel both connected and disconnected at the same time.
While there's certainly a time and place for checking emails, connecting with friends on social media, and browsing for recipes, it's essential to keep your digital use in check.
Studies reveal that even the presence of a phone can have a drastic negative impact on our enjoyment of face-to-face meetings.
When someone is on their phone or laptop, we don't feel like their priority, and we doubt whether they're engaged with what we're saying. Not to mention, the dangerous rabbit hole that we can fall down when the ability to stalk a partner's ex on social media or deep dive into a seemingly innocent photo on their feed is just a button-click away.
So, resolve to do a digital detox at least once a week. Put your devices away for an agreed period, and show your partner that you're 100% there and committed to the moments you have together. If you're typically glued to your phone, take baby steps.
Thirty minutes a day of digital-free time will soon become a breeze, and in time you'll think nothing of a whole weekend without any digital distractions.
Share this article on
Want to have a happier, healthier marriage?
If you feel disconnected or frustrated about the state of your marriage but want to avoid separation and/or divorce, the marriage.com course meant for married couples is an excellent resource to help you overcome the most challenging aspects of being married.
Learn More On This Topic
You May Also Like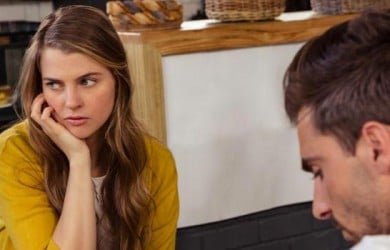 Popular Topics On Married Life