5 Creative Romantic Long Distance Relationship Ideas for Couples
Long distance relationships are difficult and painful. If it's only temporary because of a career assignment, then it's easier to bear knowing that somehow, someday, it will end and the couple can be together. Coming up with romantic long distance relationship ideas requires creativity due to physical limitations. Luckily, technology is here to help. There is no reason not to fully utilize the capabilities of technology when thinking of long distance relationship date ideas.
Related Reading: 9 Fun Long Distance Relationship Activities to Do with Your Partner 


Romantic ideas for long distance relationships
Intimate couples need to connect every day. It doesn't have to be a full-course date and get lucky in the end. A short and simple talk about how their day progressed and a few sweet nothings are enough to last each partner through the day.
There are plenty of desktop and mobile applications that would allow real-time two-way video communication. A 30-minute to an hour conversation a day can keep the relationship going. However, it gets boring and eventually loses its novelty. In fact, over time it becomes a chore. You and your partner will have to mix it up a bit.
Creative ideas for long distance relationship ideas in how couples interact need to take it a step further to prevent it from becoming a time-consuming chore.
1. Create a Vblog or use Facebook Live
Talk about your day by literally showing it through a video-blog is great long distance relationship idea. Use a randomizer to pick a certain hour (or half hour) of the day and show your partner what you are doing during that exact time regardless of what it is. Even if you are at work, taking a bath, eating, or sleeping. It can sometimes be dangerous when your driving and such, but that's where effort and imagination would come in.
Keep it safe while doing your half-hour, especially when driving or working. Like a real video-blog see if you can describe what you're doing as much as you can without getting caught.
Use a tripod, bluetooth headset, or any other equipment to keep it hands-free as possible. If you are able to do some lewd acts, make it so.
This long distance relationship idea will also keep the flames of passion in your marriage burning.
Related Reading: How to Make a Long Distance Relationship Work 


2. Virtual dinner dates
Because there are potential time zone differences, it's hard to find a common mealtime. Virtual dinner date doesn't have to be a literal dinner for one of you, but you do have to eat. Since the time difference makes it difficult to eat the same meal together, one can have lunch while the other have dinner on a video conference call.
The fun part is to prearrange and make sure to eat the same thing. Talking about the minute differences in the cuisine is fun especially for foodies.
Doing it in public is embarrassing, but if you can do it, then it would be a fun experience for both of you. Cute long distance relationship ideas such as this are both unique and memorable.
Related Reading: How to Sext – Sexting Tips, Rules, and Examples 
3. Play games
There are a lot of games that allow players all over the world to team up or compete against each other. Playing together one such game as a couple can create a second reality for the couple. It's a great long distance relationship idea because it creates an environment where you two live together.
The stress, enjoyment, and problem-solving skills needed for playing online games will also give great insight into your partner.
It doesn't have to be a complicated fantasy RPG games. Simple online games are enough for couples that are not into gaming. Playing online together is just necessary to create a bond. The game itself is not important. Don't worry about jumping from one game to another just to find one that both you and your partner enjoy.
Mobile games are recommended over desktop games. It doesn't need expensive hardware to play. It's simple enough for people who are not hardcore gamers and can be played almost anywhere. There are also other types of games that couples can play such as quizzes, board games, and card games that are perfect for couples who are not used to computer gaming.
Related Reading: 20 Long Distance Relationship Games Ideas 


4. Watch a movie together
Video conferencing while watching the same show is the most common activity long-distance couples can do. A TV series is also a great alternative to movies. Series will give the couple something to watch while looking forward to weekly releases.
If the time zone difference prevents the couple from watching the show at the same time. Look for online versions of the show where you can view it together. The quality would be less than expected, but at least you can watch it as a couple. You can also watch a TV series that you missed on Netflix or other similar services if you care about viewing quality.
Make sure to spend 30 minutes after the show to review it with your partner.
Dating activities are just an excuse for the couple to bond, virtual dating is no different. Make sure you don't miss the important part of spending time with each other.
5. Surf the web and look for interesting websites
Here is an example, Sweet home 3D. It is an interior design website that allows people to create and design a home just like the old SIMS game.
Start planning your future by using websites like that and this one called makemebabies.com while video conferencing with your partner. It is a fun and delightful fantasy that may become a reality if the couple perseveres long enough and stay together.
Searching for websites or mobile apps together is already lots of fun. Trying and checking them out would feel like an amusement park.
Long distance relationships are a challenging proposition. If both parties are willing to climb the hill together, then there's no reason why they shouldn't give it a try. It is especially true for couples who are already together before circumstances forced them to be away from each other.
Some men just naturally lack imagination. It is up to the girl to think of long distance relationship ideas for him for your online dates. If imagination and creativity is a problem, but love is not, then your friend Google can help with long distance relationship ideas. There are plenty of suggestions online that couples can do to keep the flame burning.
Related Reading: Managing a Long Distance Relationship 
Share this article on
Want to have a happier, healthier marriage?
If you feel disconnected or frustrated about the state of your marriage but want to avoid separation and/or divorce, the marriage.com course meant for married couples is an excellent resource to help you overcome the most challenging aspects of being married.
You May Also Like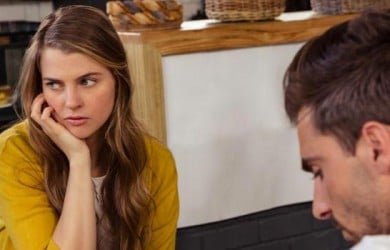 Popular Topics On Married Life