31 Essential Tips on How to Flirt With a Guy
Some people are born flirts. They know how to use their looks, banter, and body language to command a room with charm. For others, learning how to flirt with a guy is a 10-step process that takes time and energy to achieve.
Studies have tried to understand the basic nature of flirting and concluded that it is a deliberately ambiguous activity in the realm of social interactions. Only the parties involved can decipher the flirtatious acts, which others can't read as quickly.
In her book 'The Secret Rules of Dating, Dating Consultant Fran Greene talks about the fear of rejection being the main reason people don't try flirting. But rejection is inevitable, and you need to learn how to get past the fear of being let down to master flirting by practicing.
So, keep reading on for multiple ways to flirt with the guy you like and better your dating prospects.
How to flirt with a guy over text: 5 quick tips
Flirting through text messages can be a fun way to build a connection. Here are 5 simple tips to help you do it effectively:
Start with light, playful teasing or gentle jokes to break the ice and create a relaxed atmosphere.

Offer genuine compliments about his interests, looks, or personality to make him feel appreciated.

Emojis can add a touch of warmth and convey emotions effectively, helping to keep the conversation light-hearted.

Engage him in conversation by asking open-ended questions that invite him to share more about himself.

Playfully challenge him to share something interesting or daring, keeping the conversation intriguing and exciting.
How to flirt with a guy face to face: 5 handy tips
Flirting in person can be exciting and nerve-wracking. Here are five simple yet effective tips for flirting with a guy face to face:
Lock eyes and hold his gaze briefly to convey interest and confidence.

A genuine smile and laughter can be incredibly attractive and inviting.

Subtle touches on his arm or shoulder during conversation can create a connection.

Offer sincere compliments about his appearance or something you genuinely appreciate about him.

Light, playful teasing or banter can keep the

conversation

fun and flirty, showing your sense of humor and interest.
How to flirt with a guy: 31 interesting things to try
Flirting is a great way to show a guy you're interested in him, and it can happen via texts, face-to-face, or even from across a crowded room. You don't have to be newly dating or courting to flirt with a guy. Just find what's comfortable and flirt away.
Whether you're a seasoned pro or are still learning, here are 31 varied ways to know how to flirt with a guy, in-person, from a distance, or through texts:
1. Take his name
Sounds easy, right? Because it is! Try to insert the guy's name into conversations with him. Refer to him by his name as this makes things more personal. Also, names are powerful and can get someone's attention immediately and let them know that they have your attention.
2. Laugh at his jokes
Is there a man alive who doesn't want his lover to think he's the funniest person on the planet? We think not. That is why laughing at their jokes is one of our important flirting tips.
Laughter can bring people together by breaking down walls and monotony. It makes you value your companion even more.
Research indicates that laughter between romantic interests boosts feelings of affection and support for one another.
3. Playful touches
How to flirt with your boyfriend? What's better than teasing him through touches? This is one of the best ways to flirt with guys.
We're not talking about sex here; we're talking about building up that physical intimacy that creates bonding. Studies show that when you touch, hug, kiss on the cheek, hold hands, or even massage someone you like, your body releases oxytocin and boosts satisfaction.
You can capitalize on this sexy scenario by brushing up against him when you walk by or giving him a sneaky squeeze under the table. You can also pretend to accidentally bump into them if you are shy.
4. Draw attention to your lips
You can learn how to flirt to create chemistry by simply drawing attention to your lips. You can do this in subtle or risky ways.
For example, you can apply a lip balm/lipstick while talking to them, lick your lips or even blow them a kiss if you are comfortable being bold.
5. Compliment him
How to be flirty with guys? Just give them a nice compliment.
Men like compliments too! When you compliment the guy you like, you're telling him that you notice him. Compliments are a key factor in the art of flirtation. The next time you're around your crush, give him a little flirty compliments to make his day.
Try to be specific when you give compliments. Instead of saying, "You're good at guitar," say, "You play so well, it gives me goosebumps!" or instead of "nice shirt," try something a little more flirtatious like, "You look so sexy in that shirt."
6. Tease him
When learning how to flirt with a man, remember that some playful teasing can break the ice. Teasing brings in familiarity that removes any awkwardness that might exist. It can establish chemistry and maybe even ignite some sparks. It is a great way to understand how to flirt with boys.
7. Draw attention to your body
It's subtle but one of the most trusted and best ways to flirt with a guy.
If you want things to move carefully in a steamy direction, bring focus to your body. You can use creative ways to give your crush an excuse to notice your body and be attracted to it. Mentioning workouts, your clothes, or the possibility of getting tattoos can do the trick.
Research has suggested that the motivation behind flirtation is assumed to be different by men and women, resulting in miscommunication regarding its purpose. So be careful not to give the guy the wrong impression by being too bold or blunt.
8. Dance together
Whenever you and your crush are at a get-together or a club, find ways to dance with him. It can put him at ease and also help build the tension between the two of you. Dancing can bring down the walls of formality and help raise the temperature.
9. Listen carefully
Everyone wants to be heard as it validates their ideas and feelings. Listen carefully to what the guy has to say, as it will validate his emotions and make him realize that he has your attention.
Making a guy feel confident and validating him is key in learning how to flirt with a guy.
10. Walk away
When standing in front of your crush, don't stay there too long. Walk away from the guy after some time, leaving them wanting more.
Overwhelming them with your attention might not give them a chance to appreciate all that you bring. Walk away and make them desirous of more time with you.
11. Look your best
When you don't know each other very well, visual desirability can get his attention the best. Maintain your hairstyle and wear clothes that enhance your best traits. Also, looking good can never hurt while flirting, as it can make you feel more confident and desirable.
12. Let them catch you looking
It can be embarrassing when your crush catches you staring at them. But learn how to use this to your advantage by letting him catch you staring at him.
You can immediately look away after that or smile. Either way, it will give him a hint that you might be interested in him.
13. Smile
Don't play that hard to get! It's okay to smile every once in a while. It's essential when learning how to flirt to dazzle them with your warm smile. Smiling puts people at ease and shows them that you are approachable.
Something as simple as a smirk with the careful raise of a brow to a sultry laugh at his jokes can make him feel all warm and fuzzy inside. Additionally, it opens the door to getting to know each other further with openness.
14. Be around
Find subtle ways to be around them while they are going about their day. It will give them a chance to notice and also approach you. Be at a ready distance from them while presenting an open demeanor.
An essential part of learning how to flirt subtly is also not to overwhelm him. Try to make sure that your presence around him seems natural and accidental. He might get uncomfortable if he feels like you are stalking him.
15. Approachable body language
We are often not aware of what our body language is conveying to the people around us. But when it comes to learning how to flirt with a guy, we have to be conscious of our body language as it can make or break things.
You can do a whole lot of flirting without saying a single word. Sway your hips or touch your hair absentmindedly. Twirling your hair around a fingertip is not only sexy, but it also brings your guy's attention to your face.
16. Be confident
Have you heard that confidence is the sexiest? When you are confident, people are drawn to you and your energy. It can make you instantly more attractive to the guy you like. So rather than focusing only on things to say when flirting, try to build up your confidence simultaneously.
17. Consider asking them out
If you've been around the guy for too long without noticing any progress, you should consider approaching the guy yourself. It might seem bold, but this is perfectly normal. Gather the courage and take things into your own hands. He might even find your directness appealing.
18. Ask for help
Use help as an excuse to learn how to flirt with a guy. It is an opening that breaks down walls, and it will give you a chance to get to know each other.
Asking for help in itself is a vulnerable act, making you more approachable to the guy. So give this one a shot.
19. Say 'Hi'
If asking out a guy you've barely spoken to seems bold, consider starting with a simple hi. Saying hello is a good way to introduce yourself in a warm yet non-threatening manner.
It can give you the chance to take things forward. Also, making the first move can be sexy in itself.
20. Maybe a wink
If you feel bold enough, why not give the guy you like a flirtatious wink? Take charge of the slow-paced interaction by giving the guy an opening that makes him sure of your interest in him. The playful wink can also break the ice and accelerate things.
21. Over texts
Texting is a popular technique on how to flirt with guys and appear cool.
Why not use technology to get your man to notice you? Engage your crush using some flirtatious texts that will get his attention and get him completely hooked.
22. Flirt away
Texting is an excellent avenue for learning how to flirt with a guy. Start by asking cute and seductive questions like "Why are you so sexy?" or "Can you keep a secret?" then take things from there.
Texting is a great way to keep in touch with your guy throughout the day. It's also perfect for those who feel nervous about flirting in real life because you have all the time in the world to think about your responses. So add flirty messages to the mix!
23. Show genuine interest
When sending flirty messages to him, it's good to know that you don't have to text constantly. Prioritize quality over quantity. Part of being flirty with someone you like is showing genuine interest in them. Ask him open-ended questions to continue the text chain.
Maintain eye contact when he's talking to you and give him the occasional touch on the arm to let him know you're hooked on his every word.
24. Text by mistake
Sometimes it is hard to start a conversation with someone, and it is then that you can use this trick. Text the guy a random message under the pretense that you were sending it to someone else.
Once they respond, you can inform them of the mistake but keep the conversation going.
25. Mention social media posts
You can start a conversation with the guy by talking about something that they have posted on social media. You can compliment or tease the guy about it to create familiarity and chemistry with the guy. It is casual and yet something personal; therefore, it can break the ice.
It will let them know that you are paying attention to their activities online. And by talking about it, you might also convey your approval and validation for the same. Saying that you liked the caption of their post is an easy way to flirt with a guy without being obvious.
26. Don't text too much
It is so tempting to text the guy that you like all the time, but hold on. When learning how to flirt with a guy, it is crucial not to overwhelm your crush. Bombarding them with messages can make them averse instead of interested in you.
27. Ask questions
Who doesn't like to be around people who are genuinely interested in them? One easy way to learn how to flirt with a guy is by asking them pertinent questions. It works because it helps them realize that you are interested in them and their life.
Asking questions can also ensure that you can keep the text chain going. You can get to know them better while building up the confidence and interest of your crush. Therefore flirty words to say to a guy must include questions about him.
28. Create some mystery
Exchanging texts can be addictive when you like a guy, and their attention can be addictive. But learning how to flirt with a guy over text involves creating mystery by leaving some questions unanswered.
Since the conversations happen over texts, the mystery can help create a path for arranging an actual meeting in person. The unanswered questions will intrigue them and heighten their interest.
29. End the conversation first
When it comes to the art of seduction, you always want to be the first to end the conversation. Ending the conversation prolongs the mystery and will keep him coming back for more. Don't wait for the conversation to dwindle and for him to start feeling bored or uncomfortable.
Halting the conversation can be a little difficult to do, especially if you're genuinely interested in him and want to keep the conversation going. Still, he'll be counting down the minutes until he gets to talk to you again if you follow this rule.
30. Ignore them a little
Flirty tips for girls and guys include playing a little hard to get. Try not to reply to their texts immediately and let them wait for a bit of time. Allow them the time to miss your messages and your conversation with them. Distance, indeed can make the heart grow fonder.
31. Open to meeting
One of the flirty things to say to a guy is to mention the possibility of meeting up. For example, while discussing an upcoming game or movie, drop in the brief mention that it would be fun watching it together.
The simple act can move things from the virtual world to the real.
We told you what to do when flirting with a guy; here's what NOT to do while flirting with a guy:

Commonly asked questions
Flirting can be enjoyable but also intimidating. Here are answers to some common questions about flirting with confidence
What is a good way to flirt with a guy?
A good way to flirt is by using light humor, genuine compliments, and engaging in playful conversation. Make eye contact and be yourself; authenticity is attractive.
How can I ensure I come across as confident while flirting with a guy?
Confidence comes from feeling comfortable with who you are. Maintain good posture, smile, and remember that he's likely as nervous as you. Focus on enjoying the moment.
What topics should I avoid discussing when flirting with a guy?
Avoid overly personal or controversial subjects, like exes or divisive politics. Keep it light and fun, steering clear of anything that could dampen the mood or create discomfort.
Being the best flirt out there
It's easy to learn how to flirt with a guy. Build chemistry and sexual intimacy that will sizzle when you walk into the room. Send a smile his way, and don't be afraid to compliment him.
Once you master the art of flirting, you'll have your crush, boyfriend, or hubby falling all over you.
Share this article on
Want to have a happier, healthier marriage?
If you feel disconnected or frustrated about the state of your marriage but want to avoid separation and/or divorce, the marriage.com course meant for married couples is an excellent resource to help you overcome the most challenging aspects of being married.
You May Also Like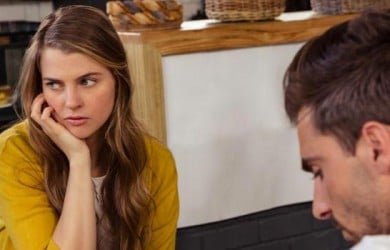 Recent Articles
Popular Topics On Married Life