15 Critical Spouse Signs and How to Deal With It
Criticism is one of the worst ways to communicate in a marriage, it is by far the most harmful things a relationship can be subjected to.
Criticism is a deep emotion that is invoked to defend ourselves or to attack our spouse.
During conflicts, couples use criticism to the point of exhaustion and scar the relationship.
Having an overly critical spouse can be upsetting. You may feel as if your spouse is constantly criticizing you, leading you to feel like you aren't good enough.
Here, you can learn what it means for your spouse to be critical, as well as 15 critical spouse signs and ways to deal with this issue.
What does being critical mean?
According to experts, critical spouse signs occur when a husband or wife focuses on their partner's flaws in a judgmental way.
Also, when a spouse is being critical, it is expressed in blaming the other person for their mistakes, attempting to fix or correct them, and expressing disapproval of the partner.
Unfortunately, an overly critical spouse is not helpful which is also one of the common signs of a critical spouse. Criticism and critiquing do not motivate the other partner to become the best version of themselves.
Criticism focuses solely on the negative and does not involve any solutions or suggestions for improvement, which leaves the person who is being criticized feeling rather helpless.
Put quite simply, the answer to "What does being critical mean" is that the critical partner is launching attacks on the other's character, framing every issue as being the result of a character flaw.
Difference between complaint and criticism
Another aspect of understanding what does being critical means is knowing the difference between a complaint and criticism.
Complaints are unavoidable from time-to-time, but the difference between a complaint vs. criticism is that a complaint is not expressed as a character flaw.
For example, you may complain to your spouse that they haven't helped with the dishes and ask them to step in. With a critical spouse, what would ordinarily be a minor complaint is framed as an attack on the other partner's character.
For instance, the critical partner would say, "You never help with the dishes; you're so selfish and lazy." Here, the statement is deeper than a complaint, as the overly critical spouse suggests that something is wrong with who the other person is.
Related Reading: 

How to Stop Complaining in a Relationship
Is it OK to criticize your spouse?
While it is acceptable to tell your spouse when something bothers you and ask them to change their behavior, it is generally not okay to criticize your spouse. Experts warn that criticism can be one of the primary factors leading to divorce.
Criticism can affect self-esteem
This is not surprising, given that the overly critical spouse has a negative effect on their partner. When someone who is supposed to love and support you is always critical of your character, it can eat away at your self-esteem, leaving you feeling as if you cannot do anything correctly.
A research assessed 249 spouses from 132 married couples and found that perceived spousal criticism significantly predicted depressive symptoms in the spouse being criticized.
Instead of getting someone to change their behavior, excessive criticism makes someone rather defensive.
If the critical partner is constantly making accusations about their partner's character, that person will want to defend themselves rather than changing their behavior.
All of this defensiveness can destroy the intimacy within a relationship and result in couples pulling apart from each other.
Finally, an overly critical spouse damages the trust within the relationship. When we choose a partner, we trust this person to love and support us and never intentionally hurt us. Over time, constant criticism can erode trust.
In extreme cases, criticism can even be a form of emotional abuse, with one partner putting the other down to maintain control in the relationship.
Emotional abuse is never okay, but the criticism should be avoided in general because it doesn't make for a happy relationship and may even lead to a breakup and divorce.
How can criticism destroy a marriage?
As previously indicated, criticism destroys marriages by eating away at trust and intimacy within the relationship. When a person feels like they cannot trust their partner to love and support them because of constant criticism, they are likely to feel unfulfilled.
Besides, when the overly critical spouse destroys the intimacy within a relationship, it is easy for two people within a marriage to grow apart as the criticized partner pulls away to protect themselves.
Furthermore, when the critical wife or critical husband erodes the other partner's self-esteem, that partner may look elsewhere for validation.
While this is not always the case, it could understandably lead to an affair, or one partner may eventually leave the relationship to find happiness.
Criticism violates the basic needs of a person within a marriage. A research examining the association between marital conflict and divorce, explained how criticism is a form of destructive conflict behavior that contributed towards increased divorces.
Women need to know that their husbands love and appreciate them, while men need to know that their wives view them as capable and are thankful for the hard work they do for the family.
When one spouse is overly critical, these basic needs are not met, leading to the other spouse feeling disrespected and unloved. This does not bode well for the marriage.
Related Reading: 

Resolve Conflict in Marriage by Turning Criticism into Wishes
15 signs your spouse is overly critical
If you are wondering about how criticism looks in a marriage, the following 15 critical spouse signs can help you to determine if you have been the victim of an overly critical spouse or if you are perhaps a critical partner yourself:
Your spouse frequently tells you about things he or she doesn't like about you and rarely compliments you on something you are doing well.

Your spouse has sarcastically insulted you in front of the children.

When you are within earshot, your

husband or wife complains about you

in front of friends, almost as if making fun of you.

Your children have heard your spouse criticizing you so often that they begin to criticize you in the same way your partner does.

You notice that your spouse seems annoyed by everything you do, including things you cannot control, such as the way you breathe or walk. Your spouse may also criticize you for the way you do these things.

There is constant conflict about things that you have supposedly done incorrectly. Constant conflicts are another common sign of a critical spouse.

Your partner is

never satisfied

with the way you do things and tends to micromanage.

When you do not follow your partner's directions or do exactly what they would prefer you to do, your partner acts offended.

You feel like your spouse tries to control you and doesn't trust you to make good decisions.

Your spouse is a perfectionist and holds you to the same standards.

If you do something 90 percent correctly, your partner will fixate on the 10 percent that was not up to their standards.

Your partner is easily insulted and offended.

You notice that your critical partner feels the need to make comments about other people's appearance or choices.

Your spouse easily finds fault with you and rarely finds something positive to say.

Your partner struggles to compliment you when you achieve something at work or meet one of your goals.
Related Reading: 

Complimenting Your Man in Every Way
10 possible reasons why your spouse is critical
While the above critical spouse signs can be frustrating, there may be underlying reasons that explain why your spouse is so critical. This can include the following:
Your partner is highly critical of themselves, and therefore is critical of others as well.

When a person grows up with

highly critical parents

, this behavior is learned, and it transfers into adult relationships.

Your

partner struggles with anxiety

or feelings of inadequacy and has determined he or she can cope with these feelings by controlling others.

Your spouse needs to feel dominant, and being an overly critical partner makes them feel powerful.

Sometimes, critical people may have an internal dialogue that is highly critical, and they project this onto others. This could be the case with your critical spouse.

Your critical husband or wife may be stressed or dealing with some uncomfortable emotions, and criticizing you helps to distract them from how they are feeling.

In some cases, being overly critical may have just become a habit or a learned way of communicating with others.

Innocently enough, your critical partner may think they are helpful.

There is a chance your partner is feeling hurt or resentful about something that happened in the relationship, and instead of expressing this, they have become highly critical.

Your partner may not understand how to communicate an opinion or preference when they feel strongly about something.
Related Reading: 

Principles for Effective Communication in Marriage
Questions you can ask yourself if your spouse is critical
Now that you have an idea of why do people criticize, there are some questions you may want to ask yourself if your spouse is always critical.
For example:
You might want to ask yourself "if the criticism is a new behavior or something that has always been a problem?"

If it is a new behavior, you might want to consider "if there is something you did to hurt or upset your spouse, leading to the behavior?"
On the other hand, if your partner has always been overly critical, the root cause may differ.
If your partner has always been critical, you may have to ask yourself "if you think he or she is capable of changing?"

You may also ask yourself "what you can do to put a stop to the behavior?"
Sometimes it is as simple as having a discussion. If you feel the behavior will not change, you may have to ask yourself if it is something you can continue to tolerate.
You might also ask yourself "if your partner is otherwise loving and kind when they are not critical. If so, perhaps the critical moments are not so bad?"

You can also consider "is your partner this critical with everyone, and not just you?"
If your critical husband or wife appears to be this way in every relationship, the chances are that it's not personal, and they may not even know they are so critical.
Also watch: Why we go cold on our partners

How do I live with a critical spouse?
If your partner is overly critical, you are probably wondering how to deal with a critical spouse. Perhaps the most helpful thing you can do is have a conversation.
Perhaps your partner doesn't know he or she is overly critical, or they simply do not know they are so hurtful to you.
When your partner seems to be in a cheerful mood, sit down and have a conversation about the fact that you feel belittled when they talk down to you. You may also point out specific instances that hurt you.
For example, you might say, "I feel hurt when you criticize my housekeeping abilities." You might also ask that your partner frame complaints without attacking your character.
You might say, "Instead of calling me lazy and selfish when you want more help around the house, you could simply tell me that you would appreciate it if I could fold my laundry on the weekends."
When having this conversation, it is helpful if you can discuss exactly how you feel and why you feel that way. Finally, conclude with a request or recommendation for how your partner can behave instead.
When you offer a recommendation, you are not simply complaining about the problem; you are also offering a solution, making the critical partner more receptive to what you are saying.
Also, it can be beneficial for you to ask your partner if there is anything that has been bothering them. You might ask if they are stressed at work, feeling anxious, or if perhaps you did something to hurt them or make them feel inadequate.
If there is underlying insecurity or problem within your partner that is causing critical behavior, your care and concern may help them to overcome this issue.
Finally, if the conversation with your critical partner does not go well, or they are not receptive to making changes, you may consider couples therapy to help you learn better ways of communicating with each other.
If your partner is unwilling to go to therapy, you might consider individual counseling to help you cope and determine what your best course of action is.
Related Reading: 

Different Types of Counseling That Works Best for You
Conclusion
Critical behavior can be disastrous to a marriage because it leaves one partner feeling inadequate yet does not resolve marital problems or disagreements.
Ultimately, criticism, which involves complaints that include attacks on a partner's character, erodes trust and intimacy.
If your spouse is exhibiting the signs of a critical spouse or you are, getting to the root cause of the problem may help you resolve the issue.
For instance, if your partner learned from parents to be critical, you may have to point out that their behavior is harmful and give them an example of offering a constructive complaint or suggestion instead.
If critical behavior doesn't change, counseling may be necessary, as extreme criticism can lead to the downfall of a marriage.
Share this article on
Want to have a happier, healthier marriage?
If you feel disconnected or frustrated about the state of your marriage but want to avoid separation and/or divorce, the marriage.com course meant for married couples is an excellent resource to help you overcome the most challenging aspects of being married.
More On This Topic
You May Also Like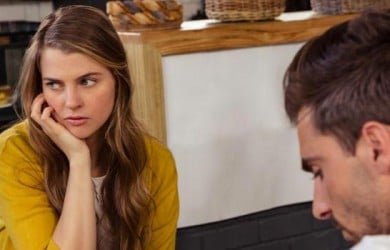 Popular Topics On Married Life