How Does It Feel Like Losing Yourself
You've lost who you might have been if the truth was told to you. Losing yourself in love or relationships is easy, as there are no tangible relationship rules.
Also, it isn't that difficult to say to yourself that 'I have lost myself in a relationship'. But finding yourself again needs courage!
So, what does it mean to lose yourself and what to do when you feel lost? How to find yourself again?
If you knew and felt from the jump that it wasn't you who was crazy or wrong or only a face and body or not as smart or was selfish, or angry "for no reason."
Who might you have been if you recognized then what you're able to understand now?
If you had avoided losing yourself
You'd be confident, imperfect and ok with that.
You'd have skipped the assholes and found someone who treated you and considered you like you deserve: with respect.
Not because of what you can do for them, but because they don't think twice about doing for you.

If you had been heard and seen and therefore appreciated earlier, you wouldn't have to have learned these truths through crisis or pain. You would be disappointed but not crushed.
You would have had bad hair days but not felt worthless or stupid or ugly or fat. You'd have liked and appreciated yourself, by not losing yourself.
And you'd learned to love yourself properly with dignity and have had the courage to say no and mean it, only if you wouldn't have been losing yourself!
And no matter what the other person's reaction was, you'd be more about what you'd said or done, because you would have had your feelings validated enough to 'feel' what it's like and request it from 'anyone' you came into contact with.

By not losing yourself, you'd be who you are becoming sooner. You'd be you wherever you were.
And the labels of whatever would be ridiculous for you to consider because they don't know you as you know yourself!

You would have had an emotionally healthy childhood to look back fondly on instead of shame and confusion. And, you'd never question if you'll turn into your mom because you would have been proud to become like her by not losing yourself.
The plight of losing yourself
You kept losing yourself as you didn't have 'that' mom. So she has had the child she was limited in having.
To her, she had someone not quite good enough (this is how she feels about herself), a "disrespectful" daughter who doesn't appreciate what she has.

The thing is, she never had that daughter, but she made you think (and therefore "feel") as though she had. As though you were!

So trust of what people say isn't possible for those people with moms like that. They can't trust mom, so they can't trust themselves, so they either trust no one and live alone (or for 44 years) or they trust people who are not trustworthy.
People who push boundaries, people who recognize the pain of being lied to, and keep lying to them, because they need to win no matter what, even when they lose the thing they said they wanted. They would rather win than be abandoned.

That has not, has never been, and will never be you. So, stop losing yourself!
How to find yourself again
Those "feelings" that you thought you felt, were actually thoughts. Your parents' beliefs about themselves. That's all they have known; to think about themselves!
So, how do you find yourself when you feel so lost?

In your quest of trying to find yourself, realize that you and your siblings have been the "collateral damage" but thought you were just damaged.
The reality is that your family collectively has been damaged. But they don't have to be anymore, not anymore!

Now when you know how does it feel like losing yourself, it is the time to stop doing so, pick up your scattered pieces, and get back to living your life with a lot more courage and confidence.
Watch Also:

Share this article on
Want to have a happier, healthier marriage?
If you feel disconnected or frustrated about the state of your marriage but want to avoid separation and/or divorce, the marriage.com course meant for married couples is an excellent resource to help you overcome the most challenging aspects of being married.
More On This Topic
You May Also Like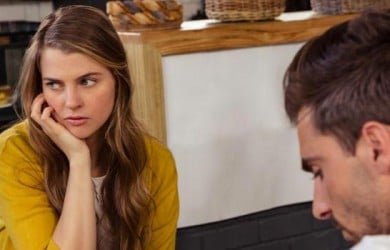 Popular Topics On Married Life