10 Ways Blame-shifting in Relationship Harms It
The blame game in relationships is often a running joke in popular movies and TV shows.
However, what do you do when your partner shifts all the blame onto you while absolving themselves of everything?
Blame-shifting in relationships is a manipulation tactic designed by the abuser to victimize themselves while portraying negative situations as your fault.
"I wouldn't have screamed at you if you weren't nagging me."
"I cheat on you when you are too busy working and can't seem to find the time for me."
"I wouldn't have called your mom if you weren't such a horrible person!"
If you often find yourself on the receiving end of such statements, you may be undergoing blame-shifting.
Let's go over what is blaming, how blame-sitting works, why do people blame others, and how to deal with someone who blames you for everything.
What is blame-shifting in relationships?
According to Dr. Daniel G. Amen,
"People who ruin their own lives have a strong tendency to blame other people when things go wrong."
People who use blame-shifting are often escapists who lack the emotional maturity to own up to their behavior and the resulting consequences of their actions. These people often perceive negative situations as another's responsibility.
Blame shifters often victimize themselves.
Since blame-shifting is a form of a coping mechanism, the person shifting the blame may be doing it unconsciously and may not understand their faulty logic.
However, the individual on the receiving end of the blame games often believes such accusations are true and tries hard to work on the relationship.
Unfortunately, when dealing with projection and blame, the victims often find that they aren't able to make things work. They often blame themselves for the failure of the relationship.
Related Reading: 

The Blame Game Is Destructive to Your Marriage
Is blame-shifting an abusive behavior?
Everyone indulges in blame-shifting now and again.
Students who score low grades in their class quiz blame it on their teacher for not liking them, or people who lose their jobs often blame their boss or colleagues.
But, how long can you go around passing the blame?
Yes, blame-shifting is a form of abusive behavior.
Being with someone who doesn't take responsibility for their actions takes a toll on your psychological and emotional wellbeing. You often feel drained and emotionally exhausted from taking all of the blame for things you didn't do.
This created a toxic equation between you and your partner.
Blame-shifting in relationships is also a way to manipulate you into doing something that you otherwise wouldn't be willing to do. The abuser makes you feel like you "owe" them something.
Finally, blame-shifting is often done to create a shift in the power dynamic between you and your partner. When your partner finally convinces you that you were at fault, they tend to have more power over you. Additionally, the responsibility of fixing the relationship also falls on you.
If your partner has the habit of always blaming others, it is a red flag that you should not ignore.
Psychology behind blame-shifting- Why do we blame others?
As mentioned in the previous section, blame-shifting in relationships is something most of us are guilty of doing at one point in our lives. We may still unconsciously be doing it!
Let's take a quick look at some psychological reasons for blaming others.
Blame-shifting can often be explained as a classic case of fundamental attribution error.
So, what does this mean?
In simple words, we often attribute someone else's actions to their personality and character. Still, when it comes to us, we often attribute our own behaviors to external situations and factors out of our control.
For example, if your colleague is late to work, you might label them tardy or lazy. However, you'll attribute it to the alarm clock not ringing on time if you are late to work.
There's another reason why we shift the blame on others.
According to Psychoanalysts, our ego defends itself from anxiety by using projection–a defense mechanism wherein we take out our unacceptable feelings and qualities and blame them on other people.
So, you often find yourself blaming others for your actions.
The defense mechanism always points to a lack of insight into our feelings and motivations. Since defense mechanisms are often unconscious, a person who is projecting on you will usually not realize what they are doing.
Related Reading: 

Why Blaming Your Partner Won't Help
How blame-shifting works?
Imagine this. You and your partner are coming home from a 12-hour car journey, and both of you are extremely exhausted from the drive. While your partner is behind the wheel, you're admiring the beautiful sky.
And then, you feel a crash!
It turns out; your partner miscalculated the turn they had to take and end up hitting the car on the curb.
The rest of the week, you get to hear– "I hit the car because of you. You were distracting me."
You feel like you're going crazy because you were silently looking at the sky!
What to do when someone blames you for everything?
Blame-shifting in relationships is often subtle and, like all types of abuse, often starts with something small that could be your fault. It intensifies as time passes in your relationship.
The characteristic feature here is that your partner will never admit their mistakes.
Techniques used while shifting blame in relationships
There are several techniques used while blame-shifting in relationships. These include the following:
In this manner, the abuser will try to invalidate your feelings, and you may feel like you're going crazy. This is a technique of dismissal and rejection of someone's thoughts and feelings. Psychologically, it negatively impacts the partner.
Christina and Derek were on a break, during which Derek started dating her best friend, Lauren. When Christina found out what was going on, she confronted Derek, who told her she was childish and immature. He also called her "too sensitive."
By playing the "poor me" victim card, Max was able to shift all the blame onto Joe. Playing the victim card means the person feels powerless and does not know how to be assertive, but tries to gain an advantage by cutting a sorry figure.
Joe and Max were in a relationship for three years. Joe is a lawyer at a well-reputed firm while Max is in-between jobs.
One night, Joe came home to find Max drinking whisky after five years of sobriety. Upon confronting him, Max said, "I drink because I'm alone. My wife leaves me alone at home to fend for myself because she's too busy building her career. You're so selfish, Joe. I have no one."
Related Reading: 

How to Recognize and Deal With Victim Mentality
The go-to-hell attitude is reserved for when the abuser knows that they've been caught and have nowhere else to go. This clearly means that when the person has no opportunity to defend or escape, they unabashedly accept it and pretend they aren't even at fault.
Jack caught Gina texting her ex-boyfriend and planning to meet him on the weekend. When he confronted Gina, she said, "So what? Can I not meet someone without your permission?" and "Am I your puppet? Why do you think you need to control my every move?"
Gaslighting versus blame-shifting
The term gaslighting has become mainstream, thanks to all the attention it has gotten from social media.
Gaslighting is a subtle form of emotional manipulation wherein you start doubting your sanity and perception of reality. It's a way of insisting that something didn't happen when it did in reality.
For example, "I didn't call you stupid! You're only imagining it!"
When someone is gaslighting you, they are exploiting your vulnerabilities, fears, insecurities, and neediness.
On the other hand, blame-shifting is a form of manipulation in which your partner twists things so that you end up being blamed even if you were not at fault.
Many gaslighters also use covert blaming, which is why the two are considered similar.
This video will make things easier for you to understand.
In most cases, people on the receiving end of blame-shifting often do end up believing that they are in the wrong and are fully responsible for how they're being treated.
So, most people don't even realize how serious blame-shifting in relationships actually is.
Related Reading: 

How to Deal with Gaslighting
Why do controllers and narcissists blame-shift?
In order to understand how blame-shifting in relationships works, it is also important to understand why narcissists and controllers use this tactic.
The inner guiding voice and blame-shifting in relationships.
Our internal guiding voice helps us navigate through tough terrains. This voice inside of our head is developed during our childhood through:
When we do something right, our inner voice rewards us and makes us feel good about ourselves. It also does the opposite when we do something bad.
Narcissistic people lack a healthy inner guiding voice.
Their internal voice is often critical, harsh, devaluing, and perfectionist.
It is due to this harshness of their moral compass that they cannot accept blame and try to deflect it on to someone else. This is their way of saving themselves from going down a spiral of self-loathing, guilt, and shame.
They also feel unsafe and fear being humiliated.
Related Reading: 

Steps to Identifying a Narcissist
10 ways blame-shifting is affecting your relationship
Blame-shifting in relationships isn't always as easy to pinpoint as you might think.
Therapists often come across people that exclaim, "My wife blames me for everything!" "My husband blames me for everything!" "Why does my girlfriend blame me for everything!" to often find that their clients lack insight or have misread the situation.
Here are ways in which blame-shifting is affecting your relationship:
1. You start believing everything is your fault
Since blame-shifting in relationships is designed to make you feel like you're always in the wrong, you start to accept it and truly believe that you are at fault.
This damages your ego and reduces self-confidence.
2. Communication gap between you and your partner
The communication gap between you and your partner only widens, thanks to the blame-shifting in relationships. With every effort that you make to communicate with your partner, you often find yourself to be proven wrong.
Your partner may even convince you that you were to be blamed for their actions.
Related Reading: 

Causes of Relationship Communication Problems
3. You're afraid of making decisions
Due to low self-confidence, you hesitate to make decisions as you feel your partner might label it a mistake. So, you start consulting with your partner–even while making small decisions, like what to cook for dinner.
This further lowers your independence and self-confidence.
4. You lose out on intimacy
Blame-shifting in relationships reduces intimacy between you and your partner as the communication gap widens. You start being afraid of judgment and harsh criticism from your partner and keep to yourself.
This reduces intimacy in your marriage as you don't feel close to your partner.
Related Reading: 

Lack of Intimacy Resulting to Relationship Problems
5. You start being resentful towards your partner
You avoid your partner as much as you can and start working late in an attempt to avoid going home. You feel like you're losing self-respect and start being resentful towards your partner.
You might even start to feel irritable, tired, and dreadful. You'll prefer not to speak to your partner in order to keep them from arguing with you.
Related Reading: 

Recognize the Red Flags of Resentment in Your Relationship
6. Poor self-esteem
Always being on the receiving end of blame has an effect on your overall self-esteem.
Blame-shifting in relationships causes you to have low confidence in your abilities, and you constantly find yourself second-guessing yourself.
You start to see yourself as unlovable and unworthy, putting your partner on a pedestal.
7. You stop opening up to your partner
You no longer feel that your partner is on your team, so you stop opening up to them about your hopes, dreams, and fears for lack of being judged and blamed.
This further increases the communication gap and lack of intimacy between the two of you.
Related Reading: 

Things That Are Keeping You From Opening up to Your Partner
8. Negative communication increases
Blame-shifting reduces room for positive communication, and almost all the communication you have with your partner ends in an argument. You often feel like you have the same fight again and again.
This can be draining for you as the equation between you and your partner becomes toxic.
Related Reading: 

Ways to Break the Cycle of Negative Communication in a Marriage
9. You start feeling lonely
Thanks to the low self-confidence and self-esteem, you start feeling lonelier than ever and think that no one will be able to understand you. Your sense of self has taken various blows, and you feel that you're all alone.
This feeling of loneliness can often manifest itself as depression.
Related Reading: 

Are You Feeling Alone in a Relationship?
10. You start accepting abusive behavior
With injured self-esteem and self-confidence, you are more likely to accept abusive behavior, like gaslighting, as your partner has gotten away with blame-shifting.
Related Reading: 

Why Do People Stay in Emotionally Abusive Relationships
What to do when you are blame shifted?
Blame-shifting in relationships can be tough if you're on the receiving end. Here's what you can do when you find yourself on the receiving end:
Ask them how you can help
Instead of indulging your partner when they're playing the blame game, try to solve the problem at hand by lending them a hand.
This will help your partner understand that you're not purposefully trying to frustrate them–that you're on their team.
Be empathetic towards your partner
Instead of arguing with your partner, try to be empathetic towards them. They blame you in order to protect themselves from their judgemental and critical inner voice.
You can try to be empathetic towards them and try not to judge them.
Related Reading: 

How to Build Empathy in Relationships
Your partner's childhood has a lot to do with their blame-shifting. Whenever they did something wrong as a child, they would be harshly punished. So, it is difficult for them to own up to their mistakes.
Be kind to them rather than having a rigid approach. Try to understand the place they are coming from, their trauma and adversaries and gently try to work on them together.
Summing up
Did we cover everything you needed to know about blame-shifting in relationships?
Blame-shifting a tactic used by someone who's trying to protect their own ego from pain. Being with someone who doesn't take responsibility for their actions can be hard.
However, it can be highly damaging for the one on the receiving end and the relationship, but you can surely handle the relationship with the right approach.
Share this article on
Want to have a happier, healthier marriage?
If you feel disconnected or frustrated about the state of your marriage but want to avoid separation and/or divorce, the marriage.com course meant for married couples is an excellent resource to help you overcome the most challenging aspects of being married.
More On This Topic
You May Also Like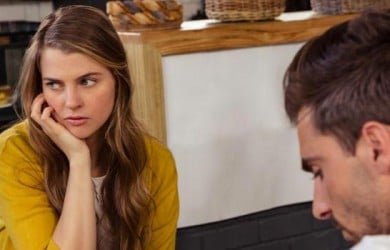 Popular Topics On Married Life