How to Make a Relationship Work: 15 Ways to Help
A relationship is like a garden that requires care, love, affection, and understanding on a regular basis. To make a relationship work, you have to nurture your relationship constantly so that it stays healthy and beautiful.
Often, fights and misunderstandings make things go turbulent, and you feel that relationships are too much work or that the relationship is no longer working. Working through relationship problems is not just something that you start doing when things go out of hand.
Related Reading: 25 Relationship Issues and How to Solve Them
Can you make a relationship work
Like a house that's made by laying a strong foundation and building it brick by brick, a relationship needs to be built every day with the efforts of two.
In today's era, there are various factors playing a role in the outcome of the relationship.
However, no matter at what stage of the relationship you are in, it is possible to strengthen the relationship. Also, no matter how badly a relationship is ruined, you can always fix it by working on it.
Also Try: What Stage Is My Relationship in Quiz
Tips on how to make a relationship work
How to make my relationship work? What is needed to make a relationship work?
For some couples, it can be things that make a relationship work as simple as being more polite towards each other. Others may have to go the extra mile to develop better communication or bring changes in their personality.
Whatever be the measures taken, the end goal should always be to reduce the bitterness in conflicts and let the relationship evolve into a better one where no partner feels short-changed.
For example, with time, couples may feel that since the honeymoon phase is over, there's no need to do or say nice things to each other.
Over time, this starts to damage the relationship. Over time, couples feel at a loss about how to save a relationship like this where they start to see their partner just as a roommate instead of someone they would like to grow old with.
If you feel that your relationship is heading in this direction and you're wondering,"Will my relationship last?", then hit pause and read on to find out simple and helpful tips on how relationships work or how to work on your relationship before saying "I quit".
Also Try: Will Your Relationship Last?
Respect the privacy of a relationship
Ever wondered about how to have a successful relationship? Well, the answer to this may not be that simple, but there's a basic thing that you must never forget. One of the most important things is to respect the privacy of your relationship.
There are many couples who vent their frustrations online after having a fight with their partner. It is not a wise thing to flaunt that you are too sad or too happy in your relationship. In order to make a relationship work, you must respect its privacy.
Related Reading: How Much Privacy in a Relationship Is Acceptable?
How do you make a relationship work? One way is by leaving work at the workplace.
Yes, it is true that we all have hectic work schedules, but that cannot be an excuse to not give enough time to your partner. Communication is the key to surviving a relationship. So set at least 30 minutes to 1 hour every day after work to talk with your partner over a cup of coffee.
If it is not possible to meet each other regularly, then you should at least talk for thirty minutes over the phone. Relationships take work and if you are always busy with your professional commitments then love is bound to suffer. Catering to your relationship needs is not something that you have to handle when things go wrong, and you have to think hard about saving a relationship.
It is something that you need to manage at all times to make a relationship work.
Develop a deeper friendship
Being friends with your partner is the best answer to the question of how to make your relationship better. What's better than being buddies with the person you want to spend the rest of your life with? There will always be many people advising you on what makes a relationship work, but the simplest advice is to see your partner as a friend and ally at all times.
You can become emotionally secure and connected to your partner by solidifying your friendship. Find a common hobby or interest and spend some time doing the same thing together. This will develop a deeper friendship between you and your partner to make a relationship work.
One of the secrets to having a beautiful and fulfilling relationship is to appreciate each other on a daily basis. Stop playing the blame game always, and instead, try to see the positive qualities of your partner. Appreciating each other can do wonders for your relationship.
Related Reading: Appreciating And Valuing Your Spouse
Watch this interesting video by relationship expert Susan Winter on why your partner doesn't appreciate you (and how to fix that):
Couples who share goals, dreams, and aspirations are the happiest. Therefore, to work on a relationship, try to find some common goals and work towards achieving them together. This will definitely strengthen your relationship. It's not just having common interests that create compatibility.
Having common goals to work towards is what makes a relationship last since you stay on the same path as your partner that way.
How do you fix a failing relationship when there's so much negativity between partners? Can a relationship be saved when partners are always in disagreement with each other?
The answer to both of these questions is YES.
Many relationships become prey to some negative cycles. The woman might be too critical, whereas the man might just distance himself from her to get some solace.
If you are trying to make a relationship work, observe the negative patterns in your relationship carefully and try to break them. Talk to your partner about it and reach a midway point.
Related Reading: 30 Reasons Why Relationships Fail (and How to Fix Them)
Betrayal is one of the most important issues that partners face in a relationship. That is why honesty is one of the most important tips on how to make a relationship work as it lays the foundation of a strong relationship.
It means that the partners need to be truthful to each other and transparent during conversations. It means sharing perceptions and not coloring the truth. While there is honesty in the relationship, partners should be clear about their intentions, be open to feedback, and be sincere about their reactions.
Compromise wherever needed
It's okay to make reasonable compromises in the relationship. Compromise doesn't always mean bending over backward to fulfill your partner's wishes. Healthy compromises mean that you both help each other grow, strike a balance and work as a team.
Boundaries are physical and emotional limits that you put for yourself to protect your peace.
One of the ways of how to make a relationship work is to give each other space and respect the boundaries. When boundaries are set, partners are able to understand the differences and support each other emotionally.
Related Reading: Setting Healthy Boundaries in a Relationship
So, what does it take to make a relationship work?
One of the most important ways of how to make a relationship work is to ensure that you both spend quality time with each other to keep the bond strong and healthy. During this time, you both must schedule a tech-free time and talk and get to know each other better.
This improves emotional and physical intimacy and improves friendship between the partners.
Conflicts are a part of any relationship. The issue occurs when these conflicts are seen negatively rather than using them as something to build the teamwork stronger.
Working things out in a relationship means understanding that conflicts can be resolved if partners accept it as a natural relationship phenomenon and follow a consistent process to resolve it. Couples should take responsibility for their part.
Related Reading: Understanding The Real Reasons Behind Conflicts
It is necessary to always stay positive in the relationship. Positivity attracts positivity and if you exude such vibes, your partner is sure to reflect the same energy.
This means that instead of focusing on the weak points of the relationship and things that frustrate you, you both must make a conscious effort to look at the good side of the relationship.
Self-love means respecting your own well-being. And love in the relationship only thrives when you love yourself. Self-love means loving your flaws, appreciating your goodness, and laughing at your bloopers.
When you practice self-love, you are more secure and confident in the relationship.
Related Reading: How to Practice Self Love
Don't reward the wrong behavior
One of the ways of how to make a relationship work is to not accept or reward the wrong behavior. Accepting wrongs happening to yourself from your partner breeds negativity and most likely, it will result in greater bad.
So, for making relationships work, avoid compensating for saying 'No' to your partner. Avoid feeling guilty for having your way when you feel it's the right thing to do.
One of the couple skills making your relationship work is to trust the process of your relationship.
Most importantly, trust the journey you are on with your partner. Enjoy the journey and know that in the end, everything will fall into place. So, hold their hand and keep walking.
Takeaway
Making a relationship work is not rocket science. It just needs a few elements to go on.
Communication, appreciation, and patience are some of the qualities that would help you to improve your relationship. While they may seem like the things you expect from your partner or the things you want in a relationship, you have to be prepared to reciprocate in equal measure.
Hopefully, these ways to make a relationship work give you a better perspective and you are able to have a fantastic relationship with the love of your life.
Share this article on
Want to have a happier, healthier marriage?
If you feel disconnected or frustrated about the state of your marriage but want to avoid separation and/or divorce, the marriage.com course meant for married couples is an excellent resource to help you overcome the most challenging aspects of being married.
More On This Topic
You May Also Like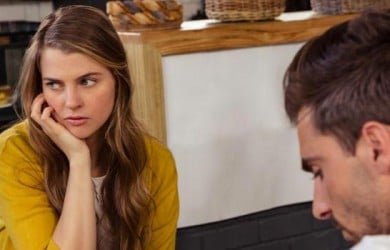 Popular Topics On Married Life