30 Reasons Why Relationships Fail (and How to Fix Them)
Every single man or woman wants to be successful in their relationship. But it is unfortunate that some relationships fail without remedy.
Being in a healthy relationship does not just happen. It takes time, resources and energy to develop.
Majority of the questions those in a new relationship ask is this "Will this relationship work for us?
Majority of relationships today end in dissolution. The fact is that you are capable of sustaining your relationship and also have the power to destroy it.
Why do relationships fail nowadays?
Have you been through a failed relationship? Are you wondering about the reasons why relationships fail or questioning why is my relationship failing?
Relationships aren't always rainbows and butterflies. Once the honeymoon stage is over, reality starts to kick in. It takes a lot of work to make a relationship succeed, but it takes two to tango.
After several months have passed, a lot of couples encounter a speed bump, and these bumps can lead partners in the wrong direction, resulting in a breakup or a divorce.
To avoid relationship failure, it is essential to spot the relationship killers ahead of time. That way, there is a better chance of saving a troubled relationship.
How long does the average relationship last?
The duration of the relationship varies from person to person and their individual involvement and interest in the person they are committed to in a relationship with. Besides, it also depends on how the couple nurtures their relationship.
Whether you blame it on the technology or the experimental age of 20s, according to the survey, an average relationship only lasts 2 years 9 months approximately. The reason is basically the attention span which is way less than it was earlier.
It might be time to acknowledge that you may be doing something wrong when your relationships fail. Take a look at your own behavior to determine what changes you can make.
Is a relationship failure really a failure or a lesson on love?
When relationships start, there is no intention of the either party to invest time and effort and later, kill the bond. So, when relationships fail and heartache overwhelms, rather than taking it as a failure, it should be taken as a lesson.
Every relationship is a lesson. We gain so many insights from the experiences. Relationships teach us about ourselves and show us how we can improve ourselves. They also help us become vulnerable which is an important element of any relationship.
Therefore, no relationship is a bad relationship. Our past plays an important role in building us into a better person. So, we must take important lessons from every love we experience and move on to work harder in the future relationship.
Related Reading: 

Ways to Keep Your Relationship Strong, Healthy, and Happy
10 signs of a failing relationship
While every relationship has its own unique love story, some of them fail. Here are the key reasons some relationships fail.
Here are 10 signs to understand if the relationship is on the verge of failing:
You both fight all the time. Even the slightest issue has the possibility of converting into a major fight.

You are committing

emotional infidelity

. This means, you are already thinking about cheating your partner or have someone else in your head.

Intimacy has lessened between you two. Neither of you show interest in being intimate with each other. The relationship has lost the charm and spark of physical closeness.

There is a

lack of trust

. You both already find each other in a situation where trust is lost.

You or your partner has found some other confidante. If you or your partner have begun confiding your issues to someone else rather than each other, it is a great threat to the relationship.

You both show no interest in spending time together. You both would choose to do your personal stuff rather than spending quality time together.

There's

jealousy in the relationship

. Jealousy is not a positive sign and if the relationship is filled with jealousy, it will ensue fights and later lead to a downfall.

You both disregard each other in little ways. For example, they criticize you or don't help you with a chore despite you are heavily burdened, etc.

You both don't include each other in your future. Gradually, your future picture does not have them.

You or your partner is always busy. Now, you both are not as available for each other as you both used to be.
30 reasons why relationships fail
Do you keep asking yourself, "Why do my relationships keep failing?"
We must understand why relationships fail or the causes of relationship failure.
There are a lot of reasons why relationships fail, but listed in this article are 30 reasons why relationships fail nowadays or why do people break up along with possible solutions for what to do when your relationship is failing:
1. Lack of time
In the list of what makes relationships fail, lack of time is an inevitable concern.
Majority of couples don't give their relationship time. Everything in life is all about time management. If you are thinking what are the top reasons for relationship breakdown?
Lack of time and efforts rank at the top.
You cannot have a successful relationship without giving it your effort and time.
You are in a new relationship, what do you do next? Is it to sit down and watch the relationship? Or to work for it?
Tip: Your relationship requires time. Show me a successful relationship and I will show you the amount of time given to it by the two parties.
The dearth of time is one of the most critical reasons why relationships fail.
2. Trust is nowhere to be found
Trust matters a lot in every healthy relationship. The lack of it brings disharmony in a relationship. The lack of trust in the relationship is like a car without a gas. You can sit in it but you won't be able to go long enough.
It is another major reason why relationships fail woefully.
Tip: Learn how to trust your partner. Stop being too suspicious all the time. You can also try trust building exercises to make your relationship healthy.
You must trust your partner irrespective of their physical proximity or lack of it. Do not stifle your partner with unnecessary, self-serving restrictions and learn to trust them, unless you have corroborative evidence of instances of cheating.
3. Improper definition of the union
Every relationship needs to be defined before starting it.
The importance of defining a relationship is that it will help the two parties to know what the union is all about.
Some don't define their relationship at the initial stage. The result of it is usually "breakup"
Your partner may be expecting the relationship to end up in marriage not knowing that your motive is different from their own. This is why relationships fail.
Tip: Define your relationship before starting it up. Make your partner realize what the relationship is all about. Whether it will end up in marriage or not.
4. The relationship is based on material things
Most people fall in love because of their partner's appearance, achievement or whatever.
You don't start a relationship because you feel your partner has what you need. You fall in love because you love them.
That is why you need to know the difference between love and infatuation.
Tip: It is very necessary to check whether you are really in love or just lusting after the person you claim to love. Build love and understanding for a stable and satisfying relationship.
5. There is little or no commitment
How committed you are in your relationship will determine its success.
If you don't show seriousness in your relationship, it will definitely fail.
How committed are you to your partner and your relationship? Do you show any concern in your relationship at all?
If no, it will definitely fail. Lack of commitment is why relationships fail.
Tip: Commitment is an important pillar of the relationship. So, stay committed to your partner and avoid infidelity if you wish to see a future with them.
Related Reading: 

Tips to Maintain Commitment in Your Relationship
6. You focus only on your past
Most people are tied down by their past relationships. You keep thinking about it. The fact is that the more you keep remembering your past, the more you are going back. You have experienced breakup before 'fine' but you can still move on.
Tip: Don't allow your past relationship to destroy your present one. Don't let your past be the reason why relationships fail.
7. Life issues
Each of us has our baggage to carry. Sometimes, this baggage can be too much for one person to handle, such as a family problem or an issue with a past relationship.
A person who still keeps in touch with an ex can ignite distrust, suspicion, and jealousy with the current flame and puts a strain in the relationship.
Tip: Inform the ex that everything is in the past, and you are serious with the person you're with.
Children from a previous relationship can also affect the current relationship and be the reason why relationships fail. Make sure you know how to handle this.
8. Dull daily duties
The excitement in a relationship could subside if everything becomes a routine. When couples tend to do the same thing over and over again, there is a chance they stop growing as partners.
Tip: Either one of you could come up with something fun to do or go on a vacation to spice up the relationship. Talk about some enjoyable things that you can do together to break your routine.
9. Unfaithfulness
It's hard enough to be in a relationship and maintain it, but what makes it even more difficult is infidelity.
Unfaithfulness is the ultimate destroyer and one of the most prominent reasons why relationships fail.
It's not easy when a person is being cheated. It can cause such emotional turmoil that the betrayed person chooses to walk away from the relationship. It can become useless to be in a relationship when trust has been broken.
Tip: Commitment makes all the difference when one is in love. Commitment is what makes one person continuously choose their person despite any difference or adversity. Try to be empathetic and stop the affair to keep the sanctity of your relationship intact.
10. Habits and behaviors
Loving someone has to be unconditional. This means that you need to accept him or her for who he or she is, flaws and all.
However, there are just some mannerisms or habits that can be quite annoying to the point where someone might walk away from the relationship because of them.
Simple things like not putting the toilet seat back down, leaving dirty clothes on the floor, or not putting the cap back on the toothpaste can trigger a person to end the relationship.
Other things that can also end a relationship are fighting in public, nagging, physical abuse, degrading your partner, unreasonable jealousy, and lying.
Tip: Adults should be capable of knowing what is wrong and what is not. Each of us needs to do some self-reflection and change for the better if we want the relationship to work out.
We might have to change some of our flaws to make our partners happy. If you truly love your partner, a small change should not be difficult.
11. Lack of communication
Regular communication is vital for couples and is one way of connecting. Poor communication will let couples eventually drift apart.
Research suggests that the quality of your marital communication determines the extent of your marital satisfaction.
A person often assumes what his or her partner is thinking, and unfortunately, this is where arguments and misunderstandings begin.
Tip: Open up to your significant other and always let one another know how you feel. If there is something he or she does that you don't like, let that person know so he would be aware.
Join activities that would improve communication in your relationship.
12. Not being supportive
Some couples go through issues with their ambitions, goals, or careers. It is normal for each person to have their own goal and ambition, and it can be tough when it causes conflict in the relationship.
There will be times when a person's career gets in the way of spending more time with his or her partner. To avoid strain in the relationship, it is best to support each other's interests.
Tip: A relationship will have better chances of working out when you have one another's back. Think of it this way – it is for both of your future, and in the end, you'll both benefit from it.
So, make sure you don't spend too much time with work. Always set time aside for your partner.
13. Money problems
Marital conflicts about money are considered to be one of the most pervasive, problematic, and recurrent reasons to break up even after couples made several attempts at resolving them.
Financial issues can cause a relationship's downfall. Couples who have money problems can cause stress; therefore, the individuals involved can be irrational, irritable, and hostile. These behaviors can slowly cause a breakup.
Tip: From the get-go, be honest about your financial status; let your partner know about your spending habits. Make a strict budget before the schedule of both your paydays.
Create a spreadsheet with all your expenditures and make sure you set aside money for savings in case there will be "rainy days."
Know and understand the difference between wants and needs and focus on the latter. This way, you can easily overcome financial concerns.
14. Conflicts with boyfriend or girlfriend's family and friends
You and your partner have your own set of friends. Unfortunately, there are instances where you don't like his or her friends, or he or she doesn't like your friends.
This can sometimes cause stress in the relationship even more so if you or your partner doesn't get along with family members. It can get uncomfortable when there are family gatherings or holiday dinners.
Tip: To create a long-lasting relationship, do your part in getting along with his or her family and friends. Disagreements are inevitable. Overcome communication barriers and develop an approach to navigate the conflict.
15. Not having enough intimacy and sex
Couples can often be too busy with their careers; they become too tired to be intimate with their partner. For relationships, this is not a good thing.

Connecting by getting intimate physically and emotionally can help you both relax and fight stress.
When a couple has been together for too long, they tend to have less sex. But they can prevent this from happening. Intimate connection through sex is fundamental in a romantic relationship. When a couple is not having enough sex, something should be done to save the relationship.
Tip: They can visit an intimacy mentor who can help them find the fire they had when they were in the early stages of the relationship.
The intimacy coach can help them connect and give advice on how they can maintain an active sex life despite being together for years.
You don't necessarily have to have sex every day; studies say at least once a week is fine. If there are children involved, it can get pretty hectic, so make sure the frequency and timing are discussed and planned.
Related Reading: 

How Important Is Intimacy in a Relationship
16. Lack of compatibility
Lack of compatibility is another factor why some relationships fail.
Some couples are not compatible with each other. Even if they are trying to work things out, they end up failing. One of the main issues in failing or failed relationships is a lack of compatibility between couples.
Compatibility is one of the most essential needs when entering into new relationships. When couples are not compatible with each other, they tend to drift away in the relationships easily.
Tip: Work on having reasonable expectations from your partner. You must also identify the problem areas of the relationship that need to be addressed.
17. Lack of respect
When you get married, you always have to think of the best of your spouse. They are your best friend after all, and it is them who you will be facing the rest of your life with.
When you think the best of them, you are showing respect, and mutual respect is part of the foundation of a healthy marriage.
Tip: You won't get along always, but that's okay. The goal of a healthy argument is to find the balance and compromise. You both must also work on appreciating your differences.
18. Not open to change
It does feel scary when you think about it that way. But it's true that after a while, your spouse will be different than the person you met 5 or 10 or 15 years ago, but that's because they are humans and they are evolving and continually changing just as much as you are.
Tip: Embrace changes in the relationship by knowing that change does not necessarily mean trouble. Having an open mindset and being willing to adapt to change is the key.
19. Taking your partner for granted
Taking your partner for granted means that there is a lack of appreciation in the relationship. When you don't seek their advice or try to cut the conver
Tip: Find new ways to always remind them that they mean so much to you. Always remind your spouse just how charming or endearing they are through words of affirmation especially during the most crucial times in your relationship.
Fuel your sex lives by trying out new things either in bed or in activities that you could enjoy together.
However, do not also be afraid to spend time apart. Having activities that you can enjoy independently brings new things to converse about.
20. Lack of understanding
Lack of understanding will be the cause of various relationship problems in the relationship. This will eventually be one of the causes of relationship failure. If your relationship is all about fights and intolerance, it is a common sign of a lack of understanding.
Tip: This can be achieved by open communication, including, healthy arguments. A perfect relationship isn't one without fights; it's a relationship where two people find a place of common ground, a place of compromise.
21. Being too conceited
Some people have a tendency to put themselves first. They look at relationships as opportunities and wonder what the other person can do for them instead of what they can do for the other person. That's mostly why relationships fail.
Tip: You need to start putting the other person and their needs and wants before your own.
Look back and think about the last time you took your partner out or bought them a gift out of nowhere. Start doing these small things in your next relationship and see where it gets you. Hopefully, after this recalibration, you won't find yourself griping, "my relationship is failing."
22. Focusing on the party too much
Some couples have a lot of fun together.
This can work for a little bit of time, but it won't work for the long run. There may not be much substance behind the relationship once the hangover wears off.
Tip: You need to remember to focus on spending time together while sober. If you want a mature relationship, you need to grow up yourself. Change your focus.
Don't let frivolity in life become one of the reasons why relationships fail. It's also important to get the help you need if you do see yourself spiraling into an unhealthy lifestyle.
23. Personal insecurity
Some people suffer from insecurity. This can cause them to get jealous too quickly. It can also cause them to be crazy or invade another person's privacy.
Tip: Learn to be secure in yourself and your relationship. Do this by working on your own self esteem in your own time as well as practicing self-control. When you do notice, yourself feeling insecure, find ways to distract yourself and focus on your own life.
Don't let crazy-making become a key reason for- Why do relationships end?
In the video below, Coach Natalie talks about how low self-esteem can be the cause of insecurity and provides tips for coming insecurity in relationships. She says if you are insecure in a relationship, you are insecure with yourself. Find out more:
24. Lack of chemistry
One thing that sets a relationship apart from a great friendship is the chemistry that comes with it. A relationship should be hot and heavy. Some relationships fizzle out with time. This is normal.
Tip: However, there has to be some chemistry that remains. Keep things hot by working on your physical appearance. Workout, diet, and wear nice clothes. You should also be willing to have fun in the bedroom.
Try new outfits and toys. Of course, be careful not to let out all of your secrets right away. You need to save some mystery down the line in the relationship.
If your relationships haven't been especially successful, you have to look at what might be causing them to fail.
25. Not being there for your partner
There are times when your partner needs you, or your emotional support. If your partner is lonely despite being in a relationship, this is the sign of a relationship failure.
When you get married, you are committing to choosing your spouse always. Not just on their good days, but also, on the bad days
Tip: Stay with your spouse through thick and thin. Ask them how their day went each day. Understand their emotional troubles and offer them help before they ask for it.
26. Unrealistic expectations
When in a relationship, expectations are bound to arise. Expectations set goals for the relationship and help the couple know the areas in which they need to put in effort for each other.
However, at times, over-expectations can cause relationships to fail and keep the couple dissatisfied with each other.
Tip: Avoid the tendency to try to change them. Do not impose your desires on them. They are already doing the best they can.
27. Comparison with others
When you are comparing your relationship with other people, this is a bad sign in the relationship. Every relationship is unique and is customised according to the individuals involved in the relationship.
Besides, not everyone showcases their problems on social media.
Tip: Stop being overwhelmed by the picture of happy couples. Every relationship has problems and couples usually know how to deal with them. Grass might look greener on the other side but once you water the ones on your side, they'd be as green too.
28. Not expressing emotions
When the couple stops expressing their feelings in the relationship, they are likely to feel disconnected from each other. The meta emotions of the couple should be aligned with each other, else this is a serious sign of the bad relationship health.
Tip: Use as many 'I' statements in the relationship and keep them short and sweet. Keep on practicing and at the same time, do not judge your spouse.
29. Living in the past
If you are still not out of your past relationship, this can be detrimental for your current one. Living in the past means you are still emotionally invested with your former spouse and this would mean a disrespect to your present spouse.
Tip: Letting go of the past requires you stop stalking your ex, to start with. Further, make sure you avoid being friends with your ex as it will not let you move on.
30. Keeping secrets
When partners keep secrets from each other or begin to lie, this is the sign of downfall. Also, if either of you are keeping secrets or calling the other person out when confronted, the relationship is taking an unhealthy turn.
Tip: Be honest with each other. Sit down and address the problem face to face without escalating the issue.
Related Reading

: 

How Keeping Secrets Can Destroy a Marriage
Takeaway
Every relationship is like a beautiful garden. You need to water it daily in order to sustain it. Most relationships fail because the two individuals failed to play their role.
If you must have a successful relationship, you must have these qualities; love, patience, and forgiveness.
As a final thought, just remember to practice self-love to avoid unhealthy codependency in your relationship, be nice and gracious to your partner. Be forgiving, patient, respectful and build a strong foundation of love and shared values to foster a happy and long-lasting relationship.
Share this article on
Want to have a happier, healthier marriage?
If you feel disconnected or frustrated about the state of your marriage but want to avoid separation and/or divorce, the marriage.com course meant for married couples is an excellent resource to help you overcome the most challenging aspects of being married.
More On This Topic
You May Also Like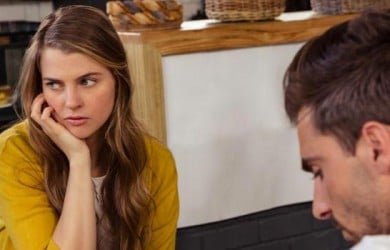 Popular Topics On Married Life