15 Signs of Gaslighting in Relationships and How to Deal With It
Maybe you are being gaslighted by someone close to you. Gaslighting is common in intimate relationships, the workplace, and even in society.
To avoid experiences of gaslighting in relationships, it is essential to overview signs of gaslighting and understand the psychology behind gaslighting in relationships.
Gaslighting typically happens gradually in any relationship, and things may seem harmless at first. The abused partner may remain completely oblivious to the signs of gaslighting at first.
This article will discuss signs of gaslighting to help you come out of the gaslighting abuse and reestablish your lost self-belief.
What is gaslighting in relationships?
Gaslighting refers to a technique in which a person makes a victim continuously question their reality to gain increasing power.
Often, it is practiced by entities as well. Plus, it is quite an effective technique.
Anyone can become a victim of gaslighting, and it is commonly used by cult leaders, narcissists, dictators, and abusers.
However, since it is done gradually, the victim hardly realizes that they have been brainwashed.
Gaslighting in relationships is a psychological method to manipulate another individual's thoughts by seeding doubts to create a delusion.
It is done to gradually create a different perception of the world based on the controller's interpretation. Gaslighting in relationships sounds like an espionage weapon used during a psywar operation. In a way, it is.
What does gaslighting mean, and why do people do it? Civilizations are built upon relationships between people, structured for organization and control. Some people want to be the ones in control.
Related Reading: 

Am I Being Gaslighted?
15 signs someone is gaslighting you
You can spot it with a few evident signs of gaslighting that will help you spot and shut out gaslighting.
Some of these signs of gaslighting in a relationship include:
1. Lies, lies, and lies
The person taking part in gaslighting often only tells blatant lies, and you're aware that whatever they're spewing out of their mouth is a blatant lie. Yet, they continue to lie to you while keeping a straight face.
However, this is their technique of gaslighting in relationships. They're setting up a precedent, so once they lie to you, you'll have your doubts.
You won't be sure if whatever they say is true or not. Their primary goal of gaslighting in marriage or a relationship is to keep you unsteady and doubtful.
Related Reading: 

How Lies in a Relationship Can Tear Apart Even the Closest of Couples
2. They deny they said something despite proof
There will be cases where you are sure they said they would do something. Still, they outright deny saying anything at all. As a result, you start to question everything.
You think, what if they never said such a thing?
And the more frequently this occurs, the more you start to question your version of reality and become susceptible to accepting their version.
3. They always use ammunition
People partaking in gaslighting use things or people near you and then use it as ammunition. For instance, they are aware of the importance of your identity and kids.
So, they'll start by attacking those. That's one of the key signs of gaslighting in close relationships.
If you have children, they might tell you that it was a bad idea to have them. Essentially, they start attacking the foundation of your very being.
4. Being around them is excessively tiring
The most dangerous thing about gaslighting is that it is done gradually over time.
There will be a snide comment often or a lie occasionally. That is one of the prominent symptoms of gaslighting.
It starts to pile up with time, and even the most self-aware people are sucked into it. This only proves its effectiveness.
5. What they say and do are opposites
One sign of a person that gaslights are that their actions and words differ.
So, to stay away from such entities, you should look at their actions instead of their words.
Whatever they say doesn't mean anything and should be ignored. It is their actions that should be given more attention.
6. They try to confuse you
Entities that gaslight will sometimes give out positive reinforcement to leave you highly confused.
So, how to recognize gaslighting? The same entity that attacked your morals and foundations will praise you for something.
This only increases your sense of uneasiness and makes you believe that they aren't too bad.
However, this is the worst of techniques.
Throwing in positive reinforcement only throws you off the radar and makes you question your reality again.
Plus, whatever they praised you for is also important to note. It might just serve the gaslighter.
7. They use confusion as people's weakness
Entities and people that use gaslighting techniques are aware that people love having their sense of normalcy and stability.
For this reason, their primary goal is to uproot the state of normalcy and question everything continuously.
It is human nature to look up to the person who helps you feel stable, and that person happens to be the gaslighter.
8. They use leverage
They will hold what you hold dear hostage and will not hesitate to use them if you do not adhere to what they want you to do.
9. Battle of wills
They will try to wear you down over time. You will slowly start to lose the will to fight or question what they are doing wrong.
10. They will use positive and negative reinforcement
When they want to control you, they will do something or the other to make it happen. They will use positive and negative reinforcement – anything that works to have some control over you.
11. They project
They project their insecurities, thoughts, and problems in their behavior towards you. This keeps you defensive and perpetually anxious about their actions.
12. They isolate you
One of the clear signs of gaslighting is when they isolate you from the people closest to you. They tell you things about them that make you question your relationship and trust with them. They do not let you communicate or hang out with these people, gradually causing you to isolate yourself from them.
Related Reading: 

How to Get Out of a Controlling Relationship
13. Deny your recollection of events
They may deny your recollection of events or memory. When you say something happened a certain way and are sure of it, they may completely deny it, causing you to question yourself.
14. Blame you for everything
They may blame you for everything that goes wrong around the house, in your relationship, or any other department.
Related Reading: 

How to Deal With Someone Who Blames You for Everything
15. Call you names
When you express your concerns about feeling confused, questioned, and anxious due to their behavior, they may call you names such as "crazy," "overthinker," or "too sensitive."
Related Reading: 

10 Reasons Why Name-Calling in a Relationship Isn't Worth It
Examples of gaslighting in relationships
Here are some instances of gaslighting that can occur in your relationship.
You saw something problematic on your partner's phone. You confront them about it. They deny it outrightly and call you crazy for snooping.

You and your partner left home at the same time. You asked them to lock the front door. They forgot about it. When you came back and found the front door unlocked, they blamed you for it.

You want to go out with your friends for a cup of coffee. Your partner creates situations where you cannot go and tells you things about how your friends do not really like you.

You are feeling anxious about something. You try to seek comfort from your partner. They tell you you are overthinking and always make a big deal out of minor things.

You dressed up for an event. They tell you you look bad and point out your insecurities, saying you look fat or too short or that nothing looks good on you.
How to deal with gaslighting?
How to respond to gaslighting? Keep yourself aware of the techniques that gaslighters use.
The more awareness you have, the quicker you can recognize them and avoid falling into their trap.
Also, it is important to not second guess yourself because of their opinions.
It is crucial to seek timely intervention in the form of therapy or counseling from a qualified therapist.
They will view the situation objectively and offer the required help.
They will help you spot the signs of gaslighting, equip you with coping skills, negotiate differences, get you out of the destructive gaslighting abuse and help you start afresh and never look back.
Also, watch this video on how gaslighting affects your mental health.
Remember, you are not crazy.
How to stop gaslighting in a relationship?
Here are a few things to keep in mind for surviving gaslighting:
Be alert to recognize undermining behavior patterns.

Do not take such behavior personally.

Do not push them to change their behavior. Seek professional help.

Rethink your commitment to the relationship.

Have a support system in place.

Ground yourself to reaffirm your self-esteem.
Bottom line
Gaslighting in relationships is one of the most excruciating experiences which can shackle your self-belief and sanity.
If the article resonates with you, and you feel you are a target of persistent manipulation and brainwashing by a loved one or an entity at work or so time to take this bull by horns and break free.
Reclaim your identity and self-worth.
Related Reading: 

How to Recognize and Handle Manipulation in Relationships
Share this article on
Want to have a happier, healthier marriage?
If you feel disconnected or frustrated about the state of your marriage but want to avoid separation and/or divorce, the marriage.com course meant for married couples is an excellent resource to help you overcome the most challenging aspects of being married.
More On This Topic
You May Also Like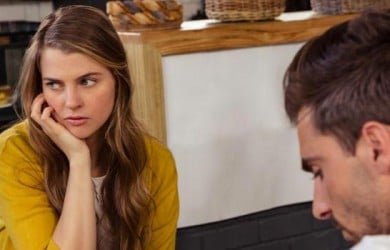 Popular Topics On Married Life