Things to Avoid After an Argument With Your Partner
When couples fight, it seems like all the love and romance that you have built was thrown out the window. It is a normal part of any relationship.
A couple fighting could be a part of any relationship, but it is still a pain.
It is not the end of the world, the important part is to kiss and make up.
An argument with your partner is never about right and wrong. Compromises are necessary to succeed; that's why having compatibility in values at the get-go is crucial in making it last.
Compatibility limits relationship fights to trivial matters. Things like always eating the last piece of cake or not fixing the bed in the morning. Pet peeves are also limited to those outside the relationship.
How to stop fighting in a relationship
It's simple, give up your individuality and agree to everything your partner wants.
If you are not willing to do this, and very few people are, then there's really no sure-fire way on how to avoid a fight in a relationship.
However, just because conflicts and an argument with your partner are inevitable, there's no reason to blow it out of proportion.
If you like sunny side eggs in the morning and your spouse made them scrambled (again), there's no reason to turn it into a heated argument. You can calmly point out (again) that you've told them how you want your eggs or just do it yourself.
If you are fighting with your spouse over a sensitive issue, there is also no reason to shout, use curse-words, or degenerate into argumentum ad hominem. If your partner is the one initiating the heated arguments, you don't have to engage.
Relationship arguments and conflicts may be inevitable, but fighting in marriage doesn't have to be a shouting and pissing contest.
There are times when it's impossible to think about how not to argue when your partner is saying unreasonable things. I'm not advising you to stay silent. I'm only saying that you should respond without shouting and insulting your partner.
Do not use threats or ultimatums. Most importantly, do reopen old and resolved conflicts.
If you or your partner are unable to form a constructive argument, it may best to leave the matter at hand for now and cool-off.
Discuss the issue again after a couple of days and see where it leads. There is no guarantee that it will be fixed by communicating, but it has a higher chance of resolution than shouting at each other and pissing each other off.
How to fix a relationship after a fight
If you and your partner do end up having a big fight without resolving the matter at hand, damaging your relationship further by acting like a spoiled brat will only add fuel to the fire.
Before you think about how to heal a relationship after a fight, you need to cool down and prevent common mistakes people make that lead to a breakup. An argument with your partner does not have to mean the end of your relationship happiness.
Here is a list of what not to do in a relationship conflict, or after having an argument with your partner.
Do not confide the problem with someone else
I understand that it helps to discuss your issues. But you are not a love-struck teen, you are a mature adult.
Revealing your relationship conflicts with other people can make others view your partner in a negative light. There are also times when people use the opportunity to take advantage of you during your moment of weakness.
If you really need someone to talk to, talk to yourself.
Meditate and relive the conversation in your head.
Think about what you said and how you said it. See how things could have gone in another direction if you handled the situation differently.
Do not go out and engage in vices
Post an argument with your partner, a significant number of people cool off by drinking in a bar or form of substance abuse.
It is an escapist reaction, and most people would consider it reasonable.
It could also lead to impaired judgment.
You are already in a fragile state of mind from the argument, engaging in such activities could lead to unfortunate accidents.
Problems arising from those such as car accidents, one-night stands, or jail time could lead to more significant issues.
Do not act like a bully
Some people just don't know how to end an argument.
Every time they see their partner, they will dish out by saying something out loud (but not directly) or will lash out at inanimate objects.
Doing this will not only prevent you and your partner from cooling down, but it can also damage something that may be costly to replace.
If you can't sit still and need to do something to expend your negative energy, do some exercises such as aerobics, samba, or jogging.
You can also do something constructive such as cleaning the garage, do some gardening, or scrubbing the toilet that you have been putting off for weeks.
If you really feel too angry to do anything after an argument with your partner. Sleep.
Also watch:

Do not work on sensitive projects
After a heated argument with your partner, continuing to work on corporate proposals, writing reports for your boss, or anything else where you can't afford to make any mistakes is a mistake in itself.
You are not in the right frame of mind to do any of these things. Put it off for a while. It will not hurt your relationship, but it can potentially hurt something else if you work on a sensitive project while you are angry.
It will also waste your time. Having something else on your mind takes twice the time to accomplish something that requires your brain to complete.
You will also need to double-check it twice to make sure. It's best to engage in a relaxing activity or refer to the physically intensive activities mentioned above.
Reconnecting after a big fight is what makes a relationship last.
Arguments with your partner happen from time to time, but moving forward is what makes the relationship strong. If you don't know what to after a big fight. Keep it simple. Apologize if you think you escalated the issue after reflecting on it or simply tell your partner you love them.
There are many ways on how to fix a relationship after a fight.
Arguments with your partner happen, but both of you need to learn to leave it behind and move forward. Couples with compatible values have little reason to fight unless the issue is blown out of proportion.
So remember what are your priorities. Your relationship, children, and future are more important than a heated argument with your partner over a trivial matter.
Share this article on
Want to have a happier, healthier marriage?
If you feel disconnected or frustrated about the state of your marriage but want to avoid separation and/or divorce, the marriage.com course meant for married couples is an excellent resource to help you overcome the most challenging aspects of being married.
More On This Topic
You May Also Like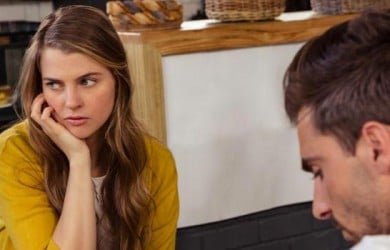 Popular Topics On Married Life