How to Create Teamwork in Your Marriage and Relationships
Once you are married, all of the tasks, bills, to dos can't go to one person. It's all about balance, it's all about teamwork. You can't let everything fall to one of you. Work together, talk to each other, be present in your marriage. Not sure about ways to improve your marriage with teamwork?
Here are five tips for building teamwork in your marriage.
Developing teamwork in marriage
1. Make a plan at the beginning
Who is going to pay the gas bill, the water, the rent, the food? There are a lot of bills and expenses that you might want to divide. Since you live together and not all couples choose to couple their bank accounts, it's just not fair that only one of you is spending their whole paycheck taking care of the bills or their time worrying about them being paid.
Who is going to be cleaning every week? You both make messes, you both forget to put things back where they belong, you both use clothes that need washing either once or twice a week. It's only fair that both of you divide the house tasks. If one cooks the other one does the dishes. If one cleans the living room the other one can tidy up the bedroom. If one cleans the car, the other one could help out in the garage.
Teamwork in your marriage starts with the day to day tasks, sharing work, helping each other out.
For the cleaning part, to make it fun you could make it a competition, whoever cleans their part the fastest, gets to pick what to eat that night. That way you can make the experience just a little bit more fun.
2. Stop the blame game
Everything belongs to each other. Both of you put in your efforts to make this marriage work. If something does not turn out as planned you don't have to blame anybody. If you forgot to pay the bill, don't worry about it, it happens, you are human. Maybe next time you need to set a reminder on your phone or you could tell your partner to remind you. There is no need to blame each other when things go wrong.
One of the steps toward creating teamwork in your marriage is to accept your flaws, your strengths, everything about each other.
3. Learn to communicate
If you disagree on something, if you want to tell them how you feel, sit down and talk. Understand each other, do not interrupt. A way to prevent an argument is just to calm down and listen to what the other has to say. Keep in mind that you both want this to work. Work through it together.
Communication and trust is key to a successful relationship. Do not keep your feelings to yourself, you won't want to explode in the future and make things worse. Don't be afraid of what your partner might think, they are there to accept you, not to judge you.
4. Always give a hundred percent together
A relationship is 50% you, and 50% your partner.
But it does not always have to be like that. Sometimes you may feel down, you may not be able to give the 50% you usually give to the relationship when this happens your partner needs to give more. Why? Because together, you always need to give a hundred percent. Your partner is giving you 40%? Then give them 60%. They need you, take care of them, take care of your marriage.
The idea behind teamwork in your marriage is that both of you are working together to make this work. To get to that hundred percent every day, and if you both feel like you can't get there, still be there to support each other every step. No matter the struggle, no matter the downfalls, no matter what happens, be there for each other whenever you can.
5. Support each other
Every decision one of you makes, every goal, every dream, every action plan, be there for each other. One of the traits that will guarantee effective teamwork in a marriage is mutual support. Be each other's rock. Support system.
Have each other's back no matter what the situation is. Be proud of each other's wins. Be there in each other's loses, you will need each other's support. Have this in mind: Together you both can get through anything. With teamwork in your marriage, you both can do anything you put your mind to.
Having teamwork in your marriage will be able to bring you both security that you will go far with this. Not going to lie, this requires a lot of patience and a lot of effort, but with the two of you putting all you got into the table, this will be possible.
Share this article on
Want to have a happier, healthier marriage?
If you feel disconnected or frustrated about the state of your marriage but want to avoid separation and/or divorce, the marriage.com course meant for married couples is an excellent resource to help you overcome the most challenging aspects of being married.
Learn More On This Topic
You May Also Like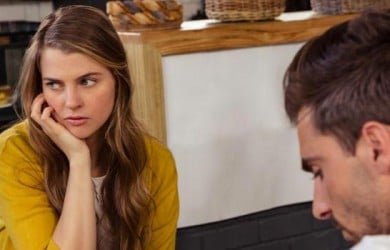 Popular Topics On Married Life