15 Secrets of Happy Couples in a Relationship
Whether you are in a relationship or not, you might wonder, are there happy couples out there? The answer is yes, and many are willing to share their secrets about what makes their partnerships work.
Keep reading for plenty of the secrets of happy couples, which can offer you traits to look for when you are seeking a long-term relationship.
What do the happiest couples have in common?
So, what makes a happy relationship? There are many things that happy couples may have in common. One is that they are able to be around each other without getting in a fight or being upset with one another.
They are also very respectful of their partner and will help each other, no matter what happens. Moreover, another secret on how to maintain a happy relationship is to trust your mate in all regards.
Characteristics of happy couples
There are a few characteristics of happy couples that you may want to consider. These things must be present for a couple to be happy. You should take some time and determine if it is in yours. If you are not in a relationship, these are the traits that you need to look for once you find a partner.
This is one of the multiple secrets of happy couples that you can keep drawing from when you are working to improve your relationship.
Communication:

Satisfied couples will

talk to each other effectively

much of the time.

Commitment:

Two people in a happy relationship will both be committed to the relationship.

Acceptance:

A couple will accept each other as they are.

Passion:

They will have a great deal of

passion for one another

.

Love:

They will always love each other.
Also Try: Am I Happy In My Relationship Quiz
Know more about it here:
5 Characteristics of Happy Couples
For more details on how to have a happy relationship, check out this video:
15 secrets of happy couples
Some of the most common happy couple secrets are listed here.
1. Be honest with each other
A crucial secret to long-lasting relationships is that you have to be honest with one another. You can't lie to your mate and expect a relationship to have longevity. When you lie to each other, this can set a destructive precedent. Moreover, if you fib too much, it might be difficult to keep up with your lies.
Related Reading: How Important Is Integrity in Relationships
2. Make an effort
One of the many keys to a happy relationship is trying. This means you can't be lazy. You should expend a reasonable amount of time and energy into your partnership with your mate, which can ensure that you are able to operate in harmony.
3. Be affectionate
Even when you tell your mate how you feel about them, it is a good idea to show them as well. A well-known secret to long-lasting relationships of best couples is to be affectionate with your partner.
Give them a hug when you go to work or kiss them when they wake up.
Also Try: Is My Partner Clingy or Just Affectionate?
4. Compliment your mate
Something else that goes along with this is complimenting your partner. This should let them know that you still care for them and can also prevent either of you from thinking there are issues in the relationship.
Besides that, nearly everyone likes being complimented every now and then. This is one of many useful secrets of happy couples that you should remember.
5. Work through your problems
All relationships will encounter problems at times, but you need to be able to work through them. This is one of the most vital secrets of a happy couple in a relationship. You should do your best to always talk out problems and determine a solution together.
There are solutions for most of a couple's issues, even if they are major, like money or trust.
Related Reading: How to Work Through Common Family and Relationship Problems
6. Hang out together
An additional secret of a healthy relationship is that a couple will hang out together. They won't just go out all the time. Sometimes they will simply hang out in their living room or eat dinner in their sweats.
A happy couple will probably tell you that every moment they spend with each other is quality time. Think about if this is the case in your relationship.
7. Go to therapy together
Even happy couples in love can go to couples' therapy together. In fact, when they agree to seek counseling, it may be effective at strengthening their bond with one another. Moreover, if there are minor issues in their bond, they can work on them in therapy, where they can also learn how to communicate more effectively.
Related Reading: CBT Therapy: Cognitive Behavioral Therapy
8. Trust your partner
A necessary secret of a good relationship is that you need to trust your partner. This means you have to believe what they say at face value without them having to prove their point of view or what they are saying to you. Consider if they do this for you as well.
9. Be friends and lovers
If you are in a relationship with someone that was your friend before you dated, you may understand how important it is to be friends with your mate. This can lead to a long-term happy relationship since you can see them as both a friend and a lover. It may also mean you know a lot about them and would like to learn more.
Another of the many helpful secrets to a happy relationship that goes along with this is that if someone was your friend, they should always be your friend. You will be able to grow that bond along with the romantic bond you have for one another.
Also Try: Should I Be Friends With My Ex Quiz
10. Do your own thing
Something that is on the list of major secrets of a healthy relationship is that both people in the partnership are able to do their own thing.
They don't have to spend every minute together. You might want to go out with your friends at times, and your partner may need some alone time to finish their work or to just think. Consider the last time you gave your mate space and when they reciprocated.
11. Share the load
Another of many secrets of happy couples is that they share the load. This means they split up the chores and responsibilities.
This may indicate they have equal footing when it comes to running the household and taking care of their kids. If you are doing more work in the household than your partner, you should talk to them about it and decide together what needs to change.
Related Reading: 20 Signs of a Selfish Husband and How to Deal With Him
12. Set relationship goals
As time passes in a relationship, it can be beneficial to set goals for what you want out of the relationship. Remember that they need to be reasonable and that both of you should agree to these goals. This can be anything from moving in together, buying a house, or deciding to get married.
13. Make decisions together
Besides just setting goals together, you should do your best to make all of your decisions together. In other words, think about your partner before you make choices that can impact them. Talk to them about what they want to do or ask them for their opinion on an issue.
Also Try: Am I His Priority Quiz
14. Pick your battles
There may be times when you want to yell at your mate, but you should learn how to pick your battles. In some cases, it just isn't important to fuss about something when it doesn't make that much of a difference.
For example, if your mate forgot to take the trash out for the 2nd time in one week, but they had a busy week, it may not be helpful to remind them of this. Instead, ask them nicely to take it out when they aren't busy, or simply do it yourself, so there's no disagreement.
15. Take pleasure in the little things
When you are pondering the secrets of happy couples, you should think about the fact that they will take pleasure in the little things they enjoy in their relationship. This may be the way their mate looks at them or that they bring them small presents.
Perhaps you like the way your partner looks in the morning after they wake up, and thinking about it makes your day. Regardless, the small details of a relationship may lead to your happiest moments, so keep this in mind.
Related Reading: 

25 Ways to Please Your Man
What do happy couples do differently?
There are a few things that romantic, happy couples do differently. Some of the things that have been found to make a difference are:
1. They regularly communicate with each other
This can be as simple as telling each other about your day or sharing a hug and a kiss before you leave for work in the morning.
Having regular and meaningful conversations can help to strengthen the bond between you and your partner, ensuring that you are both on the same page and feeling supported.
2. They support each other in their goals
Couples that are happy understand that they each have their own dreams and aspirations in life, and they support one another in the pursuit of these goals.
Instead of criticizing or discouraging each other from pursuing their dreams, they offer support and encouragement whenever needed.
3. They have trust and respect in their relationship
Trust is an essential ingredient of a healthy relationship, and it can only be built over time. By showing their partner that they have their back and will support them no matter what, happy couples can build trust and strengthen their relationship.
4. They have fun together
Relationship happiness is not just about being in a relationship; it's about being content with your partner and enjoying your quality time in the relationship. The happier you are with your relationship, the more fun you'll have as a couple!
What 3 things make a relationship great?
When it comes to key components of a relationship, building a strong emotional foundation is essential for any successful relationship. However, this is not the only thing that makes a relationship great.
A relationship is only as strong as its communication and problem-solving. It is important to communicate with your partner on a regular basis about your feelings, interests, goals, and needs in order to ensure that both of you feel connected and understood.
It is also important to work together as a team to solve any problems that may arise in your relationships in order to prevent these from causing damage to your connection. Have fun with your partner in order to make your relationship more enjoyable and rewarding.
Takeaway
When it comes to the secrets of happy couples, there are many poorly kept secrets for you to consider. You can think about these secrets in terms of your own relationship, but this by itself won't tell you if you will be happy or if your relationship will be long-lasting.
At the same time, you can use some of the advice listed above to lend a hand in strengthening the bond between you and your partner. If you don't know where to start, you can consider couples' therapy.
This could help you learn how to work out issues between you and ensure that both of you are putting in the work it takes to keep a relationship strong.
If you want to be part of a healthy relationship, there is no reason that you can't meet this goal. Keep an open mind, be honest, and be fair with your mate. Then you can consider implementing some of the tips listed above. This may help you stay happy and in love with your partner.
Share this article on
Want to have a happier, healthier marriage?
If you feel disconnected or frustrated about the state of your marriage but want to avoid separation and/or divorce, the marriage.com course meant for married couples is an excellent resource to help you overcome the most challenging aspects of being married.
More On This Topic
You May Also Like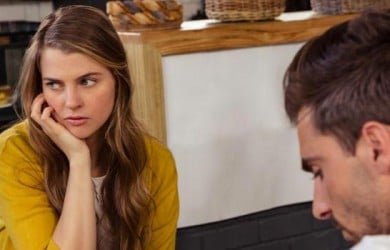 Popular Topics On Married Life