5 Easy And Effective Couples Communication Tips
Even those who are the happiest need some helpful couples communication tips at times. When life gets busy and you feel stressed, you often lose sight of the person that you are married to. Though you love each other and you are there for each other, sometimes you forget to talk to each other. You may be mentally drained or just need some alone time, and it's so easy to take each other for granted in those moments.
If you're not talking to each other though, you're missing out on a major foundation to your marriage—and it's time to get things back on track!
Talking to each other need not be a chore. It can be fun, it can be enjoyable, and you can get back to a time where the conversation was easy and seamless. When you were first dating you probably spent hours talking to each other, and you can be that way in marriage all over again. You may not believe it, but with the right effort and emphasis on good conversation, you can talk more in marriage than you ever did before. You want to be sure that you are both on the right page and that you make communication a priority together, but the best tips are easy to pull off and start with working as a team.
Here are some great couples communication tips that help you to enjoy that connection and feel happy together again.
1. Remember to respect each other
It sounds like it should be inherent, but far too many of us lose respect for one another along the way. It may be due to some significant reason or just because you take each other for granted. Men need respect like women need love, and truthfully we all need to feel respected by our partner.
If you can make each other's needs a priority and you can reflect upon what is good and positive about this person you are married to, then communication comes easily to the relationship and you put each other first in the process.
2. Send each other a little love note
How much does it make you smile when you get a love note from your spouse? Even if it's been awhile, send them a text to say you're thinking about them. Leave them a love note in the morning out of nowhere, and for no particular reason at all.
Put a note in their lunch or write something cute in a notebook that they will find. The most spontaneous love notes get the best reaction from them, and they will surely want to reciprocate. If you want to get to talking again, then catch them off guard and let this little gesture make their day better.
3. Just say "I love you" every day
One of the most helpful couples communication tips is to tell each other you love one another more often. You know how it goes—you're both in a rush in the morning and you may give a quick kiss but that's it. Take the time to look your spouse in the eye and say "I love you" and watch how their whole demeanor changes.
They start to think about how much they love you and they start talking to you more. It's such a wonderful and simple gesture that you should be doing anyhow. Just take the time to share your love, look into each other's eyes, kiss a little longer, and through these actions comes the communication that flows far more freely than ever before.
4. Talk about things that make you both happy
If you love talking about current events or political views, then do it. If it makes you both happy to talk about your jobs or the industry or the stock market, then go for it. There is no right or wrong here, just find some sort of common ground to ignite the conversations.
Sure talking about your kid's milestones or accomplishments is great, but take it a step further. Talk about the things that connect you and that got you together in the first place—if you are talking about happy things then it will make conversation much easier and more enjoyable moving forward.
5. Reflect upon who you are to each other
If you are happily married then you are spouses, partners, a support system, a team, and lovers to one another. Though you may lose your way with some of those at times, take the time to reflect upon these roles. Think of how much different your life would be without the other person, and then use this as positive energy moving forward.
One of the best couples communication tips is to reflect upon how much better your life is with each other—and then talking is no longer a chore but rather something that you enjoy doing with the person that you love and truly need in your life!
Share this article on
Want to have a happier, healthier marriage?
If you feel disconnected or frustrated about the state of your marriage but want to avoid separation and/or divorce, the marriage.com course meant for married couples is an excellent resource to help you overcome the most challenging aspects of being married.
More On This Topic
You May Also Like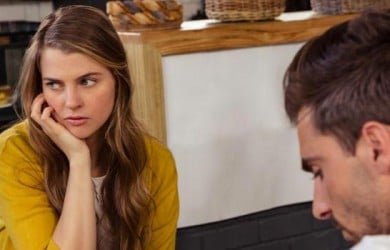 Popular Topics On Married Life