How Important Is Integrity in Relationships
We teach people how to treat us by accepting or rejecting certain modes of behavior and by demonstrating the way we treat ourselves.

This is a particular type of behavior that we want people to adopt for us. In the same way, other people have their own specific behaviors which they expect from us.
Integrity
Integrity basically means the quality of being honest and having strong moral principles or moral uprightness.
Ethically, integrity is regarded as the honesty and truthfulness or accuracy of one's actions.
Self-integrity
Self-integrity may be described as how much you apply ethics on yourself. "What lies behind us and what lies before us are small matters compared to what lies within us". It may also be described as the respect and love you give yourself.
It is very important to respect yourself first if you wish others to give you respect.
Love yourself and avoid thinking negative about yourself and motivate and admire yourself in every situation.
If you do so, it implies that you respect yourself and you are honest to yourself.
Integrity in relationship
As integrity is a personal quality of fairness, no doubt, it affects the relationships of people. It includes all kinds of relationships including romantic relationship or friendship or even in professional life.
Integrity in a relationship means to do the right things at right times. It is all about being honest with one another (people).
Not just this, it is the journey of different phases you have to pass through like friendship, being gentle with one another, accepting influence from one another and mutual fondness and admiration. These phases lead to everlasting and stable relationships.
Importance of integrity in relationships
Integrity is actually the most important principle of leadership because it demands honesty and truthfulness.
Integrity means telling the truth even you think it will harm you.
In professional relationships, it has the same importance. A man of integrity stands for his values and speaks out against unethical behavior. So people put great trust over such men.
Doing the right thing
Integrity in relationship demands honesty, loyalty, respect, and truthfulness. So, in order to last long in a relationship, one must have integral behavior. Do the right thing at the right time. Follow your intuition.
Here are some ways to be a man of integrity:
1. Root yourself in the moral foundation
Be morally strong. You should learn to respect other people, specifically women. Be honest and truthful so that you seem trustworthy to other people.
2. Be optimistic
Be a positive thinker. Load your consciousness in a positive direction. Stop back-biting or gossiping about other people or scandals. Make positive words a part of your talk.
Never use deprecating words for yourself or other, rather use motivating words and inspire yourself and others to make them feel confident and happy.
3. Don't compartmentalize your life
Be who you are. Be as perfect as you think you can be. Be a man of integrity in your own way and stay the same. You don't need to act differently at different places.
4. Be selfless
Work selflessly. Love selflessly. Treat others the same way you want other people to treat you. Be kind and soft-hearted. This is an important key to the way of integrity.
5. Surround yourself with support
As the proverb says; "A man is known by the company he keeps". This proverb tells that the company of a man affects him a lot.
So, to be a man of integrity, you must choose a company that supports you in every struggle. Find motivation in friends and family.
6. Share everything with your partner
For your married life, a tip is- do not hide anything or keep secrets from your spouse. It tends to have an impact on who you are.
Share each and everything with your wife or spouse. This will build a trusty environment between you two.
Love each other and inspire. Be respectful and loyal.
Lack of integrity in relationship
Many of the relationships fail because of the lack of integrity. Lack of integrity simply implies the dishonesty or not being morally upright. It also means to degrade or de-motivate someone. The people who have a lack of integrity:
Don't compromise

Show dishonesty

Exhibit

bad behavior with others

Keep secrets

There is a difference between what they say and what they do
If you find these flaws in your relationships, you must understand that there is a lack of integrity in your relationship. Try to recover that relationship or simply retreat gradually.
Share this article on
Want to have a happier, healthier marriage?
If you feel disconnected or frustrated about the state of your marriage but want to avoid separation and/or divorce, the marriage.com course meant for married couples is an excellent resource to help you overcome the most challenging aspects of being married.
You May Also Like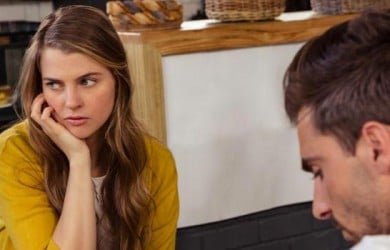 Popular Topics On Married Life