How to Talk to Your Boyfriend About Moving in Together
You and your boyfriend have been together for a while now, and you've fallen hard. You can't get enough of him, and you're considering moving in with your boyfriend.
The only problem is, he hasn't brought it up yet. So, how do you broach the subject without making him feel pressured?
Asking your partner to make a big change can be intimidating. After all, if he doesn't feel the same way, it could make things awkward between you or hurt your feelings.
On the other hand, he may be just as excited as you are about the prospect of living together. You'll never know unless you ask.
Living with your boyfriend can be a wonderful experience.
It's an opportunity to become true partners, spend more time together, and not to mention save a little on your rent!
That's why we're giving you the best tips for how and what to talk about with your boyfriend when you are considering moving in together with him.
When should you move in together?
If you're in a happy, healthy relationship, you may start to think that it's time to take things to the next level.
Your boyfriend is probably going to have a lot of questions about merging your life and your bills together, so it's best to have thought your decision through completely before bringing it up to him.
Also watch:
Here are the criteria your relationship should meet before you start talking to your boyfriend about moving in together.
1. You communicate well
Studies show that communication plays a large role in a successful and happy relationship. Moving in with someone is a huge change.
Before bringing up moving in with your significant other, make sure that you and your partner get along great, you respect each other, you know how to communicate and problem-solve maturely.
2. You're together all the time anyway
If one of you is sleeping over at the other one's house most nights of the week and have created a healthy stash of your belongings at your partner's place, it's definitely time to consider moving in together before marriage.
3. You've been together a long time
When to move in together?
For starters, those who have been dating for a year or less should probably skip the idea of moving in together so soon as it can be quite disastrous.
Make sure you've been together for a substantial period of time, and neither of you plans on bailing out of the relationship anytime soon before making permanent plans together.
4. You're both serious about the relationship
If one of you is going to get rid of your current apartment, you should probably be doing so with the knowledge that you are in a serious, monogamous relationship.
You respect each other's boundaries
This is a must if you are thinking, 'Should I move in with my boyfriend?'
You're going to be in each other's space 24/7 when you share a roof, so you should be comfortable with boundaries.
Respect their need for privacy, desire to go out with friends without you, and learn to share your space accordingly.
How to bring up
Being ready and actually broaching the topic with your boyfriend are two entirely different things.
What if he says no and you're left heartbroken? What if he's not as serious about the relationship as you are?
These are natural fears, but you may be worrying about nothing. There's a good chance that if you feel comfortable and ready to live together, he does too!
Here's how to bring it up.
1. Tiptoe around it
Start off slow. You may want to ease into the conversation by tiptoeing around the subject for a few weeks.
Start off with something cute and silly like, "Geez, I have so much stuff at your place, I may as well just move in!" and see how he reacts.
If he's itching to have you move in, he may use this as an excuse to start the conversation himself.
2. Ask him about his goals
Asking open-ended questions is a great way to get inside your boyfriend's mind.
The next time you're out to dinner or chilling on the couch, ask him what his future plans are regarding living together. You can mutually make decisions based on your compatibility regarding your plans for kids, career goals, etc.
Ask him what he would do if he won a million dollars or invoke other silly questions and see how he responds.
Do you play a factor in his future, or is he solely focused on himself? The answers to his questions, even the silly ones, will give you a better indication of how you fit into his future plans.
3. Practice healthy communication
The biggest tip for how to talk to your boyfriend about moving in together is to be honest. Once you've discussed his future plans and beat around the bush about moving it, it's time to come out with it already.
Tell him you've been thinking about moving in together and ask him how he feels about it.
Don't be pushy or aggressive. Just let him digest the information. Odds are you've had a lot of time to think about this, but he's just hearing the information for the first time now.
If the moment feels right, you can express why you think it's a good idea.
For example, you love being together, and you're always staying over at each other's houses anyway. Talk about logistics. Is your apartment closer to his work, or is his apartment closer to your family?
Discuss your finances. Saving money is a great cherry on top of moving in with the love of your life.
Let him know that if he's not ready to move in, that's okay, too! Yes, it will hurt your feelings, but remember he's not rejecting you. He's just not ready for a big change right now.
Moving in together is an awkward subject – but it doesn't have to be! Approach the subject gently. Don't be pushy.
Communicate honestly and ask him about his goals and make sure he wants the same thing. And above all else, before you bring up moving in together with your boyfriend, make sure you are 100% sure this is really what you want.
Share this article on
Want to have a happier, healthier marriage?
If you feel disconnected or frustrated about the state of your marriage but want to avoid separation and/or divorce, the marriage.com course meant for married couples is an excellent resource to help you overcome the most challenging aspects of being married.
You May Also Like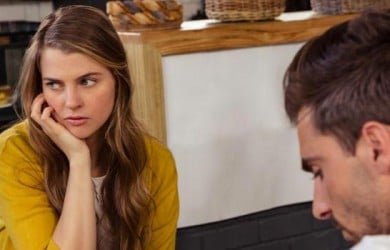 Popular Topics On Married Life