100 Cute Relationship Goals for Young People in Love
Love is the secret ingredient of our lives where we find not just happiness but also inspiration, motivation, strength to keep going.
Nowadays, especially with young adults, cute relationship goals are trending. Cute couple goals when teamed with real relationship goals can propel your love forwards.
If you are in love, happy, and looking for the best relationship goals, then this is perfect for you.
Modern-day love story – Relationship goals
It's so fun to be in love. If you're smiling right now, then you are indeed in love. Love knows no age, so anyone who feels love also wants to make sure that their relationship is always fun and never boring. How do we do this?
If you are familiar with the trend of cute couple relationship goals, then you're in for a treat.
Today, every person feels stress from work, from life, and just about everything.
So, when we have the chance to be with our partner or spouse – of course, we'd want to make sure that we make the most out of our time with them and what better way to do it than to do it with the people that we love?
Relationship goals is a term coined by our young adults, where each couple aims to experience short term goals with love and fun.
While there are still many long term goals, there are also some good, sweet, short, and fun goals that couples aim to achieve.
If you are looking to create a list of cute relationship goals, then we will be showing you the top 100 cute relationship goals that couples are loving right now. Pick your favorites and create your own list to help your love grow.
Relationship goals to grow your love
Couples' goals are there to assist you in growing the bond you have between you. Love goals should focus on becoming the best couple you can.
Hug every day for at least a minute. Show your affection non-verbally as well as verbally.
Become more attentive kissers. Pay attention to what your partner likes and introduce more of it.
Give fun gifts. Fun gifts keep on giving as any time you look at them, you smile.
Keep discovering each other sexually. Be playful and be interested to learn.
Join the couple's activities. When you are surrounded by other happy couples, you are inspired to work on your relationship even more.
Relive the first date. Whenever you need a hit of falling back in love, use this relationship goal.
Be there for one another at work events. Those are less stressful when you are by their side.
Discover and understand each other on a deeper level. Take the time to get to know them better than anyone else.
Avoid power play. Prioritize being happy over being right.
Have common goals to boost your sense of mutuality.
Spend quality time together. Decide together what quality time means for you as a couple.
Make a list of positive qualities for each other. Place it somewhere accessible and visible. Keep editing often.
Agree to consider counseling when you run across a problem that is pushing you away from each other.

Understand each other's belief system so you can better anticipate and understand each other's decisions.
Relationship goals for the future
Sweet relationship goals don't just make the mundane better; they also make the future more appealing. Young relationship goals can benefit from having a focus on the future as well as the present.
Talk about your future. It's important for every relationship that you understand the

point of view in the life

of your partner.
Plan to continue being attractive. The physical aspect of love is important, as well. What can you do to remain attractive to each other?
Get a pet together. Only consider this if you are both willing to be responsible towards the pet regardless of what the future brings.
Get a tattoo together. Choose carefully and make it one that is meaningful when it stands alone or together with your partner's.
Make a promise. Think of something romantic to promise to each other that you know you will keep.
Make a bucket list. The bucket list should have things you will do together as a couple.
Renew your vows every few years to remind each other of the promises you made.
Celebrate every anniversary by doing something unique as a couple.
Agree on marriage or no marriage. Include the prenuptial agreement in the conversation.
Take an interest in their interests. A great sign of love is to dedicate time to what is important to your partner.
Spend time with each other's friends. Seeing your partner in a social environment makes them more attractive.
Buy a property. Have something that belongs to both of you.
Create a financial decision agreement to help drive your choices and protect the house budget.
Decide on where to put down roots.
Explore the world together one location at a time.

Agree on kids or no kids. You can think of names as well.
Relationship goals for a happy everyday
Cute young couple goals will differ for every couple. Consider our selection of goals for cute young couples to include in your list and make your days a bit better.
Cuddle every day. Who doesn't want a relationship where you can just cuddle when you feel like it?
Remember to give your partner a full body massage. It is an amazing way to bond too.
The daily dose of complement. Make an effort to complement each other regularly.
Hide cute notes for each other around the house.
Have a cute and unique pet name for your partner. We're not talking about the usual honey or babe pet names.
Kiss them in public and have fun! We are not saying to practice PDA but rather just some small flirtation and sweetness blended in one.
Hold hands just because you want to and not because you need to do it. It's simple yet sweet.
We all know most of us would wear a couple of shirts, right? If you are a fan, then you'll love that it's a part of the cute relationship goals list.
Finish each other's sentences. Is there anything more cute and romantic than this?
Write poems and stories about each other. Love inspires us, so use it creatively.
Work out together. Help each other stay in shape and attractive.
Gratitude activity – count your blessings together every day.
Listen to each other's stories. Allow them to share it as if it was the first time hearing it.
Gaze in each other's eyes quietly.
Trigger the romantic response to keep your relationship fresh by doing something that awakens your partner's passion.
When the other is tired and stressed, handle with care, and make them laugh.
Have your love language. Create new words or just give words a unique meaning; only the two of you know.
Have a rainy day routine.
Write a thank-you note and post it on the fridge.
Fun relationship goals
Fun relationship goals are more than just fun. They can have a significant positive effect on the overall satisfaction with the relationship.
Couples' goals should have an element of entertaining to lighten up the hardships that life inevitably carries with it.
Have inside jokes that when you look in their eyes, you know what they are thinking!
Spend your weekends together – watching movies and drinking. Who doesn't want this?
Go to an adventure park and take every ride. Make videos.
Wake each other up with kisses in the morning.
Clean each other's toes and put nail polish on them. So sweet, huh?
Make the love story of the two of you. If your love story was a book, how would that go? Illustrate with pictures.
Enjoying time and playing together. Love chess, puzzle, or even baking? Do what you both want, love, and learn from each other.
Organize a scavenger hunt for each other. Spark their childish side.
Write and send love letters the old fashioned way. Use a pen, paper, and post office to make it more meaningful.
Surprise them at their workplace. Whether it is to kiss them, take them to lunch, or a getaway, this will surely brighten their day.
Choose your song as a couple.
Make a silly picture album for keepsake and to show to people.
Sleep in the van on the road trip. Road trips make for good stories to tell your kids and grandkids.
Spa-day for both. Here is one relationship goal that you can come back to often.
Do a trust test where you fall in each other's arms.
Invent your own recipe that you can cook together with your friends.
Have screen-free time incorporated in your quality time.
Socialize in a way that works for both. Throw a party, have a quiet night with friends, go out, or do a picnic.
Have a game night with favorite childhood games you both enjoyed.
Go shopping together and pick each other's makeover clothes.
Relationship goals to overcome difficulties
Consider incorporating in young couple goals some that will strengthen your relationship by improving your communication, and conflict management.
Cute couple relationship goals can fortify the interactions and improve understanding of each other.
Make

funny faces during fights. Fights will hardly escalate if you do this.
Learn to overlook minor annoyances. Agree on these to lessen the fights.
Learn conflict management. You can read about it, take a course, join a group, and create your unique way to deal with disagreements.
Delete never/always from your vocabulary. This goal can prevent many confrontations.
Challenge and support each other, stepping out of the comfort zone. That makes you grow individually and as a couple.
Have a weekly check-in. Set aside time to talk about what is going well and what needs improvement.
Share expectations openly. No one is a mind reader.
Improve your listening skills. Listen to hear and understand, not just to have a better comeback.
Be kind. No matter the challenge, always be kind to each other.
Be besties. Partners can be our best friends too.
Fight fair and avoid any harsh words and cruel games.
Ask for their change in positive terms. No one got better by making them feel worse.
Share the household responsibilities. Divide it according to what works best for you.
Remember why you got together in the first place. If possible, have a visual reminder of this somewhere in the house.
Take turns on who is responsible for initiating a hug when you are mad at each other.
Relationship goals for long-lasting love
Have you already made your list of cute relationship goals together? If you need the inspiration to boost your already cute relationship, take a look at our selection of relationship goals for happiness, and pick your preferred ones.
Allow each other to eat what you desire and let each other be responsible for it—no inhibitions about your partner getting disappointed or talking about how you should diet.
Makeup after being angry by the end of the day. After all, we can always compromise for the sake of love.
Remember the dates that are important to your partner. This is vital and shows you care.
Date night in your planner. If your partner is sweet enough to ask you out now and then, then this one is a keeper!
Take care of the kids so your partner can rest. Everyone needs a bit of me-time where they have no responsibilities.
Plan a new activity at least once a month. Make an effort to organize an adventure monthly.
Have a routine for "We" Time & "Me" Time. To look forward to time spent together, there needs to be a balance with time apart.
Be childish and build a fort whenever you need to escape the harsh reality. Cuddle up and watch movies before you go on to face the world.
Laugh out loud, a lot. Make sure to incorporate in your schedule the activities that make you laugh until your stomach hurts.
Create a safe space that is a fight free zone. Use it anytime you need to reconnect with your partner after or during a fight.
Selfless day of pleasure. Spoil and surprise each other by doing whatever your partner desires for one day.
No lies. This one is a no brainer. Without trust, there is no successful relationship.
Map the personal space boundaries and respect them.
Plan for the unplanned. Have a difficult conversation and make needed arrangements for the unforeseen events.
Always have the next vacation planned so you can have something to look forward to.

Communicate and work on improving conversations.
Cute relationship goals – A few reminders
There can be so many trends today involving gadgets and social media, and some even involve the latest trends in cute relationship goals, but remember that a real relationship doesn't just rely on these trends but rather to its foundation.
So, remember that you must first focus on the foundation of your relationship before you can focus on your couple's goals.
If you want to enjoy all the cute relationship goals that we see, we must first ensure that we already have a solid foundation with your partner or spouse.
This way, you know your partner very well and will avoid misunderstanding, and you'll enjoy your time together.
Share this article on
Want to have a happier, healthier marriage?
If you feel disconnected or frustrated about the state of your marriage but want to avoid separation and/or divorce, the marriage.com course meant for married couples is an excellent resource to help you overcome the most challenging aspects of being married.
You May Also Like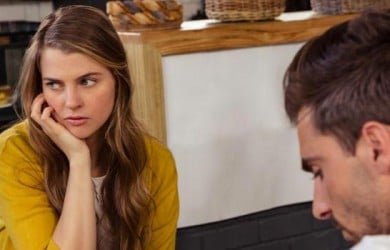 Popular Topics On Married Life