How to Compliment a Guy- 100+ Best Compliments for Guys
"I like him so much! How can I make him feel like a special person for me?" – many women ask. In this article, you will find some phrases to compliment a guy. Let him know you appreciate his company.
How to compliment a guy- best tips and guides
For many people, it often sounds strange to compliment a guy. In fact, many think that men do not appreciate compliments. Like it is something only women can appreciate. If to be honest, man can be greatly affected by compliments. Sure, the compliments must be good and suitable for the situation.
Why do so many people not like even the idea of admiring sterner sex? It even sounds illogical, in fact. When your male does something nice or brave, shouldn't you grant his efforts?
It would be quite inappropriate to forget about his efforts for sure.
There is no doubt, and if you want a person to like you, you should say lots of pleasant things and appreciate every significant expense. You must find the balance when appraising your male as well. You should be honest and quite supportive.
There are lots of situations when men will be fascinated by getting nice compliments. They may not show it, but they will appreciate it a lot, certainly.
Do guys like getting compliments?
Surely, it will not be so easy to come up with great compliments at once. Sometimes, you need to have a real talent to say inspiring and highly appreciated compliments for men. But it is also true about compliments to any other person. In general, you should always be honest and original.
The banal compliments are not good if you want to leave a long-lasting, great impression.
When you come up with unique praises, it is always better. Some women think that ignoring men gives them additional points. This is not the greatest strategy for sure. In fact, men like getting compliments. They just do not like it to be too prosaic.
Also, they often have no idea about your real feelings. They need to hear with their own ears what you think about them. Furthermore, your pleasant compliments show that you appreciate a man's efforts and like him a lot.
Sure, there is a problem that lots of women have no idea how to compliment a guy. They truly can get lost with their words. It may require some practice, but you definitely can come up with excellent compliments.
Check the following tips to learn how to compliment a guy properly.
Why do women need to compliment men too?
Complimenting someone is a reflection of your positivity. It not only builds a better bond but also establishes trust. There are various reasons why women should compliment men more often.
Let's find out:
It shows your kindness

Authentic compliments

build a trusting relationship

You are likely to receive a compliment too

It makes a man feel special and noticed

It instills positivity
Tips to give compliments
A nice and genuine compliment goes a long way in building a trustworthy relationship. While you are giving a compliment, make sure you are authentic with your compliments and not doing it only for the sake of having your agendas fulfilled.
Here are a few ways of how to compliment a guy:
Always compliment about a quality you

genuinely appreciate

in the given person.

Think of instances when such a quality was reflected by the person.

Be specific about the quality.

Add adjectives to your dress. For instance, "I love your black sneakers."

A celebrity comparison always works

Written compliments work better in making an impact than verbal ones.

Concentrate on complimenting on personality before appearance

Emphasize the changes and impacts caused by [compliment name]

Avoid repeating compliments

Praise with joy and a smile
100 best compliments for a guy
You can use the following scenarios to compliment a man. Surely, you can come up with your original comments. When you feel it is the right time, feel free to compliment your man.
You will surely be acknowledged for your nice words to compliment a man.
A good behavior compliment
Among the best compliments to give a guy, we can define the one to support a guy's good behavior. When you always reward a man's good behavior, it becomes something like a well-established reflex.
Further, your man will be going things that please you, again and again, to get his promised gratitude if you compliment a guy on his personality.
There are lots of situations when you can say some admiring comment to your guy. For instance, when he called you after a great date instead of texting you. Check out these personality compliments.
1. I do appreciate a man who calls after a date instead of simply texting.
Do guys like texting? Sure, they do. But for you and your future praises, they will learn to call after a date.
You can also appreciate a man's efforts to fix something in your house.
2. It is amazing that you are so handy. You can fix particularly anything in the house.
Once you compliment a man's actions, be sure he will keep surprising you with his great assistance.
Here are some good behavior compliments for him that will surely boost his confidence:
It's generous of you to treat me to lunch/ dinner today.

I love the solution you came up with.

I am so proud of the effort, and you should be, too, about the effort you put into this.

You deserve a hug right now.

You're a great example to others.

Actions speak louder than words, and yours tell an incredible story.

You should be proud of yourself.

You should be thanked more often. Thank you.
The "Amazing Job" compliment
Every man appreciates when you praise his actions. Women worship men who are persistent enough to reach what they want in their life. Your male surely wants you to see how determined he is. Make sure to remind him that you appreciate this exceptional quality of his.
He adores staying in charge of the situation and always remaining successful. When you are willing to praise him with your "amazing job" comments, he will work even harder to make you happy and content.
Surely, you can refer to his training with the same remark. In fact, for his great physical shape, you can add some additional pleasant commendations.
Here are some sweet compliments for guys related to accomplishments:
You are making a difference.

As your friend, I am perhaps your biggest fan.

I am proud of how far you have come in your journey.

You're accomplishing so much. Every day you evolve into a better person than who you were the day before.

You're an expert at what you do, and people trust you because of it. I'm so impressed.

You never cease to amaze me. Every time I think you have done it all, you do something else outstanding.

How did you learn to be so good? I've never seen someone make something look so easy.

You worked really hard on that and it certainly was worth the time and energy in the end.

Look at how much your time and dedication paid off.

You inspire me to work harder.
The physical shape compliments
The physical comments are never banal. They are rather classic. What man will not appreciate a pleasant comment about his unparalleled physical shape?
You can use words to compliment a guy on his looks and tell him that he is very sexy.
Sure, you need to be aware of the best time to share your sexy compliments for men. But if you feel a strong need to compliment you, man, go forward.
This is probably the best way to praise a man. If you are attracted to your date partner, saying something good about his physical shape is quite suitable. It will surely make him feel more confident and, in fact, quite fantastic.
Here are ways of how to compliment a guy on looks:
Your style is undisputed. It's yours and only yours.

Your hair looks amazing. How do you manage it so well?

Every time I see you, I notice how good you always look.

You are quite stylish and polished.

You are looking dapper today.

Have you been working out? Your body seems to be in perfect shape.

Truth be told, you could be a fashion model.

You are such a hunk.

Are you sure you have never modeled before?

You look really handsome.
The "Great in Bed" compliment
There is probably no man alive who does not get excited once hearing a compliment about being an excellent lover. Every person has even the slightest insecurities and concerns about their mastery in the bedroom.
You can use these compliments to give your boyfriend, and he is bound to feel special.
Your praise will help to develop your relationships. Besides, it will surely boost your intimate life. You do not need to be shy when you want to praise your man for being great in a bed.
Learn to be open with your lover. Intimate relationships do not appreciate criticism, but compliments can be very beneficial. Tell your partner what the best things you think he does in the bed are. Make him feel great about his unmatched skills in bed.
Check out these ways of how to compliment a guy based on his performance in bed.
You are the perfect seducer.

I adore your…. (mention the favorite part of his body).

Your voice is so masculine. It gives me sexy chills.

There's something about your voice that gets me every time…

You make my toes curl!

I am still getting goosebumps…

Wow! That was intense!

You're like my Greek god.

That was better than all of my fantasies!

I'm replaying in my head what we just did…
The intelligence compliment
Many women get lost when thinking about how to compliment a guy on his personality. You can comment on a man's great appearance, haircut, personal style as much as you need it.
Still, they will also greatly appreciate the compliment about unparalleled personal traits. Besides, men like to be complimented for their intelligence. If a man has some exceptional knowledge, skills, or other talents, make him see you like it much.
For example, tell that you appreciate his great advice about your finances. When a man can tell you an entire history of his country by memory, be good and tell that you are excited by his exceptional memory and history's knowledge. You can also compliment his language skills.
Here are tips on how to compliment a guy based on his creativity and intelligence:
I have never met a person who can talk Russian so well. It sounds really hot!"

Your perspective is refreshing.

You're great at figuring stuff out.

You have a good head on your shoulders.

How did you get so good at that?

What inspired you to put all that work in?

Your creative potential seems limitless.

I can't imagine all the work that you must have put into that!

I'm so impressed! What a lot of skill!

How long have you been doing x? It really shows!
Unparalleled personal style compliment
How do you tell a guy he's cute?
Well, you can praise this unparalleled personal style. Tell him that his personal style is very original and kind of fantastic. You can tell a lot of great things about your partner's great appearance and clothing.
There is no need to tell why you adore his appearance. Just say you like it a lot, and it suits your personal tastes.
Guys like to hear a comment about their great skills in clothing selection and appearance improvement.
Here are some good compliments for a guy that will boost his spirits. Know how to compliment a guy based on his style sense.
"Amazing! You look fantastic! Both so classy and quite original!"

That outfit looks like something Rihanna would wear.

I love the fact that I've never seen something like that on you before!

Your style is everything.

You are my fashion hero.

The color of that dress is SO incredible.

I've never seen anyone look so ready to kill it.

Excuse me, Mr., are you famous?

You. Look. AMAZING!

Where do you get your outfit inspiration?
The "Things You Make Me Feel" compliment
Let your man know that meeting him was one of the best things that ever happened to you. Explain to him that your life has changed for the best once he appeared. Tell him how lucky you are to have him in your life. It will surely make him feel appreciated.
It is a well-known phenomenon that when couples date for a long time, their love life becomes more routine. Thus, they start saying fewer compliments every day. If you want to keep a great relationship, learn to be always inspiring and loving.
Your partner surely likes to be cherished. If there are no special reasons to praise your man, just tell him that he makes you feel wonderful. You can tell any compliment about your feelings, especially when you are overwhelmed with your emotions.
Check out how to compliment a guy based on the way they make you feel:
You make me feel like a special person with all your care and devotion.

Seeing you at the end of the day makes my life much better instantly.

You have impeccable manners.

Your kindness is a balm to all who encounter it.

On a scale from 1 to 10, you're an 11.

You're even more beautiful on the inside than you are on the outside.

I'm inspired by you.

You bring out the best in other people.

When you say you will do something, I trust you.

You're someone's reason to smile.
"You are the Most Caring Partner" compliment
Do men care to text their partners when they stay at a job for too long or when their plans are changed?
Well, the caring men do, for sure. If a man cares about you, he will reach you from any place and at any time to message you.
Even if men prefer feeling strong and confident, they will appreciate you to praise their good actions. Tell your partner that he has a really good heart. It is never a pathetic compliment, but rather your admission of his impressive care and kindness.
Even if there is no connection, they will install a VPN to reach you. There is no unavailable software for a man who needs to text his loved one. If your man is exactly as mentioned, you should always praise him for being a great and loving partner.
Here are some ways of how to compliment a guy based on his caring heart:
I wish I were more like you.

I've never met someone as kind as you are

The world would be a better place if more people were like you!

I love your perspective on life.

You set a great example for everyone around you.

You are such a good listener.

Thank you for being such a great person.

I really appreciate everything that you do.

You're an incredible friend.

You're a true gift to the people in your life.
Takeaway
You can find many other compliments and ways to compliment a man on the Internet. You can also learn how to text your great compliments. How do you compliment a guy over text?
Well, it is quite easy. Just be honest and attentive. You can download some special apps to send even gift cards. It is free to install any familiar apps on your phone or device.
In the insightful video below, Tracie Broom discusses the power of compliments and why complimenting should be practiced.


Besides, you can learn more compliments online. Make it your great habit to praise your man for his good deeds, amazing appearance, personal style, and the time he spends caring for you. In such a case, you will get a very caring and loving partner eventually.
Share this article on
Want to have a happier, healthier marriage?
If you feel disconnected or frustrated about the state of your marriage but want to avoid separation and/or divorce, the marriage.com course meant for married couples is an excellent resource to help you overcome the most challenging aspects of being married.
Learn More On This Topic
You May Also Like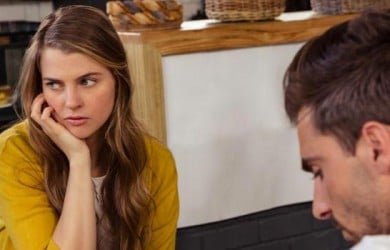 Popular Topics On Married Life