15 Relationship Traps Everyone Needs to Avoid
Sometimes people become so focused on being involved with someone that they don't consider whether the person they're developing a partnership with is a healthy fit for them. Often these individuals don't see negative qualities until it's too late.
By that time, the person is embroiled in what has come to be known as a "relationship trap." The reference denotes a partnership that someone knows in their heart is genuinely not good for them but continues down the path anyway, even with warnings from close friends and family and red flags within the relationship itself.
Click to read clinical research involving couples who endured real-time traps and how therapy worked for them. Often people acknowledge, following "release" from being in a relationship trap, that there were warnings. Still, it was easier to stay than to consider the notion of starting over again with someone else.
Sometimes individuals ignore the problems due to a strong desire to be in a flourishing partnership regardless of the actual state of that union. The mate could have one distinct quality that stands out as something that the other person needs.
Unfortunately, anything done based on neediness is often unhealthy and most likely won't thrive.
What does a relationship trap mean
It might seem that getting involved in a "trap relationship" would be something you could easily avoid since it entails knowingly being in an unhealthy situation with the recourse to leave simply. It doesn't work that easily; it would seem, however.
In some cases, people are blind to determine when is it a relationship trap despite evident warning signs. Others ponder if this relationship is a trap but let it go because they would rather have an established partnership than start fresh.
Many endure the problems because their mate has a distinct attribute that is beneficial to their life. Some of these can look like an incredible first-encounter, a cute-trap relationship, the casual relationship trap, or the career-compatible relationship. Each offers something that a mate finds "too good to be true."
While these all seem reasonable to the person in the trap, the outcome can be harmful to overall emotional wellness if it goes on for too long. Unfortunately, most people are unaware they're engaging until it's too late, and they're already in the trap.
15 relationship traps everyone needs to avoid
To avoid relationship traps, you have to know they exist, develop an understanding of what exactly they involve, and become informed on some of the different traps so that you can go in another direction when you come in contact.
Here is a book that illustrates ways to avoid the common dating traps in relationships. Let's check out a few specific traps.
1. Are you meant for each other
In this trap, the two people typically involved would be high-school sweethearts. Everyone presumes the kids will end up married with children one day, and the young adults likely have this same thought-process for the same reasons.
Simply because that's the expectation doesn't mean the two of you will be suitable for each other in the future.
That generally happens again with two people who share many commonalities such as interests, creativity, intelligence, or even physicality. Other people make assumptions that they're the perfect couple to start a life together – on the surface, but partnerships are not merely superficial.
Also Try: Are We Right for Each Other Quiz
2. Encountering a perfect first date
While a first date can be planned out to the nth degree and end up beyond perfect, that isn't an indication that every moment of every day will be ideal. You shouldn't expect or even hope for an idyllic life because these expectations aren't realistic.
When considering the date, aside from the fun and entertainment, you need to look at what you learned about the person and how the two of you interacted. You might have been too busy to determine if you liked your date truly.
Related Reading: 

20 Hot Sex Games for Couples to Play Tonight
3. The effect of having forbidden fruit
The suggestion with this relationship trap is that there will be a blatant denial of involvement because this is an effect in the subconscious mind.
The more someone appears to be unavailable to you or off-limits, you will come up with justification in your subconscious as to why the relationship would be reasonable, but these rationales are not.
4. The limited-edition or "perceived scarcity"
You might see someone a thousand times and never think a thing about them, but then all of a sudden, that person is in demand for dates, and all of a sudden, you start to think it might be the very last of what could have been your ideal mate.
Perhaps there is a diminished population of that type. When you end up with this person, though, somehow it's not quite what you had anticipated.
5. When you think you're falling in love, but it's like
Things to avoid in a relationship are assuming off the cuff that you're in love when it could very well just be a strong case of "like."
When a partner is showering you with kindness and generosity, you might be mistaking this politeness for declarations of love and convincing yourself at the same time that you're far more attached than reality would have it.
6. Another way to say thank you
When you have an extreme sense of gratitude to someone for sacrifices they've made that you may or may not have anticipated, you might feel it necessary to repay these kindnesses in the form of a partnership because you have nothing else to give.
These gestures prevent you from expressing that a relationship between you won't work or would be unhealthy instead of pressuring you into something you don't want.
It's an exceptionally touchy situation but one that you must be true to yourself and offer verbal gratitude for all that has been done in your honor, plus the desire to reciprocate if there is ever a similar need.
Related Reading: 

You Forgot to Say Thank you!
7. Exhaustive effort
On the other end of the spectrum, you can put too much time and effort into a partnership to the point you've determined how to tell if someone is a trap relationship because you know you're in one.
Still, the idea of letting go and putting this kind of energy into a new partnership seems like an exhaustive undertaking that you're hesitant to take on. Instead, you'd prefer to let the current unfulfilling relationship drain you to the depths of your soul.
8. Is it now, or is it never
Sometimes it can appear that you're trying to figure out how to trap a man or woman into a relationship with this particular trap. Still, in reality, you're setting yourself up for one of the most challenging of the relationship traps.
With this one, you attempt to commit to a partnership before you realize what that's going to mean for you.
The person in this scenario strongly believes there will not be another opportunity to enjoy a relationship like the one they're about to enter into, and they need to grab on while they can.
Unfortunately, it's not one they would likely want to experience again, nor is it one they genuinely want to be involved in now, but they hold onto it – in case.
9. Rebound
A lot of people get stuck in this relationship trap for the simple fact they're determined to get back into the dating (and relationship) pool too soon after ending a partnership.
That doesn't mean you won't have a successful outcome with the new person, but it's a risky venture since often there are unresolved issues and a need for closure from previously.
Related Reading: 

15 Signs of a Rebound Relationship
10. Terrific sex is a reason
Outstanding sex is something many people search for, and when they find it, most hold onto it whether the relationship is shoddy or not.
People don't realize that while it can be challenging to find someone you're compatible with emotionally and sexually, sex can be explored, experimented with, and even taught, but emotional connections are challenging to cultivate.
11. Manipulation
When you begin dating a manipulator, this person will seem as though they're all about actively listening, paying attention, hanging on to every word.
Still, as the relationship progresses, the thoughts and feelings you present seem to get twisted alongside their thoughts and feelings until you no longer recognize your own from theirs – classic manipulation, and you're trapped.
Related Reading: 

How to Recognize and Handle Manipulation in Relationships
12. Support is your only role and goal
Suppose the only part you play in the relationship seems to be boosting spirits or lifting moods for your significant other, showing support where they seem to have no faith in their abilities, and helping to build self-confidence.
In that case, you might have someone who is simply looking to find their inner joy more so than a loving partnership. The partnership is likely helping to fulfill where the individual is lacking emotionally. Since your mate is unhealthy as a person, they can't be healthy in a relationship either.
13. Is there an ex you feel trapped with
You might find yourself involved in the woman or the man trap relationship if your new mate is still involved with an ex with whom they speak on a relatively frequent basis.
If you've been given no other reasons to be jealous and your partner is open and honest about that partnership, it shouldn't be a significant issue.
On the other hand, if there are regular visits or the individual stops in merely to say hello or calls perhaps to say they arrived home after leaving a party, you might have a reason for concern.
Either that person has not moved on, or your new mate hasn't. That could be a problem for you.
This research also shows that individuals avoid talking about their past sexual relationships, which can hamper the health of their current one.
Related Reading: 

The Danger Behind Talking to an Ex While in a Relationship
14. Confrontations are a regular occurrence
All relationships take work, time, effort. There will be disagreements, possibly fights, requiring communication to work through the tough times so you can move forward healthily.
If, however, you have confrontations on a regular, daily basis, that's not healthy. A good partnership doesn't see massive blow ups every time someone turns around; instead, discussing things rationally when issues arise. That shouldn't be every single day.
15. Narcissists
A narcissist has an everything-has-to-be-about-them mentality. That generally doesn't get better with time with challenges getting a person of this nature to care for your feelings or you, for that matter, entirely. That creates a barrier when it comes to developing a nurturing and loving bond.
Also Try: Is My Partner A Narcissist?
How can you get unstuck in your relationship
Most of us have instincts when it comes to people, places, life in general. Some will listen and let it guide certain situations. Others will completely ignore their gut feeling instead of rationalizing with reasoning and intellect, especially when saying something we prefer not to hear.
That's typically why many people end up in some of the unhealthy relationship traps discussed here. If you question yourself and have been for some time and don't have a lot of faith in the decisions you're making relating to the partnership you're currently in, that's a red flag that it's unhealthy.
It's also a sign that you need to listen to your instincts. When a relationship is unhealthy or unbalanced, it can lead to a controlling situation that becomes toxic, diminishing your power over your thoughts, feelings, and decisions. That's something from which you need to walk away.
While you invested much time, effort, and energy into the partnership, and starting over seems like an exhaustive proposition, this is not serving your greatest good.
It's time for honesty and acknowledgment that neither person is willing to commit to making the necessary changes to actively create a partnership that carries mutual respect, high regard for each other, or the essential open communication.
Remember the incredible person you were, how amazing you can be again, and walk away without looking back.
Watch this video for tips on how to build a healthy relationship.

Final thoughts
The most beneficial thing you can do is to find your way back to you.
"You, yourself, as much as anybody in the entire universe deserves your love and affection." – Buddha
Share this article on
Want to have a happier, healthier marriage?
If you feel disconnected or frustrated about the state of your marriage but want to avoid separation and/or divorce, the marriage.com course meant for married couples is an excellent resource to help you overcome the most challenging aspects of being married.
Learn More On This Topic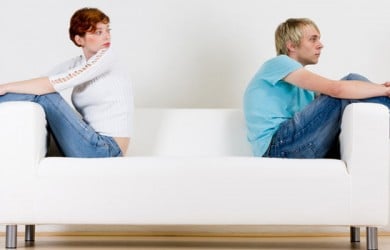 You May Also Like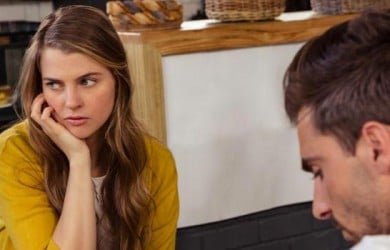 Popular Topics On Married Life